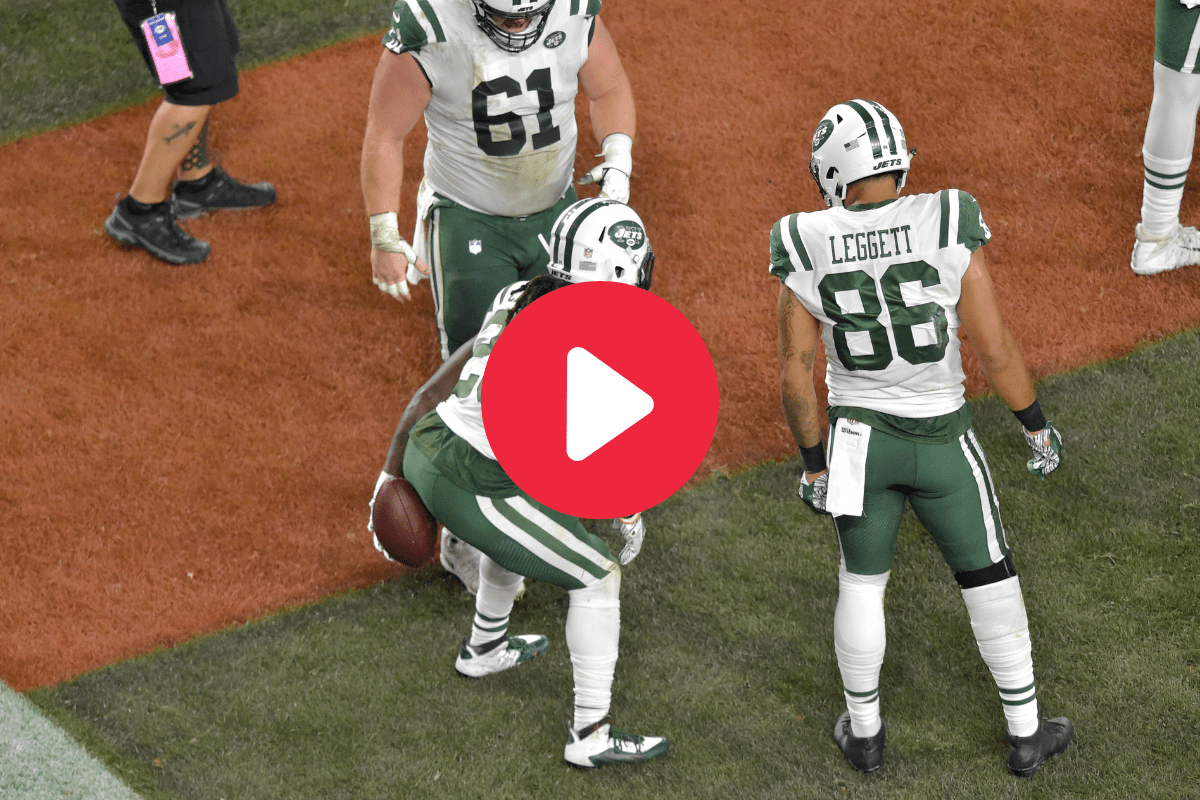 AP Photo/David Richard
The National Football League has rolled back its once critical rules discouraging players from celebrating after scoring a touchdown. After implementing the "excessive celebration" rule in 2006, which penalized players for leaving their feet or using the ball as a prop for example, it was amended to bring some fun back into the end zone.
Still, some players try to push the limits of what they can and cannot do. When New York Jets running back Isaiah Crowell scored a second quarter touchdown against the Cleveland Browns in Week 3 of the 2018 season, he celebrated by pretending to wipe his rear end with the football. While it's funny for a number of reasons, including the fact Crowell receiving an endorsement deal from it, the NFL wasn't laughing when it slapped the running back with a $13,000 fine.
The celebration seemed harmless, and Crowell breaking it out in front of his former team's home crowd is the ultimate troll, but the NFL filed it under their "lewd gestures" tag of banned touchdown celebrations and fined him anyways.
Maybe it was the wipe? Maybe it was throwing the "soiled" ball into the crowd? Maybe it was hilarious.
The "Butt Wipe" Celebration
RELATED: Controversial TD Celebration Suspends High School Senior for Homecoming
Upsetting then-Jets coach Todd Bowles and getting an unsportsmanlike conduct penalty is one thing, but when you upset your own mother in the process, you've got some serious explaining to do.
"I was literally shocked," Debbie Crowell, Isaiah's mom told ESPN last week. "Isaiah is such a mild-mannered person; he usually doesn't do much celebrating. I've never seen him go to that extreme."
She added, "As a mother, I wish he hadn't done it."
The Jets came out of that Thursday night game against the Browns with a 21-17 loss, but Crowell emerged a viral sensation for the celebration, and he even picked up a sponsorship along the way.
The next week, Crowell earned himself endorsement from DUDE Wipes, a men's flushable wipe alternative to toilet paper. In the end, Crowell got the last laugh and a ton of fresh wipes for his bum.
The NFL dishes out thousands of dollars in fines each week for excessive celebrations, illegal hits and inappropriate conduct by players and coaches towards referees and fans, but this one by Crowell is easily the most excusable.
The "No Fun League," as it has been referenced, is trying to repair its image, but it's obvious they still have a no-tolerance policy for on-field self-care, even with a football.
This post was originally published on October 3, 2018.
Related Videos