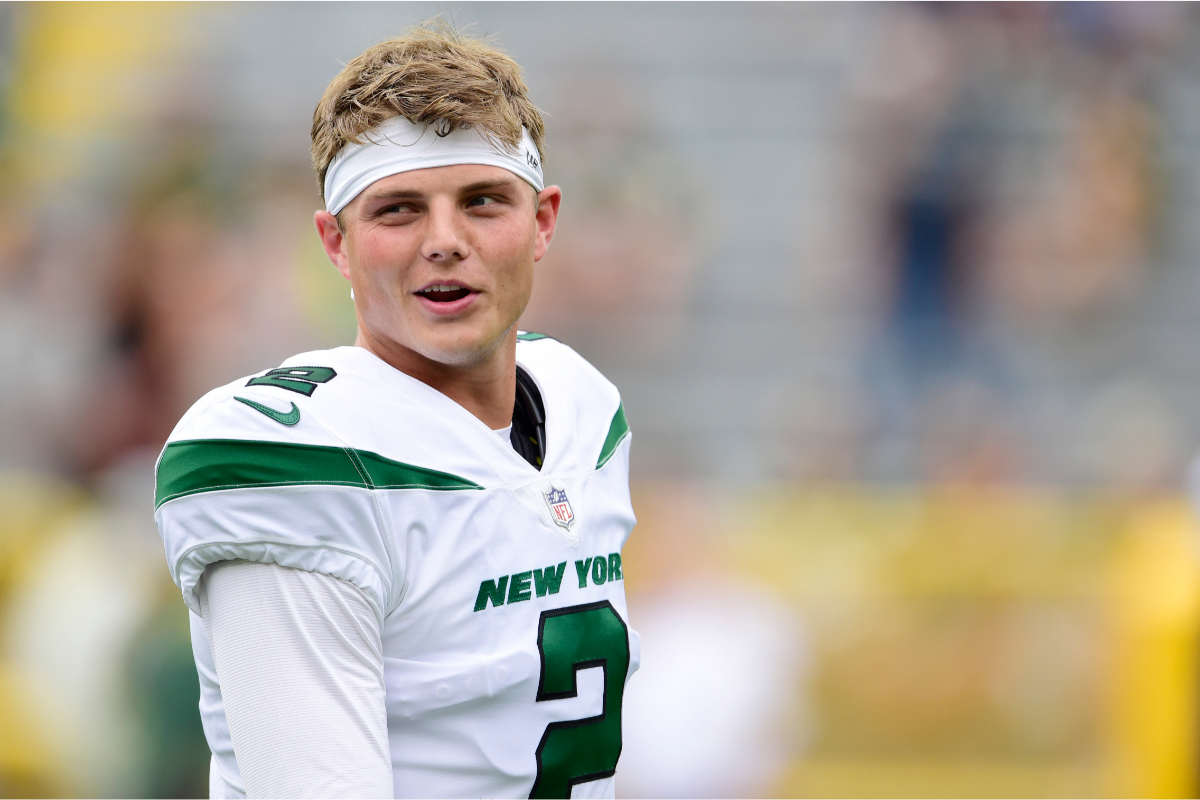 Photo by Patrick McDermott/Getty Images
After a stellar college football career, BYU quarterback Zach Wilson soared up NFL Draft boards to become a first-round draft pick.
And with the New York Jets officially moved on from Sam Darnold, it appears the franchise is ready to hand the keys to their offense over to the 6-foot-3 signal caller. He started in their week 1 loss to the Carolina Panthers and all signs point to him being the guy this year and beyond.
From hearing his name called from the podium in Cleveland to starting NFL games, no one has cheered harder than his girlfriend Abbey Gile.
Zach Wilson's Girlfriend Abby Gile
RELATED: Trevor Lawrence Marries High School Sweetheart in Private Ceremony
Former BYU Cougars quarterback Zach Wilson is currently dating girlfriend Abbey Gile.
The pair have been dating since high school, where Zach was a football star at Corner Canyon High School in Draper, Utah. Abbey attended Brighton High School, some 20 minutes down the way.
Wilson isn't the only athlete in the relationship, however. Gile is a professional dancer whose dance team won first place at the Utah State Class 5A in 2019.
"Happy Birthday to the most beautiful girl. I can't explain how much you mean to me. Through all the ups and downs, you've always been my side. Thank you for spoiling me! I love you to the moon and back!" he wrote on social media for her birthday this year.
Personal Life & Football Career
Zachary Wilson grew up in Draper, Utah, to parents Mike Wilson and Lisa Wilson (nee Neeleman), along with his five siblings.
Having grown up in Utah, the Wilson clan was hopeful young Zach would receive a scholarship from the University of Utah, where his father was a defensive tackle for the football team back in the day. They aren't the only football players in the family, either. Zach's brother is a future stud high school quarterback.
No offer from the Utes ever materialized due to prior commitments to quarterback Jack Tuttle.
Wilson eventually received a scholarship to play for the BYU football team, but Wilson opted to commit to Boise State after feeling a lack of interest from former Cougars offensive coordinator Ty Detmer.
It turned out Detmer, who was later relieved of his role, had a prior commitment to his own nephew.
It's only natural the Broncos, who had recruited Wilson heavily, were livid when the star quarterback flipped his commitment from BSU to BYU.
Per the Deseret News, Boise State coaches began contacting Eric Kjar — the head coach of Corner Canyon High School's football team — in search of answers. He had also been recruited by other schools such as California, Oregon State, Hawaii and Fresno State, among others.
Wilson followed through on his commitment to Brigham Young University and played three seasons in Provo while earning a degree in construction management.
Wilson threw 56 touchdowns to just 15 interceptions, and recorded more than 7,500 passing yards. He was also named MVP of the Idaho Potato Bowl after throwing four TDs in the game against Western Michigan.
After a strong junior season that saw him briefly leading the Heisman Trophy race, Wilson ended his NCAA career and declared for the NFL Draft.
Scouts were obsessed with his arm strength and accuracy, and he quickly surpassed Ohio State quarterback Justin Fields as the best quarterback in the class who isn't Clemson's Trevor Lawrence.
Wilson shined at his Pro Day, making some jaw-dropping throws and solidified his stake as a must-have player in 2021.
New York Jets QB Zach Wilson is one of the more exciting young passers in the game. He'll always have his No. 1 fan by his side no matter how well the Jets play.
This post was originally published on April 27, 2021.