Trey Meier must've glanced over the fine print when he signed up to be an intern for the Kenosha Kingfish. If you look closely at Section B, paragraph 7, sentence 3, footnote 34, you can see a disclaimer while using a magnifying glass.
"Interns have the right to be subjected to an Oklahoma drill against NFL running backs."
Well, the Kingfish exercised their right this past Saturday. Meier, whose intern duties primarily include being the Northwoods League team's mascot, Elvis the kingfish, arrived at Kenosha's Historic Simmons Field as he does every weekend in the summer. When Meier, a to-be junior on the University of Wisconsin-Milwaukee's cross country team, entered the ballpark for the 2022 Legends Celebrity All-Star Game, the team's emcee told him he'd be facing off against Green Bay Packers RB AJ Dillon in the Oklahoma drill.
The result? A head flying off and a viral video.
Facing AJ Dillon in the Oklahoma Drill is Looking Death Square in the Eye
Elvis vs. @ajdillon7 ended as expected? ? @MiLBPromos @SportsCenter @espn @barstoolsports @packers pic.twitter.com/Z6WxYtddZS

— Kenosha Kingfish (@KenoshaKingfish) July 17, 2022
RELATED: This 14-Year-Old Recruit is a Viral Hit Because He's a 300-Pound Monster
I have to tip my cap to Meier. Agreeing to do this is one thing, but agreeing to do it in a baseball mascot suit you can barely move in is another. Also, Dillon is probably the worst possible running back to go against not named Saquon Barkley. I mean, he's the self-proclaimed "Quadzilla" and "Quadfather"! You don't earn that nickname for only being able to squat nearly 650 pounds in high school, you earn it by crushing watermelons with your thighs.
Aye @saquon @ohthatsNajee22 @MikeDavisRB we don?t have to compete! Let?s make the QuadSquad ?????? #Quadzilla #Quadfather pic.twitter.com/tX5Vr3i9o8

— AJ ?Quadzilla? Dillon (@ajdillon7) May 19, 2021
So, here's Meier, who checks in at 5-foot-9 and 150 pounds, and he's going head-to-head against a guy who makes watermelon juice with his thighs in his spare time for a $12.50/hour internship. This is the face of someone who doesn't know if he will be alive in the next 10 seconds.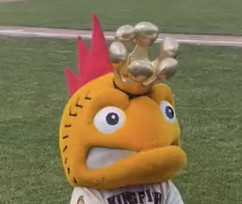 But, Meier is a Packers fan and was a good sport about being sent into an unwinnable gladiator match.
"Right when I found out about me doing the Oklahoma drill, I actually texted my dad," Meier said, per The Athletic. "I was like, 'Guess who's about to do the Oklahoma drill against AJ Dillon?' He texted me back and was like, 'What?! You got this.'
"And yeah, I did not have it at all."
As the drill starts, Dillon springs up while Meier has a little slower because of his suit. The NFL player comes at him with a full head of steam, pops him in the sternum and Boom! Elvis the kingfish is decapitated. You can hear the "oohs" from the crowd as Meier's lifeless body flies out of frame.
In what can only be described as a miracle, Meier came back to life and his only concern was getting his head back on.
"The one thing that I was worried about when I got hit, I was like, 'I've got to get my head back on,'" said Meier, who was a headless kingfish for only about five seconds according to The Athletic. "I got the wind knocked out of me a little bit, but I got up right away. I got my head back on, and I'd say that's the only thing I regret, my head coming off, because there are now a couple of kids in the stands who just saw Elvis without a head.
"I kind of played it off like the head was supposed to come off, like I was kind of trying to pump up the crowd a little bit, but that was not supposed to happen, and I got the head on as quickly as possible."
At the end of the day, Meier wasn't concerned his bosses sent him to be obliterated by one of the NFL's most fearsome running backs for entertainment purposes. He was only concerned about the kids. This man deserves a statue. Here's my proposal: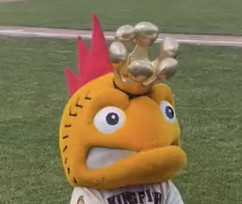 Dillon was a good sport about the whole thing, too. He made sure Meier was OK, chatted with him after, and gave him some autographs along with Packers backup QB Jordan Love, who was also in attendance. You know how in "The Hangover" Alan gets out of feeding the tiger because he took a punch from Mike Tyson? Meier's in the exact same situation. Going up against AJ Dillon in the Oklahoma Drill should disqualify him from pretty much everything. At the very least, he should get a raise.
Related Videos
Enjoy all things sports?
Don't miss a story! Sign up for daily stories delivered to your inbox.