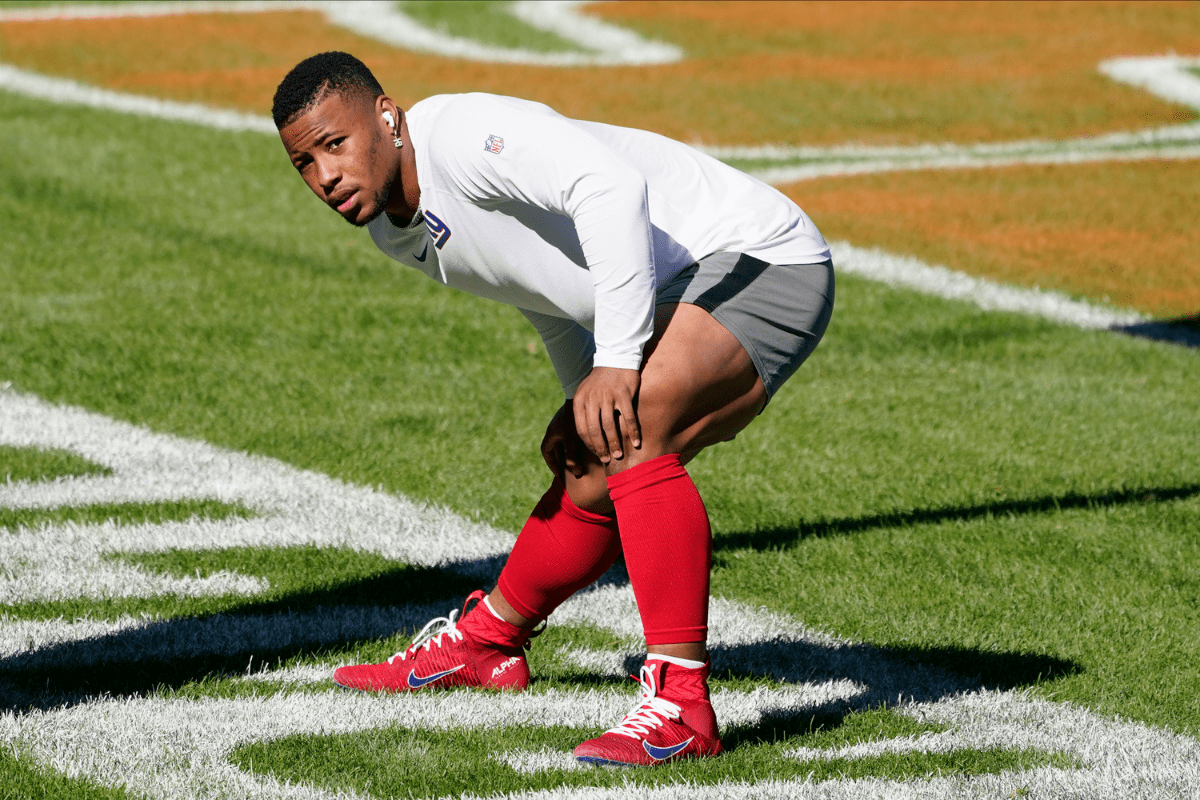 AP Photo/Charles Rex Arbogast, File
AP Photo/Charles Rex Arbogast, File
Saquon Barkley has a different build than most. The New York Giants running back may look like a bodybuilder, but he does too much cardio. Those may look like beach muscles, but they're actually from the grind.
His hamstrings may look like Apolo Ohno's, but they belong to a football player, not an Olympian. Barkley has thighs jam-packed full of muscle, and the former NFL Offensive Rookie of the Year knows how to use them.
Barkley's legs don't come easy. The touchdown scorer has been building a firm foundation since his early offseasons training camps, back when he was just a New York kid living in Pennsylvania.
Who is Saquon Barkley?
Saquon Barkley is an NFL running back for the New York Giants. After a promising start against the Pittsburgh Steelers, he suffered an ACL tear in 2020 during a loss to the Chicago Bears. His recovery is going well, in large part due to his large (leg) parts. Barkley is known for being built like a brick house with a doubly-reinforced foundation.
Barkley was born in the Bronx but attended Whitehall High School in Pennsylvania. The power running back played three years of college football at Penn State University, becoming a Nittany Lion King in his tenure. Barkley powered the Nittany Lions to winning records, a Fiesta Bowl victory over Washington and an upset over No. 2-ranked Ohio State University.
After finishing fourth in Heisman Trophy voting, winning the Walter Camp award and being named First-Team All-Big Ten in 2017, Barkley and his calves ran into the National Football League.
The Giants selected Barkley with the second-overall draft pick in the first round of the 2018 NFL Draft. He won the Offensive Rookie of the Year, earned rookie season trip to the Pro Bowl and has never looked back. The potential MVP tore his ACL in 2020 but expects to play in 2021.
Barkley is recovering from knee surgery faster than most because of his massive quads. The size of his thighs has been trending since Barkley's college days and was immediately recognized once he got to the NFL.
Saquon Barkley's Quads
Sa-Quad's reputation for reps preceded his NFL career. Saquon showed off his legs (which look like meat pistons) in the ESPN Body Issue.
Warning: you might get more than what you asked for.
It took no time for Giants' teammates to notice Quon's husky foundation and poke fun at the running back. Then-teammate Odell Beckham Jr. dubbed the rookie "Say-quads" in minicamp. (The Giants later traded OBJ to the Cleveland Browns, where he wore a $200 watch during a game and tore his ACL.) Eli Manning couldn't keep his eyes of Saquon's thighs, which might explain why he was so fumbly during his final seasons.
Saquon may have been a rookie sensation, but his legs got all the press. There's even a fan-made Instagram account for his legs because, of course, there is. A photo of him throwing out the first pitch of an MLB game for the Yankees went viral because his quads looked photoshopped.
We could go on like this all afternoon. Barkley is the undisputed Hamhock Champion of the NFL, despite what Green Bay Packer AJ Dillon (Aaron Rodgers' new running back) might tell you. ESPN even made his lower limbs the subject of two "This is Sportscenter" commercials.
In one spot, Barkley does a fake leg day at a standing desk. His actual leg days are nowhere near so simple.
How Did Saquon Get His Legs?
There's no real secret to it?hard work pays off. Saquon Body has been putting in his gym time since high school. Legend has it, Barkley's never skipped a leg day.
The Internet overflows with short videos of Saquon BarkTrees performing ridiculous feats of leg strength in the weight room. Saquon's quads are legendary in the gym and still hold records at Penn State University. The Giant's giant thighs are so well-respected that the NFL created a social media challenge based on Saquon's Leg Days.
Those using the appropriate hashtag while performing the challenge entered to win a trip to New York to work out with Barkley. A group of high school boys from Pennsylvania won the challenge and were reportedly unable to walk for a week.
In 2021, Barkley is recovering from an ACL tear sustained last year. He's on track to return to jumping over Jaguars and Jets by the 2021 preseason to the relief of Giants fans everywhere. With legs as strong as this NFL player's, it's a wonder SaQuads managed to get injured at all.
Barkley is sure to be back on the NFL field in no time with his unbeatable leg routine. He'll be doing what he does best: making grown professional athletes look like saplings by comparison.