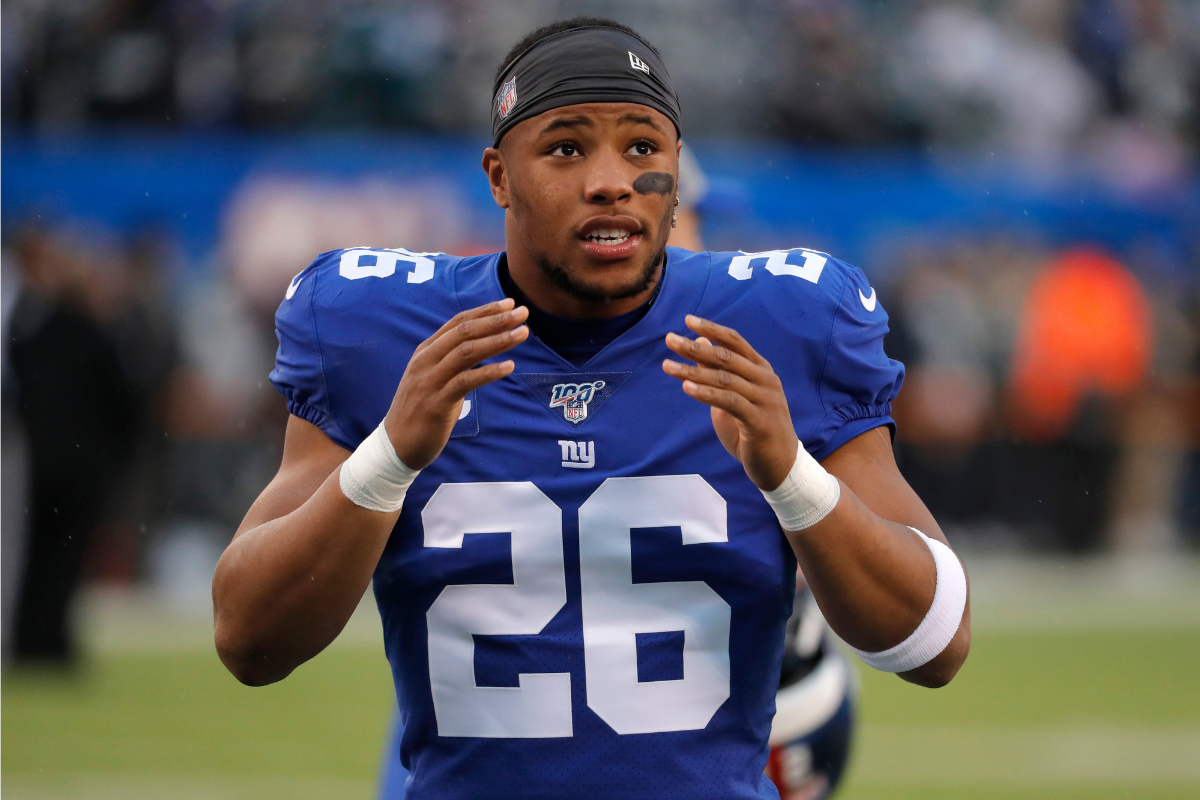 AP Photo/Seth Wenig
Saquon Barkley is the NFL's most promising young running back.
How the New York Giants superstar returns from ACL surgery is yet to be seen, but he has a great support system behind him.
When he's off the field, Barkley relies on his family. He wouldn't be where he is today without his loved ones.
Barkley thanks his father Alibay for his determination. Alibay grew up in the Bronx, where Saquon was born. The family then moved to Pennsylvania for better opportunities.
After high school, young Barkley found better opportunities at Pennsylvania State University. The star running back also found love.
Today, Barkley's girlfriend is the mother of his daughter. When they met in 2017, neither had a clue how far four years would take them. A daughter between them, the college couple is still figuring things out.
Saquon Barkley at Penn State
Saquon Barkley began rushing for Penn State University as a true freshman in 2015. As a true sophomore and junior, the football player led his Nittany Lions to a 22-5 record. By 2017, Barkley was on top of the college football world.
Things are lonely at the top. During his junior and final season with Penn State, Barkley met Anna Congdon.
Congdon studied nursing at Penn State in 2017 when she met Barkley, who was by then a well-known name on campus.
Congdon is active on social media and presumably an occasional socialite. Though the exact timeline of their meeting is unclear, one thing is for sure: they met at least nine months before the 2018 NFL Draft in April.
Anna Congdon & The NFL Draft
RELATED: Micah Parsons Does Everything to Protect His Son
Two days before getting drafted in New York City, Saquon Barkley and Anna Congdon welcomed their baby girl Jada Clare Barkley to the world. She was born on April 24, 2018, about a week before fellow Nittany Lion Micah Parsons' son was born.
A short forty-eight hours after his daughter's birth, Saquon Barkley became an NFL Player and New York Giants running back Saquon Barkley.
One year later, young Barkley was the NFL Offensive Rookie of the Year. His newborn daughter and loyal girlfriend inspired his rookie season performance.
Saquon Barkley's girlfriend Anna Congdon has been with him for four years and they have one daughter.
Current Relationship Status
Saquon Barkley maintains his current girlfriend is Anna Congdon. Pics and rumors circulating the Internet suggest otherwise.
There are recent accusations of Barkley cheating on Congdon with Kylie Jenner's best friend Stassie Karanikolaou. (Even if her involvement is only peripheral, Jenner isn't the first famous sister to step away from the NBA and into the NFL.) Barkley denies all rumors of cheating.
Barkley maintains he's a family man, despite what TMZ might say.
By all accounts, Barkley does appear to be a nice guy. But even nice guys can't resist the Kall of the Kardashian. Even some promising ones stumble in the spotlight, but it's all a matter of how they get back up.
Saquon Barkley was knocked down last year. Let's see how the injured superstar gets back up.