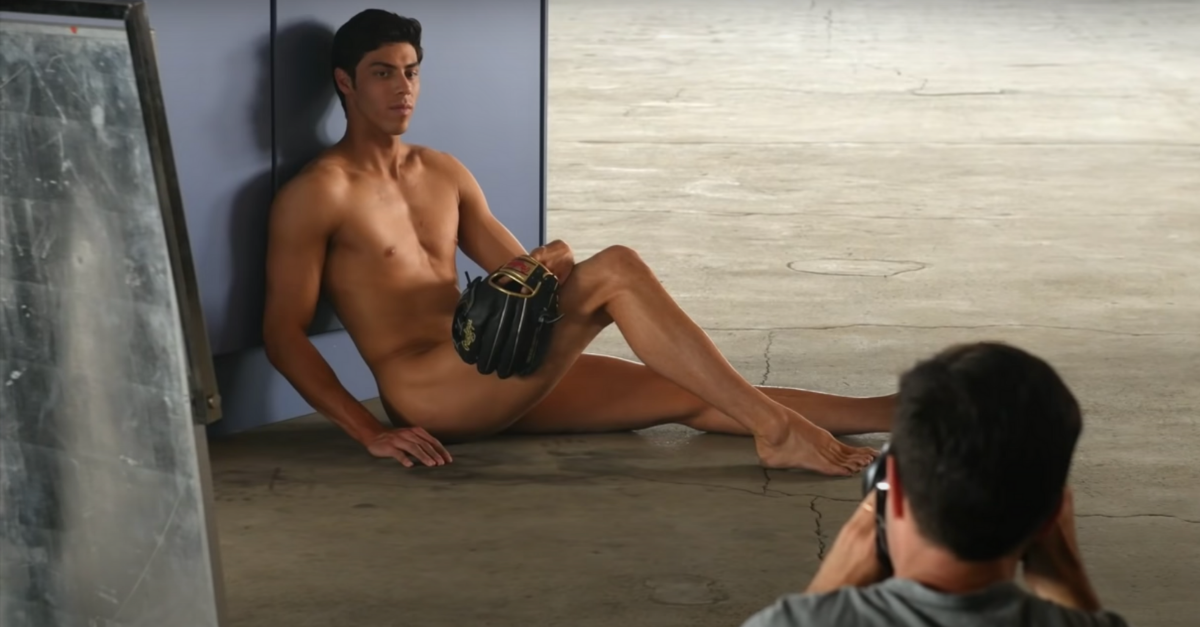 Screenshot from YouTube
Milwaukee Brewers outfielder Christian Yelich has the talent to dominate Major League Baseball and the looks to drive the ladies wild. That?s a dangerous combination and a lot of power for a superstar to have, but there?s no doubt he?s loving life.
Yelich had quite the year in 2019. He was named an MLB All-Star, led the Brewers to the playoffs defeated Green Bay Packers quarterback Aaron Rodgers in a beer-chugging contest, and posed naked in ESPN The Magazine?s Body Issue.
The photoshoot in Wisconsin, of course, definitely raised some eyebrows and generated a lot of buzz on social media.
Christian Yelich?s ESPN Body Issue Photoshoot
RELATED: Remember ?The Kissing Bandit? Who Smooched Baseball?s Best Players?
Near the end of the regular season, where the superstar hit a career-high .329 with 44 home runs, 97 RBIs and 30 stolen bases, Christian Yelich did something rather unpredictable: He posed nude for ESPN The Magazine?s Body Issue.
Yelich wasn?t the first MLB player to hit newsstands in the Body Issue. He wasn?t even the first Brewer. Former slugger Prince Fielder famously did so back in 2014.
Still, Yelich caught a lot of people off guard.
?It?s something that I feel like people wouldn?t probably perceive me as doing. I?m usually more reserved or trying to keep my life as private as possible most of the time. So it was a little outside the box," Yelich told ESPN. "It was something that I wouldn?t be necessarily inclined to do right off the bat, but I?ve had friends who did it and they really loved it. I figured I was at a point in my life with why not have fun with it??
For the most part, the reviews were positive. However, there was one woman who was actually pretty upset with Yelich. Her name is Roxane.
The ?Relax Roxane? Saga
Shortly after everyone learned Christian Yelich posed for the famous ESPN magazine issue, a lady named Roxane J took to Twitter to share her disgust.
?It?s really sad how you didn?t give a thought about all the young kids that idolize you before doing your naked photo shoot. distateful,? she wrote.
Yelich then replied, ?Relax Roxane? in a tweet, which has since been deleted.
That was only the beginning. T-Shirts were actually made and that somehow wasn?t the crazy part. In his next game, Yelich even changed his walk-up song to ?Roxanne? by The Police. It was a classic troll job for the ages.
Yelich didn?t care what people thought of his decision, especially Roxane. The 2018 National League MVP just wanted to live his life and have a little fun.
It also didn?t stop the Brewers from giving Yelich a new nine-year, $215 million contract in March 2020 and before the coronavirus pandemic and COVID-19 outbreak delayed the start of the 2020 MLB season.
ESPN?s 2019 Body Issue
Throughout the years, some of the biggest stars from the NBA, NFL, NHL, WNBA and many other sports have posed for ESPN The Magazine?s Body Issue. That was no different in 2019, including Christian Yelich, Oklahoma City Thunder point guard Chris Paul, New Orleans Saints wide receiver Michael Thomas, and Cleveland Browns defensive end Myles Garrett.
Katelyn Ohashi, Brooks Koepka, Evander Kane, Liz Cambage, Amanda Nunes, Scout Basset, Katrin Davidsdottir, James Hinchcliffe, Alex Honnold, Nancy Lieberman, Kelley O?Hara, Lakey Peterson, and the entire Philadelphia Eagles offensive line also posed for the edition.
Yelich is mainly known for blasting home runs against the Chicago Cubs and St. Louis Cardinals, but that photoshoot and the entire Roxane saga will never be forgotten.