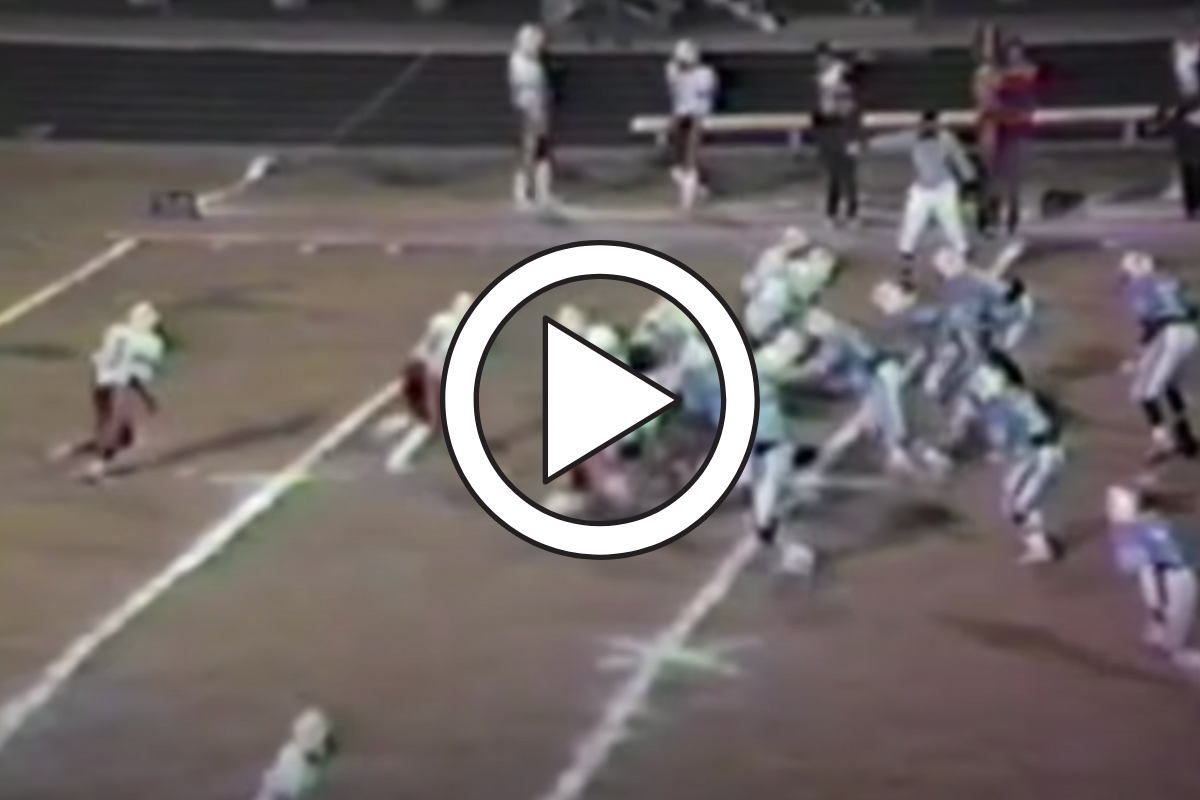 Screenshot from YouTube
Barry Sanders is widely regarded as one of the best football players of all time.
The running back set several NFL records and is considered a deity in the state of Michigan.
Video of Sanders in high school offers a fascinating look at his consistently outstanding performance.
Barry Sanders in High School
Sanders excelled for Wichita North High School in Kansas. He had no problem scoring touchdowns there, as evidenced by this video. High school defenses couldn't stop Sanders, and his statistics prove it.
During his senior season, he totaled 1,417 rushing yards in just seven games.
Despite making the All-State team, Sanders did not have many scholarship offers.
After deciding against joining Tulsa, Sanders committed to play college football for Oklahoma State University.
Barry Sanders at Oklahoma State
RELATED: Barry Sanders Named College Football?s Greatest Player Ever
Under head coach Pat Jones, Sanders handled punt and kickoff returns and only got the chance to back up Thurman Thomas. It took until his junior year for Sanders and the Cowboys to take the football world by storm.
In 1988, Sanders totaled an incredible 37 rushing touchdowns and set the single-season record for yards from scrimmage with 2,734. OSU won its bowl game, and Sanders was named the Heisman Trophy winner.
The All-American had conquered the NCAA, so he skipped his senior year and declared his intentions to join the National Football League.
Barry Sanders in the NFL
Sanders was drafted with the third-overall pick by the Detroit Lions, and he was ready for the challenges of the NFL from the minute he entered the league.
In 1989, he won the Rookie of the Year award, and his career only ascended from there.
In 10 seasons, he represented the NFC in the Pro Bowl 10 times. He was an All-Pro on six different occasions and even won the 1997 Most Valuable Player award (along with Brett Favre of the Green Bay Packers).
Unfortunately, the Lions were not able to get out of their own way. While Sanders played in one NFC championship game, the team lost to the Washington Redskins and never reached the Super Bowl.
In a move that stunned fans, Sanders abruptly retired, forcing him to return millions of dollars that he earned in a signing bonus.
Sanders ended his career with 15,269 regular-season rushing yards, which is the fourth-most of all-time. He was inducted into the Pro Football Hall of Fame in 2004.
Emmitt Smith, Walter Payton, Jim Brown are considered some of the best running backs football has ever seen, but Barry Sanders may be better than them all.
For as great as Sanders was, there is a sense of tragedy that hangs over his professional football career. The running back set tons of NFL records, but he still had more in the tank.