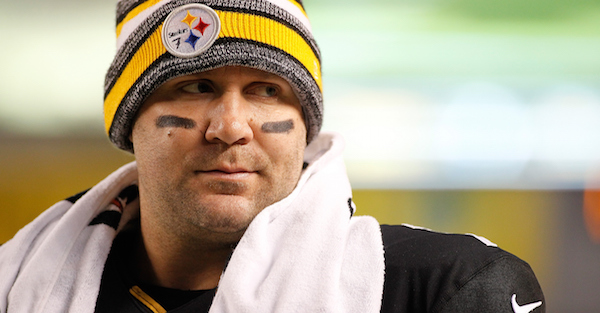 Justin K. Aller/Getty Images
PITTSBURGH, PA - DECEMBER 28: Ben Roethlisberger #7 of the Pittsburgh Steelers looks on during the first quarter against the Cincinnati Bengals at Heinz Field on December 28, 2014 in Pittsburgh, Pennsylvania. (Photo by Justin K. Aller/Getty Images)
The Pittsburgh Steelers lost this past weekend to the New England Patriots in a game that could ultimately end up deciding the AFC Playoffs, and Ben Roethlisberger, for one, seems to be having a hard time coping with it.
The game, of course, was marred by controversy at the end when the Steelers marched down the field with seconds left on the clock — responding to a late New England touchdown — and it appeared that Roethlisberger found tight end Jesse James for a touchdown. That was the call on the field, at least, but it was overturned due to the NFL's absolutely stupid "a catch is not really a catch" rule.
In other words, the ball did not survive the ground.
What looked to be a Pittsburgh win was soon erased two plays later with the clock running down and the Steelers apparently setting up for a spike. Except it wasn't a spike and Roethlisberger threw the ball into traffic up the middle, ending in a New England interception and a Steelers' loss.
It was a brutal ending to an otherwise great game, but apparently, Roethlisberger actually did want to spike the ball at the end. Reacting after the contest the quarterback made it clear that he wanted to spike the ball and stop the clock, but his coaching staff on the sideline wanted the Steelers to run the fake — which obviously didn't end up well.
A few days later, Roethlisberger still hasn't changed his tune. Sure, he'll admit to throwing the bad interception, but it still seems like he's throwing his coaching staff under the bus for the decision to play-on:
Roethlisberger has been with the Steelers his whole career and he's been with head coach Mike Tomlin for a long time, so it is a tad bit surprising to see him passing the buck for the second time, even after a few days to think about it.
It's going to be interesting to see if this causes any rifts in the Steelers' locker room, and if it does, how will that impact Pittsburgh come playoff time?
Stay tuned.