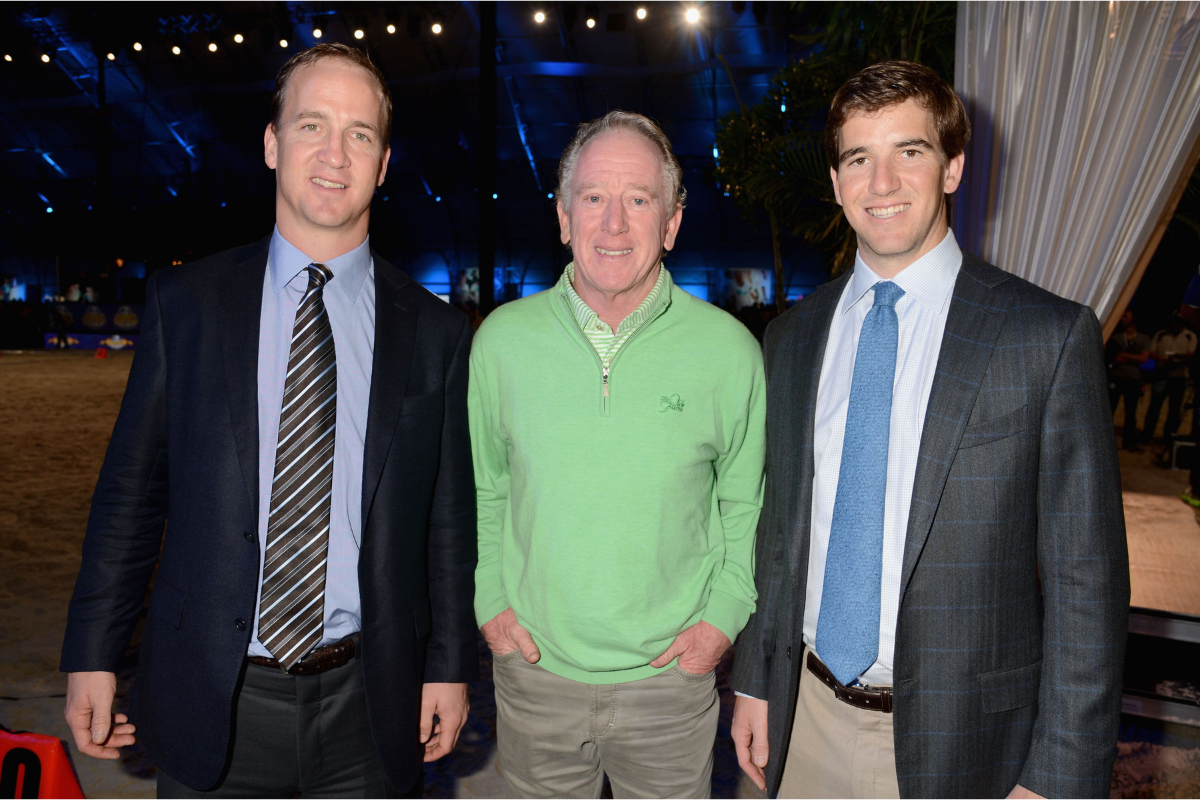 Jeff Kravitz/FilmMagic via Getty Images
It's fairly common for kids to follow in a parent's footsteps when it comes to choosing a career. It's no different in the sports world.
There have been several players who have carried on the family name in their respective sport. Steph and Seth Curry keep the Curry stroke alive in the NBA after Dell made a 16-year career out of it. Kobe Bryant learned how to be a pro from being around his father Joe Bryant during his playing days. Brett Hull became something of an NHL legend himself and learned a thing or two from his father Bobby Hull.
The MLB is full of them. Three-time All-Star Cecil Fielder and his son Prince are the only father son-duo to each hit 50 long balls in a season. Bobby Bonds had a solid career in San Francisco before Barry Bonds became baseball's home-run king. Heck, Ken Griffey Jr. and his dad, Ken Griffey Sr., played together on the Seattle Mariners.
In NASCAR, Dale Earnhardt and Dale Earnhardt Jr. are two of the sport's biggest legends.
That brings us to football. We love seeing sons play at their dad's college football alma mater, especially if they play the same position. However, finding success at the college level and the pros is a completely different story. These six families have been able to do it over multiple generations.
The 6 Best Father-Son Combos in NFL History
Howie Long/Chris Long/Kyle Long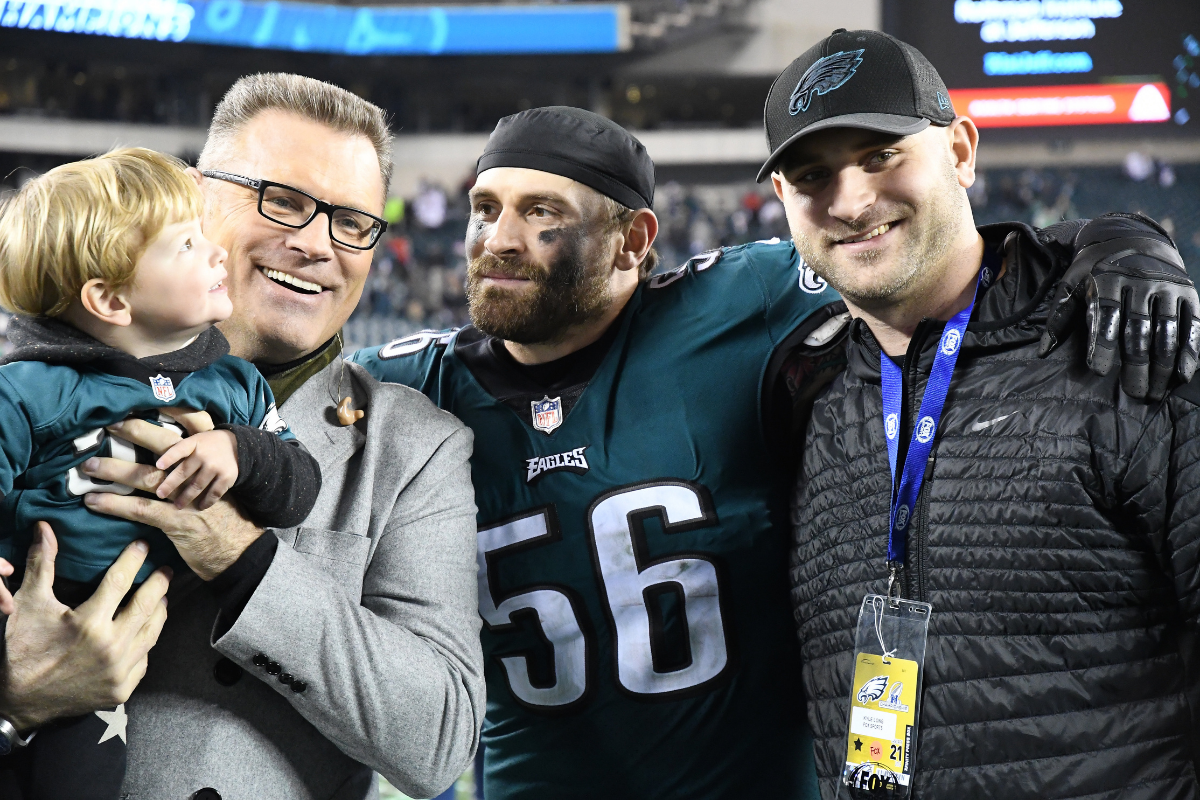 Howie Long was nothing short of a beast during his 13-year career with the Oakland/Los Angeles Raiders. He was a first-team All-Pro member two times, made eight Pro Bowls, won a Super Bowl and earned the NFL Defensive Player of the Year honors in 1985. He passed his defensive prowess to his son Chris.
Chris was a defensive end like his father and a stud during his college football days at Virginia. The oldest Long son was the second overall pick by the St. Louis Rams in the 2008 NFL Draft and recorded 70 sacks during his 11-year career. Long put an exclamation point on his career by winning back-to-back Super Bowls as a member of the New England Patriots and Philadelphia Eagles.
Kyle Long rebelled against his defensive father and brother by joining the trenches on the offensive side of the ball. He played the first seven years of his career with the Chicago Bears, where he was named to the All-Pro second team in 2014 and made three Pro Bowls. Kyle joined the Kansas City Chiefs in 2021 after retiring for a year. He's the only Long family member without a Super Bowl ring, although with Patirck Mahomes under center the Chiefs can never be counted out.
Bob Griese & Brian Griese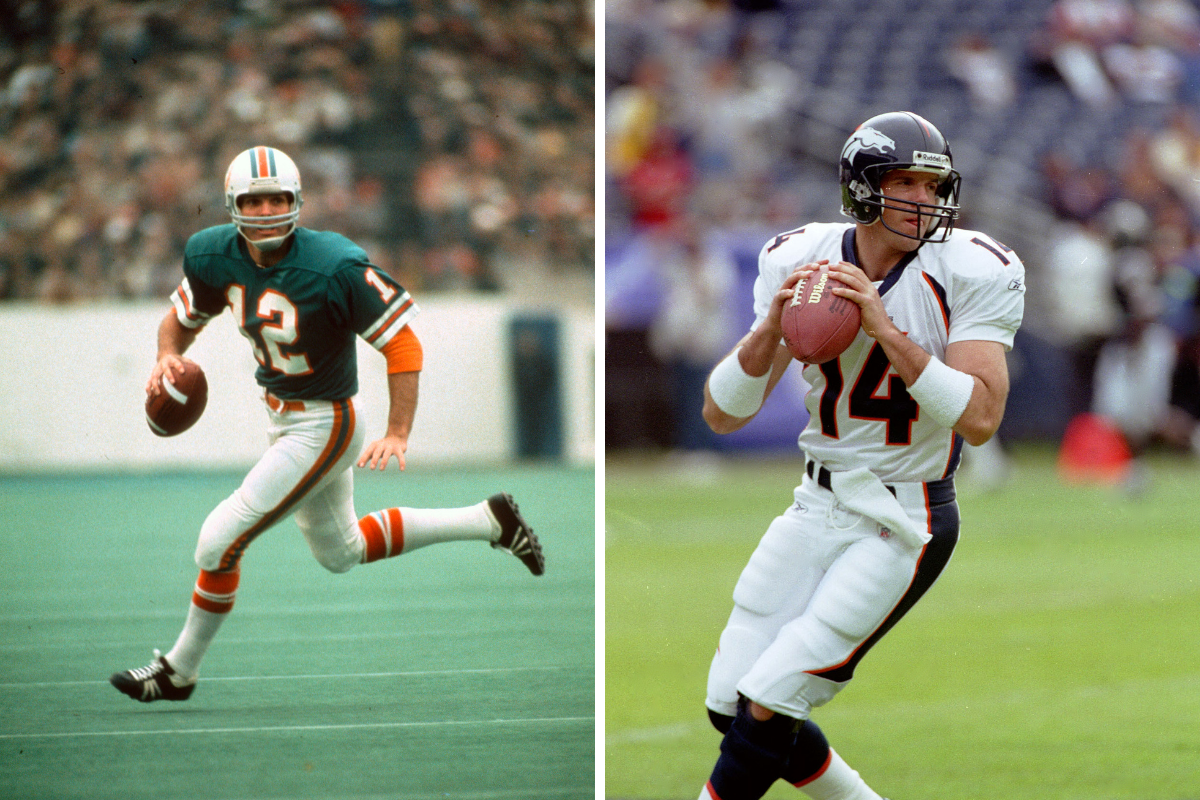 The only things Bob Griese did in his 14-year NFL career with the Miami Dolphins were win two Super Bowls, make eight Pro Bowls, earn All-Pro first team honors twice and lead the league in passing touchdowns in 1977.
His son Brian had a successful college career quarterbacking Michigan before being succeeded by some guy named Tom Brady. The younger Griese backed up John Elway on the Denver Broncos before taking over in 1999. Over the course of his career with the Broncos, Miami Dolphins, Tampa Bay Buccaneers and Chicago Bears, Griese threw for over 19,000 yards and 199 touchdowns.
Clay Matthews Jr./Clay Matthews III/Casey Matthews
The Matthews family is loaded with football talent. Clay Matthews Sr. got things started as an offensive tackle for the San Francisco 49ers back in the 1950s. His son Clay Matthew Jr. went on to have a solid career himself.
Clay Jr. made four Pro Bowls and earned second-team All-Pro recognition during his time playing linebacker for the Cleveland Browns and Atlanta Falcons. His sons Clay III and Casey weren't too shabby, either.
Clay III made his name by leading the Green Bay Packers defense to a win in Super Bowl XLV. The six-time Pro Bowler was a menace who had flowing hair that rivaled Fabio.
Casey was a star linebacker at Oregon, and while his NFL career wasn't as decorated as his brother and father, he was a solid defender for the Philadelphia Eagles and Minnesota Vikings.
Clay Jr.'s line isn't the only successful Matthews branch. His brother Bruce is a Hall of Fame offensive lineman. His son Kevin spent five years in the pros while his other son Jake currently plays for the Atlanta Falcons.
Ed McCaffrey & Christian McCaffrey
Christian McCaffrey's athletic genes are unfair. Along with mother being a soccer standout at Stanford and his grandfather being an Olympic track star, his father Ed shined at wide receiver for the Denver Broncos.
Ed arrived in Denver in 1995 a year after winning his first Super Bowl ring with the San Francisco 49ers. He became a consistent weapon for quarterback John Elway during the Broncos back-to-back Super Bowl run in 1997 and '98. He also recorded three straight 1,000-yard seasons from 1998 to 2000. The Pro Bowl receiver retired in 2003 with over 7,000 career reception yards.
Christian McCaffrey is the most dangerous offensive weapon in the NFL today. The Carolina Panthers running back became one of three players in league history to record a 1,000 rushing yards and 1,000 receiving yards in the same season in 2019. There isn't much he can't do on the football field.
Steve Jordan & Cameron Jordan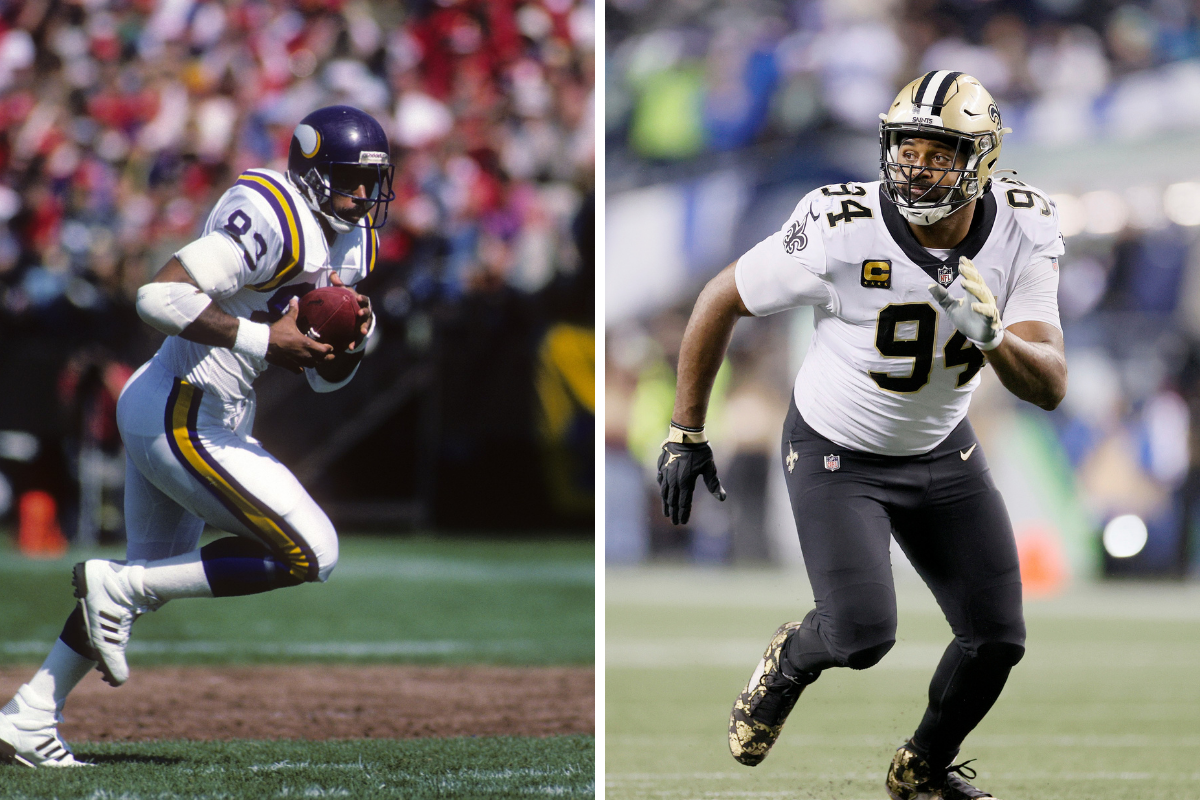 Steve Jordan's career compared to that of a Hall of Famer's by the time he wrapped up his 13-year stint playing tight end for the Minnesota Vikings. Jordan hauled in 498 receptions for 6,307 yards and 28 touchdowns but hasn't received a call from Canton even though his stats exceed those of gold-jacket wearers Mike Ditka, Dave Casper and John Mackey. Nonetheless, Jordan is a Vikings legend and pioneer for the modern-day tight end.
His son, Cameron Jordan, has been an anchor of the New Orleans Saints defense the past decade. The 6-foot-4, 287-pound defensive end has 98.5 sacks as of the publishing of this article to go along with a first-team All-Pro selection, six Pro Bowls and an appearance on the NFL 2010s All-Decade Team.
Archie Manning/Peyton Manning/Eli Manning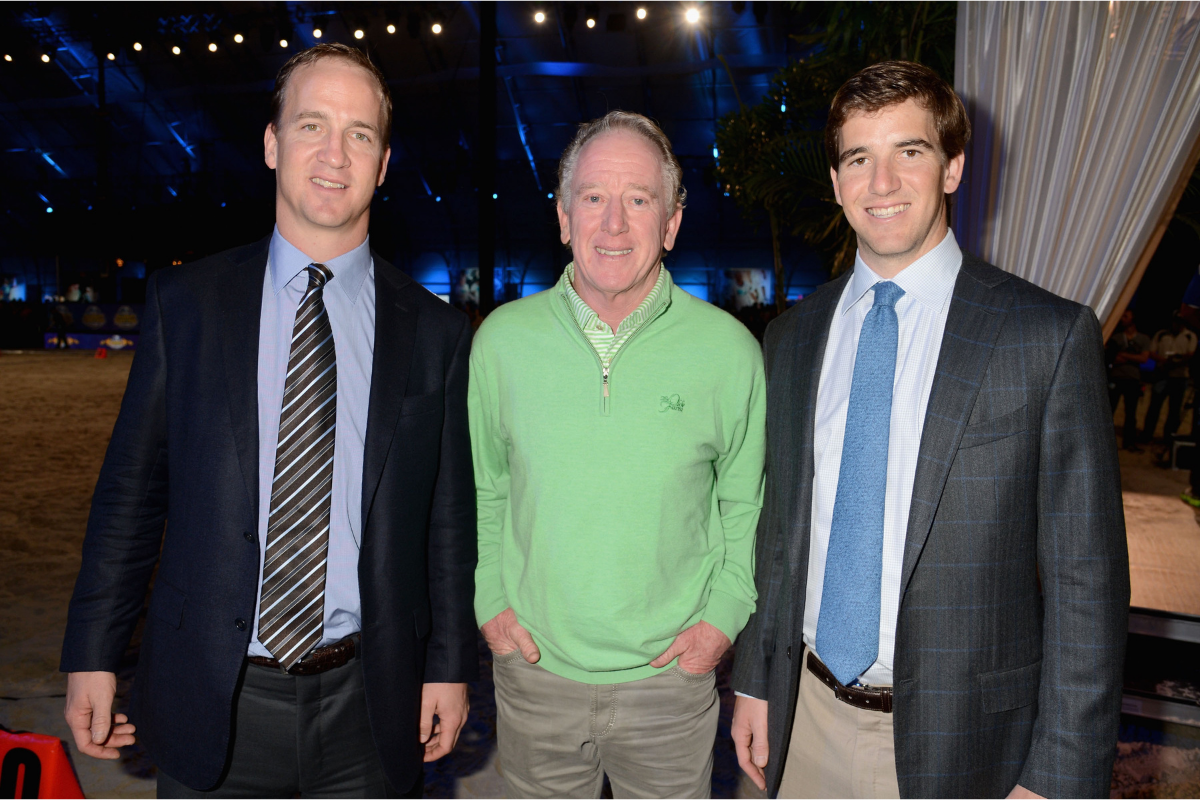 How can you not include football's First Family? Archie starred at Ole Miss before quarterbacking the miserable New Orleans Saints in the 1970s. The Manning patriarch prevailed and threw for 23,911 yards, 125 touchdowns and made two Pro Bowls during his time with the Saints, Houston Oilers and Minnesota Vikings.
His son Peyton was pretty good, too. He was a quarterback prodigy from a young age and went on play for the Tennessee Volunteers before being selected number one overall by the Indianapolis Colts in the 1998 NFL Draft. The first round draft pick then became one of the best QBs to ever do it by throwing for 71,940 yards and 539 touchdowns, which ranks third all-time, and winning two Super Bowls, five MVPs and making 14 Pro Bowls in his 17-year career with the Colts and Denver Broncos.
Eli Manning played at Ole Miss like his father before he was the number one pick by the San Diego Chargers in the 2004 NFL Draft. He refused to play for the then dysfunctional franchise and was immediately traded to the New York Giants. Eli threw for a modest 57,023 yards and 366 touchdowns throughout his 16-year career in the Big Apple. Although, he's best remembered for besting Tom Brady twice in the Super Bowl.
Related Videos