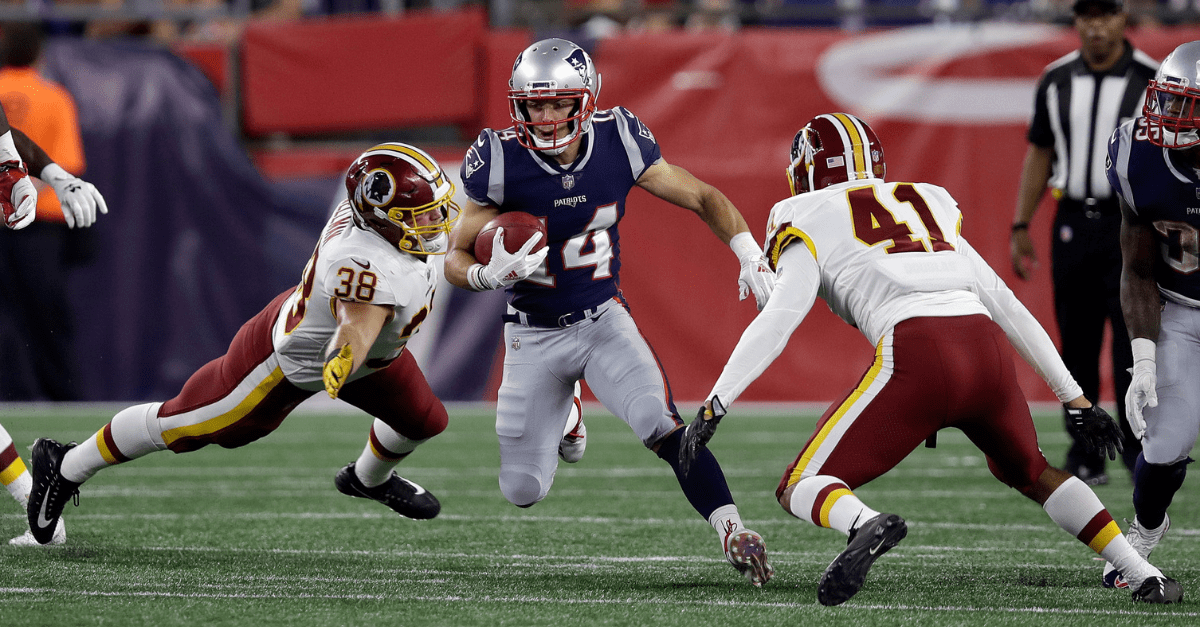 AP Photo/Charles Krupa
AP Photo/Charles Krupa
With 10 catches for 140 yards, Julian Edelman was named the Most Valuable Player of Super Bowl LIII. At 32 years old and just finishing his ninth season as a New England Patriot, it is great news that the six-time Super Bowl Champions already have his replacement on the roster.
In the 2018 NFL Draft, the Patriots used the 210th overall pick to select wide receiver Braxton Berrios out of the University of Miami. Even early on in his career as a Hurricane, Berrios was joked to be the next favorite receiver of Tom Brady. Not only does he look the part, but his play-style fits the system as well. Berrios spent his rookie season on injured reserve, but he's poised to breakout for New England when he returns.
First, this comes down to more than just being a white slot receiver. Yes, that is where the comparison could naturally start, but it's way more than skin color that makes Berrios the perfect fit in the Patriots' slot role. Any 'Canes fan could watch Edelman's highlights from his great Super Bowl performance and know Berrios was already doing those same things in college.
The writing was on the wall long beforehand, Associated Press writer Tim Reynolds called this move three months before last year's NFL Draft.
In his four seasons at Miami, Berrios had 100 catches for 1,175 yards and 14 touchdowns. During his senior season, by far his best, he caught 55 passes for 679 yards and nine touchdowns. He always showed up big on the biggest stage like his last FSU game when he caught eight passes for 90 yards and two touchdowns.
He's also a great and reliable punt-returner just like Edelman. Berrios had 47 career punt returns for 488 yards and a touchdown.
RELATED: The Scariest Punter in College Football History Has Arrived in Miami
What Edelman has done in the playoffs throughout his professional career has definitely been amazing and tough to match. But the Patriots are always looking forward and find gems that others pass on. Being taken in the sixth round is basically what everyone expects as a successful Pats star.
Plus, he plays one of the most successful positions New England and Bill Belichick have utilized since the start of their historic run. Players like Troy Brown, Deion Branch, Wes Welker, Danny Amendola, and Edelman all have filled that role with massive success.
There is a chance that Berrios never becomes the top slot receiver for the Patriots, but he definitely could take on the roll Amendola had for a few seasons. Amendola was the second player in the slot behind Edelman, but he had big moment after big moment in the playoffs and that could be the perfect expectation for Berrios.
Realistically, he probably won't have the opportunity because Tom Brady may only play a few more seasons and Edelman will likely play for each of them as his "little brother." But as he ages, they may need someone to take the load off a receiver who may be the most physical at his position over the course of his entire career and could use someone to assist in the option routes and across the middle.