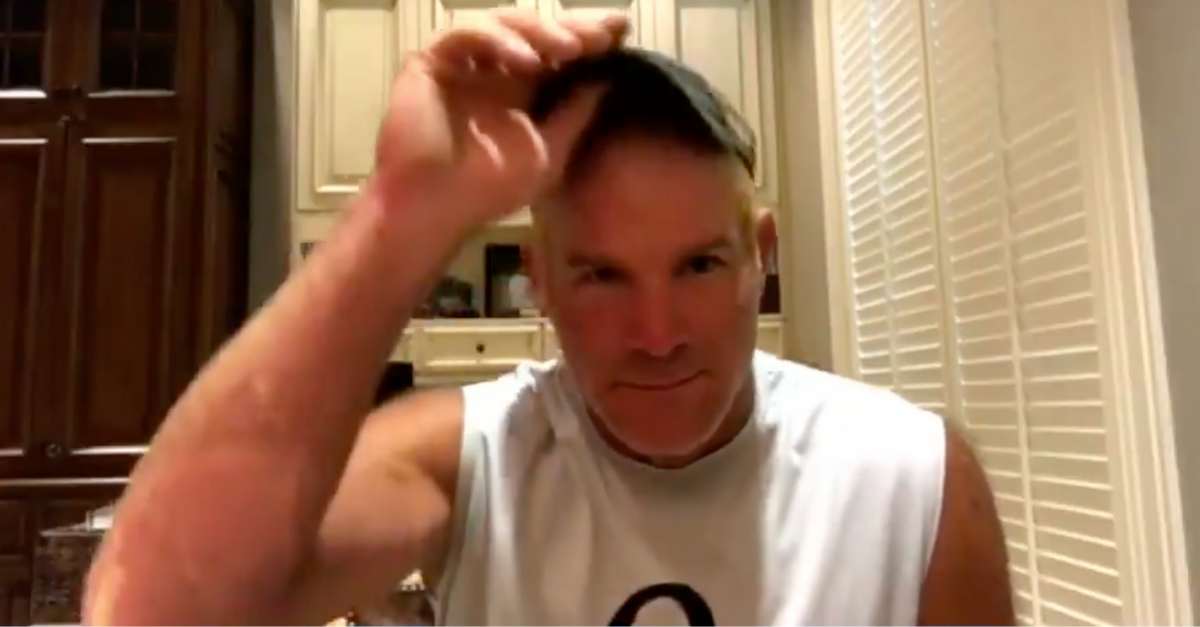 Screenshot from Twitter
Former Green Bay Packers quarterback Brett Favre has plenty of time on his hands these days and not a worry in the world. His NFL career has been over for a decade, and he continues to live his retirement life to the fullest. The Hall of Famer?s latest care-free moment might startle a few of his fans, though.
For the longest time, Favre was known for his toughness and ability to make ridiculous touchdown throws. However, after a few years and during the coronavirus pandemic and COVID-19 outbreak, things have completely changed.
While looking out for his daughter and two of her classmates during quarantine in Mississippi, Favre has terribly danced on TikTok, played with hair dye, and gave us all a laugh in an interview with CBS Sports HQ.
Brett Favre Dyes His Hair Orange
MORE: Remember Jenn Sterger? Here?s Where The ?Brett Favre Girl? Is Now
There is bored, then there is quarantine bored. The gray hair we all became accustomed to seeing from the Hall of Fame quarterback is gone. Orange-haired Brett Favre is now the new normal? for now.
The new hairstyle is certainly different.
?We tried a blonde first, but I think it was too close to my silver hair that it didn?t do anything. I said, ?Let?s go with something crazy, like orange.? So here we are.?
While the sports world is focusing on the offseason of Tom Brady, Joe Burrow in the NFL Draft, and Michael Jordan in The Last Dance on ESPN, Favre definitely made himself an MVP dad with his new orange hair.
?It?s sort of an orange. Consider this Quarantine Week 4. Next week, I may go with a pink. So stay tuned.?
We will be right here waiting to see what?s next.