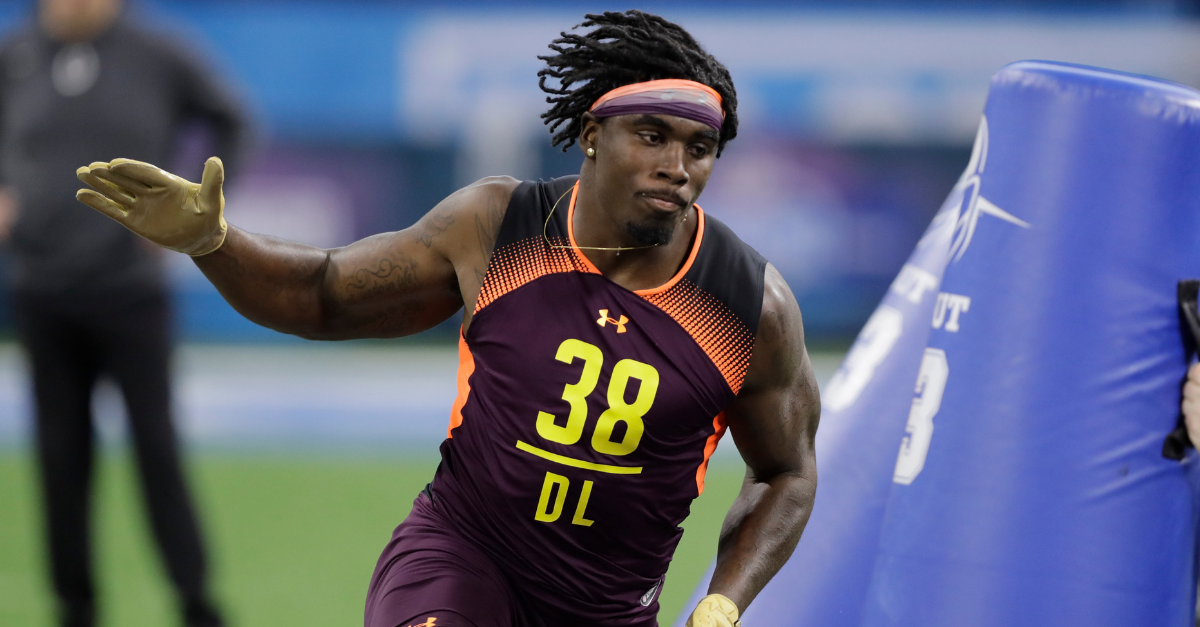 AP Photo/Darron Cummings
When the New Orleans Saints signed defensive end Carl Granderson as an undrafted free agent, the franchise knew it was a high risk, high reward type of situation. The rookie was obviously a strong talent from the University of Wyoming to play the highest level ? an invite to the NFL Combine was proof of that ? but a pending trial for sexual assault essentially scared the rest of the league away.
Recently, the 6-foot-5, 261-pounder agreed to plea no contest to one count of sexual battery and one count of unlawful contact, according to Casper Star-Tribune reporter Davis Potter. His not-guilty plea was changed by his attorney and prosecutors agreed that Granderson would have one year of unsupervised probation and a mental evaluation within 60 days.
The plea deal was not good enough for district court judge Tori Kricken, who rejected the deal to immediately begin serving a six-month sentence in the Albany County Detention Center for the count of unlawful contact. The judge also gave a one-year jail sentence for sexual battery, which will be suspended with one year of supervised probation after he is released.
RELATED: NFL Lineman Tased During Nasty Gas Station Fight with Police
The 22-year-old Saints rookie was charged after two female students say Granderson ?touched them sexually while they slept? at his Laramie, Wyoming apartment last year, according to NOLA.com.
With training camp in Metairie, Louisiana nearly two weeks away, the judge?s immediate sentence means Granderon?s chance at a roster spot is simply impossible at this point.
A two-time All-Mountain West selection from Sacramento, California, Carl Granderson recorded 172 total tackles, including 35.3 tackles for loss and 17.5 sacks, three interceptions, six pass deflections, three forced fumbles and one fumble recovery during his college football career at Wyoming.
Talented? Absolutely. But life in the NFL, and the rookie defensive end?s free agent contract, will have to wait after the plea agreement in his sexual assault case was rejected.