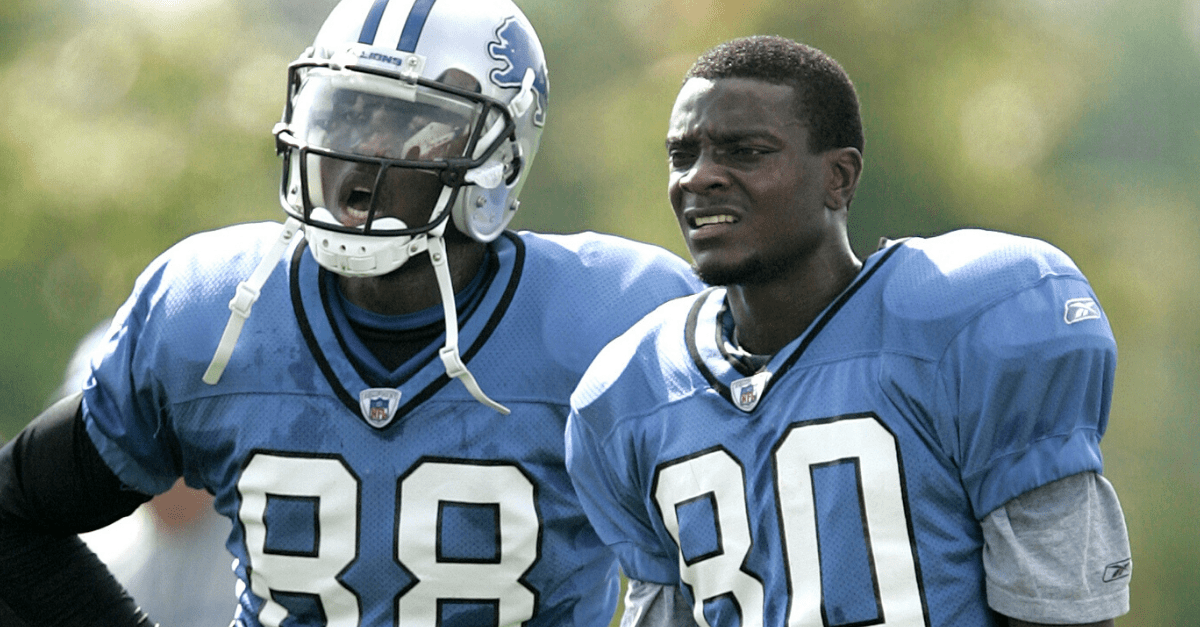 AP Photo/Duane Burleson
Former Detroit Lions wide receiver Charles Rogers died Monday from liver failure, his former coaches at Saginaw High School told MLive.com. According to football coach Don Durrett and former Saginaw basketball coach and athletic director Marshall Thomas, the No. 2 overall pick of the 2003 NFL Draft was battling cancer, but it's not clear if his liver failure and cancer diagnosis were related.
"[Doctor's] had given him 30 days to live if he didn?t get a liver transplant," Thomas said. Charles Rogers was 38 years old.
Charles Rogers Dead at 38
Former Michigan State teammate Chris Baker confirmed the "passing of my Spartan brother Charles Rogers" in a tweet.
After being a USA Today high school football All-American, Rogers put together one of the greatest careers by a wide receiver in Michigan State football history. The 2002 All-American and Biletnikoff Award winner as college football's best pass catcher, Rogers still holds Spartan records for career receiving touchdowns (27) and ranks third on the school's all-time list for receiving yards (2,821) despite playing only two seasons.
In 2001, Rogers set school records with 1,470 yards and 14 touchdowns catches. He followed that up with 1,351 yards and 13 touchdowns the next year.
The former Michigan State star's two seasons still rank No. 1 and 2 in Spartans history.
Rogers left East Lansing to enter the 2003 NFL Draft, and the Detroit Lions selected the 6-foot-3 wideout with the second overall pick. However, two broken clavicles and multiple violations of the NFL's substance abuse policy ultimately ended his career after just three seasons.
He's considered one of the biggest busts in NFL Draft history.
In a 2017 article by Cody Tucker of the East Lansing Journal, the reality of the former NFL star's career and the weight of his $39.5 million contract came to light.
"[Rogers] says injuries derailed his career: two broken collarbones in his first two seasons with the Lions. But a pain-killer addiction, coupled with failed drug tests and NFL suspensions for marijuana use aided his premature exit from the league. He is considered one of the biggest busts in NFL history.

"He still smokes marijuana every day. In his mind, injuries and Vicodin ended his career. Marijuana didn?t."
Rogers worked at an auto shop after his NFL career ended.
Former teammates, NFL players, personalities in the football community, and both Michigan State University football and the Detroit Lions released statements as "RIP Chuck" trending across social media.
He is survived by eight children. Our condolences are with Charles Rogers' family during this difficult time.