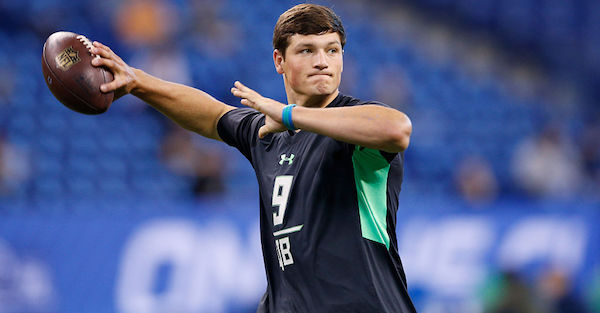 Joe Robbins/Getty Images
INDIANAPOLIS, IN - FEBRUARY 27: Quarterback Christian Hackenberg of Penn State throws during the 2016 NFL Scouting Combine at Lucas Oil Stadium on February 27, 2016 in Indianapolis, Indiana. (Photo by Joe Robbins/Getty Images)
When veteran quarterback Josh McCown signed with the New York Jets in the offseason, he instantly became the favorite to secure the starting QB spot for the franchise.
The only other quarterbacks on the roster are Bryce Petty—who started four games with unsatisfactory results in 2016—and Christian Hackenberg.
The Jets finished offseason training last week, and it appears that the quarterback battle isn't over yet. What's more surprising is that Hackenberg might be the favorite to earn the starting job for the 2017 season.
Related: Just how bad potential starting QB Christian Hackenberg has been is horrible news for the Jets
Aside from hitting reporters with errant throws, Hackenberg has actually shown improvement during the offseason according to various reports. ESPN's Rich Cimini said the gap between the quarterbacks is narrow.
"Christian Hackenberg performed a little better than expected and Josh McCown — aka the kindergarten teacher — wasn't quite as sharp as anticipated, especially in minicamp," Cimini wrote.
Bryan Costello of the New York Post shared a similar sentiment. He said Hackenberg has "surprised" him during minicamp, and that he has "made some strides."
"Hackenberg showed a deft touch on deep passes, and looked improved on the short and intermediate throws — an area in which he really struggled last year," Costello said. "He still looks inaccurate and unsure of himself at times."
The Jets selected Hackenberg in the second round in 2016, but he didn't play a down last year after struggling with accuracy in practice. If he is anywhere close to McCown, the team will probably give him a chance to start before deciding on whether he can be the QB of the future.
The Jets' roster is one of the worst in the league, and they will likely be picking at the top of next year's draft. If Hackenberg isn't the answer at QB, they will look to find the answer in the 2018 draft.
(h/t The Score)