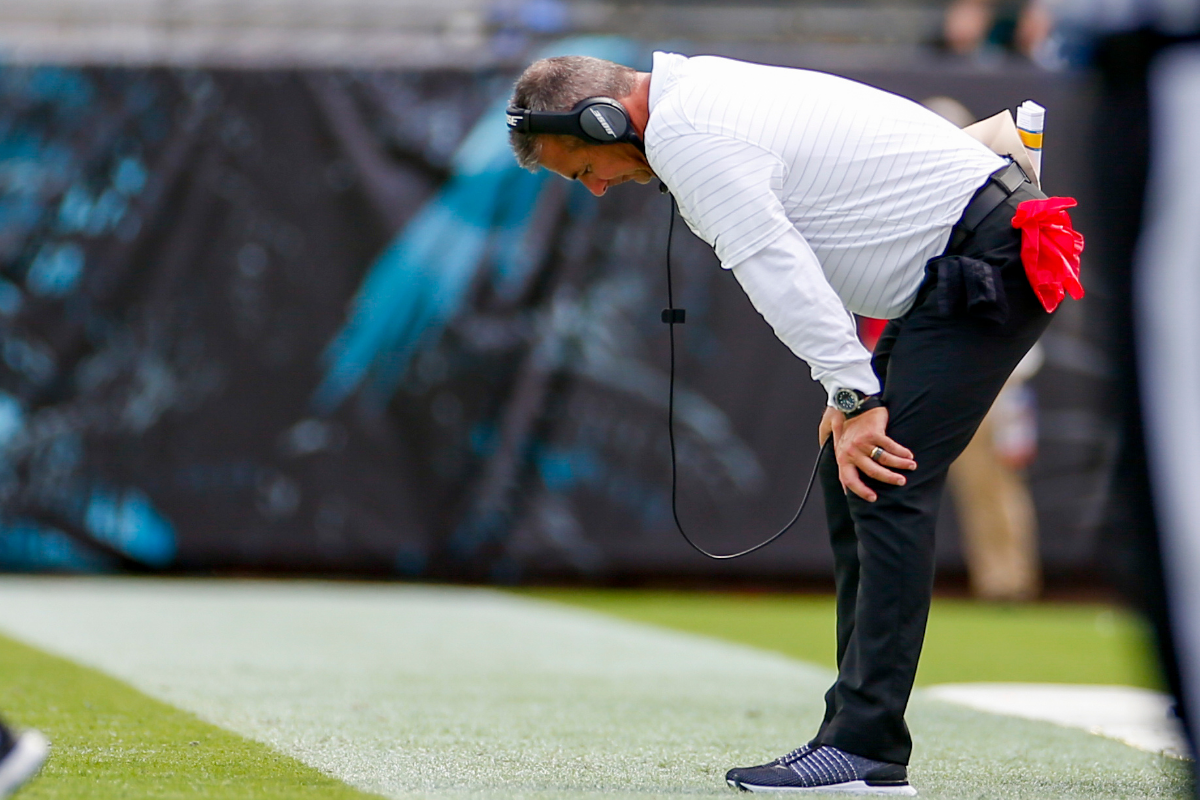 Photo by David Rosenblum/Icon Sportswire via Getty Images
It's been 380 days since the Jacksonville Jaguars won a game of football. They've played in 18 games since defeating the Indianapolis Colts on September 13, 2020, and they've lost every single one since then. The last team to do that was the Detroit Lions in the 2000s.
Jaguars head coach Urban Meyer (man, that is still weird to type out) was supposed to be the guy to stop that streak. However, he is clearly in way over his head. Not even his shiny flotation device, the No. 1 overall pick we know formally as Trevor Lawrence, can keep him above sea level in Florida. The tide is rising, and after his first month of regular season games, the writing on the wall is clear for Urban Meyer: Get the hell out of the NFL.
Meyer is winless in September. Zero wins. Three losses. The Jaguars, despite all the hype surrounding the team in the offseason and preseason, have easily been the biggest disappointment in the NFL.
History tends to repeat itself. The number of college coaches that went on to have successful NFL careers is slim to none. That's why Meyer should quit before he ruins that poor franchise and tarnishes his on-field legacy as a football coach.
Urban Meyer's Dismal NFL Start
RELATED: Urban Meyer?s New Jaguars Job Will Make His Net Worth Soar
I could throw all sorts of stats at you.
I could tell you that the Jaguars averaged 17.7 points through their first three games against the Houston Texans, Denver Broncos and Arizona Cardinals, a number that only five other teams have posted worse. I could even tell you all about Trevor Lawrence's seven interceptions to just his five touchdown passes.
Rather, it's a simple quote that shows why Meyer was never the right guy for the job.
After the Broncos beat the Jaguars, 23-13, in Week 2, Broncos head coach Vic Fangio let reporters in on what Meyer told him about the play caliber in the NFL compared to the NCAA.
"I don't know Urban Meyer at all really, I met him the other day, shook his hand before the game and after the game and his comment to me was, 'Every week it's like playing Alabama in the NFL,'" Fangio said.

"And that's it. Everybody's capable of beating everybody in this league."
Uhhhhhh, yeah Urban. Sorry you don't get to take off any weeks to play Akron. There are no Rutgers, Indianas or Purdues in the NFL like you saw coaching Ohio State in the Big Ten. This is the big leagues, where the players on every team are the best of the best.
Maybe Urban will turn things around, and maybe I'll lose 50 pounds before Christmas. The reason I don't see it happening (not the losing weight thing, though the reason would be cookies) is because past college football coaches have never really proved they can do it.
History of College Coaches in NFL
The NFL is a different game than college football. The focus shifts from recruiting five-star athletes and developing them to out-coaching and out-scheming opposing teams and coaches in the NFL. That's why it isn't a seamless transition. It will chew up and spit out cocky college coaches.
According to ESPN's Cole Cubelic, there have been 11 coaches since 2000 to be hired from a college coaching position to NFL head coach.
Here's the list:
Matt Rhule, Carolina Panthers
Kliff Kingsbury, Arizona Cardinals
Bill O?Brien, Houston Texans
Chip Kelly, Philadelphia Eagles
Doug Marrone, Buffalo Bills
Greg Schiano, Tampa Bay Buccaneers
Jim Harbaugh, San Francisco 49ers
Bobby Petrino, Atlanta Falcons
Nick Saban, Miami Dolphins
Steve Spurrier, Washington Football Team
Butch Davis, Cleveland Browns
Some of these names are fairly new, so it's harder to judge. A good deal of these names were disasters and failures, though.
Alabama's Nick Saban, the greatest college football coach of all time, went 15-17 in two seasons with the Dolphins. Spurrier lasted two years as well, going 12-20 over the span. Petrino could only stand to lose for 13 games before he resigned, not even finishing the regular season.
According to Sports Illustrated, just three of those names — Harbaugh, Kelly and O'Brien — had winning records. Harbaugh was something of an anomaly, taking the San Francisco 49ers to the playoffs in all three of his NFL seasons. He even coached in an NFC Championship Game and a Super Bowl. Three other coaches — Davis, Kelly and O'Brien — also went to the postseason at least once.
We've seen Urban go back on his commitments to football programs before. I wouldn't be shocked if he did the same this season in Jacksonville. And to be honest, I think he should before this situation gets any uglier.
Then again, maybe he wants the NFL record for the longest losing streak.
Related Videos