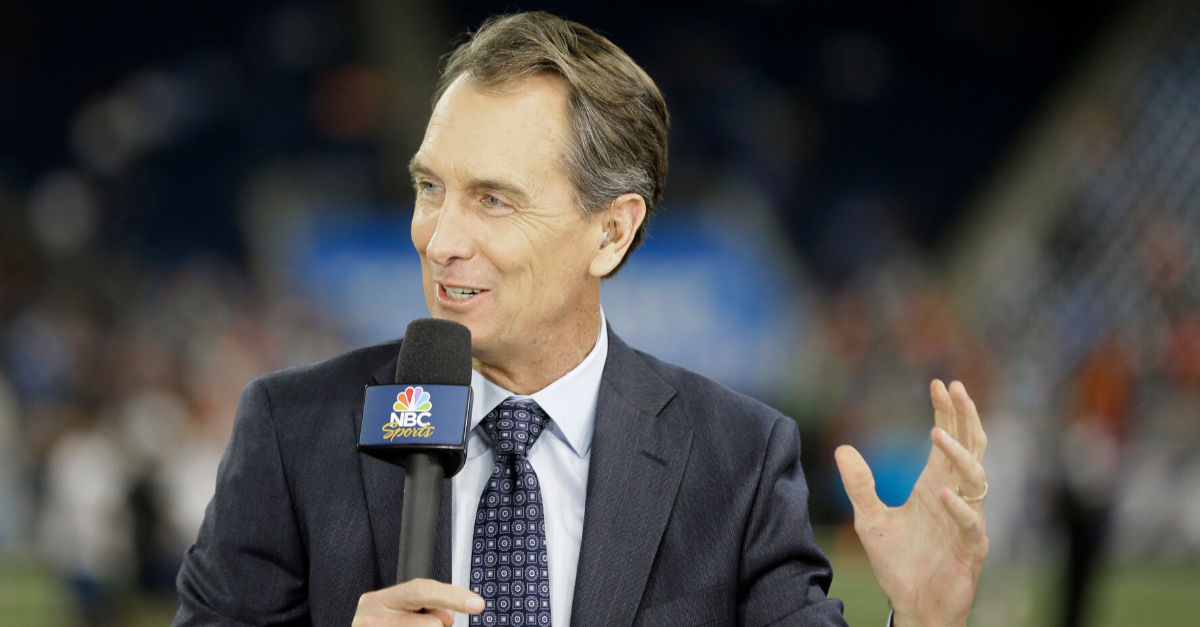 AP Photo/Carlos Osorio
Anyone who has ever tuned into Sunday Night Football knows Al Michaels and Cris Collinsworth are there waiting to call the game. The football teams and stadium might change each week, but not the iconic NBC broadcasting duo, and it's become a National Football League tradition in many ways.
With each broadcast comes something as predictable as orange slices after a youth soccer game. That, of course, is the broadcast starting with only Michaels by himself before Collinsworth smoothly slides into the frame.
Yes, the Cris Collinsworth slide-in is seriously a weekly thing during the regular season and NFL playoffs, from the Wild Card up until the Super Bowl.
It happened when the Chicago Bears hosted the Los Angeles Rams at Soldier Field last season. It happened when the Minnesota Vikings hosted the Green Bay Packers a couple of weeks before that. It's happened every single time Tom Brady, Bill Belichick and the New England Patriots play or when the Dallas Cowboys or Philadelphia Eagles take the field for SNF.
The teams don't matter. It's happened on NBC's Sunday Night Football for years.
The Chris Collinsworth Slide-In
RELATED: No Bromance Will Ever Be Stronger Than the Watt Brothers
The Internet, in all of its glory, loves the Cris Collinsworth slide, even those who are not fans of him as an NFL announcer and analyst.
But wait. There's more. There's so much more. The Internet is the only thing in sports that can forever go undefeated and cover every single spread.
Just when you think you've seen it all, someone does the unthinkable on social media, such as this YouTube video of The Collinsworth Slide.
This wasn't real, of course, but it needs to start becoming a thing everyone cheers for before the football game every Sunday night and during the playoffs on NBC.
Collinsworth was a First-Team All-American quarterback for the Florida Gators and was a three-time NFL Pro Bowl selection during his playing days with the Cincinnati Bengals.
However, the greatest play of Collinsworth's career just so happens to be the Sunday Night slide to Michaels in the opening minutes of NBC's broadcast each and every week.
Needless to say, Collinsworth's slide belongs in the Pro Football Hall of Fame. It's absolutely electric.
This post was originally published on December 11, 2018.