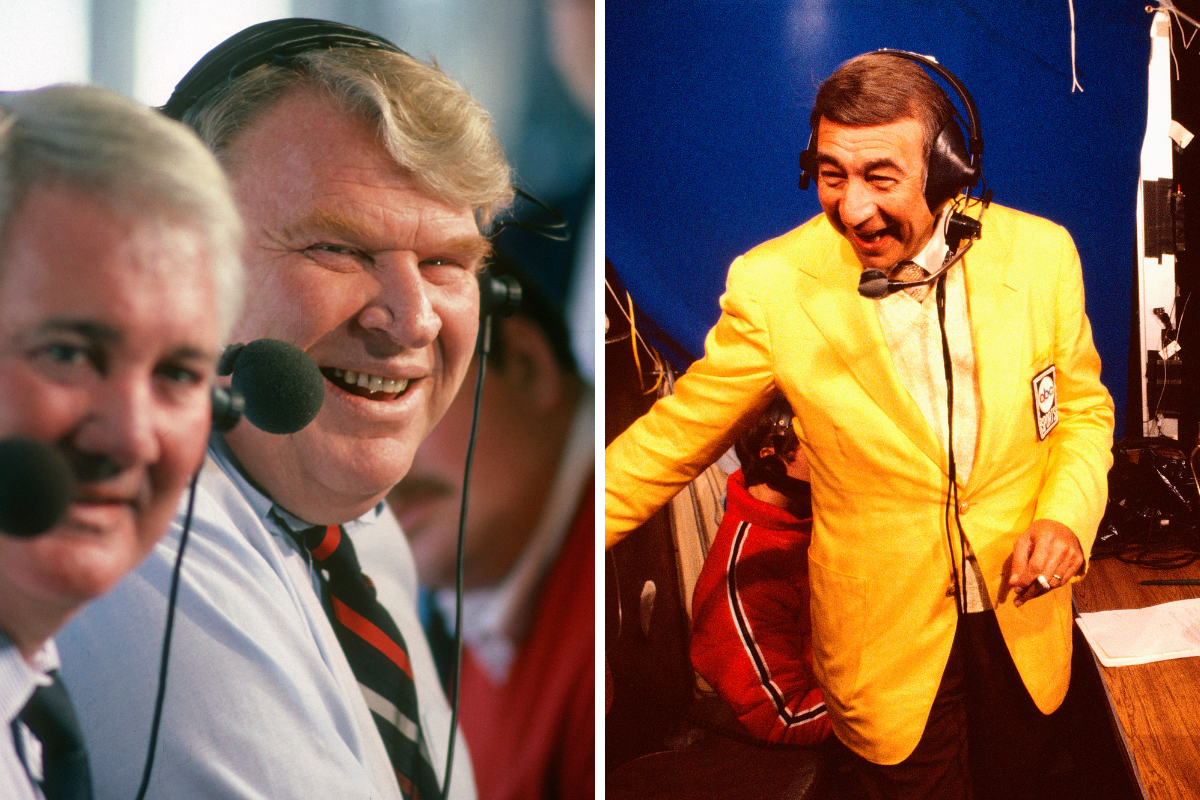 Photo by Focus on Sport/Getty Images (left), Photo by Ross Lewis/Getty Images (right)
Since its start on ABC in 1970, ESPN's "Monday Night Football" has had dozens of voices in the broadcast booth reach millions of American people and also around the world. But there are some who will always be remembered as the best.
With Jason Witten struggling a few years ago through one NFL season as the color commentator, it is important to look back at the best voices of "Monday Night Football" and who we all think of when imagining the best moments of the weekly prime time game.
RELATED: College GameDay's 10 Most Memorable Guest Pickers
Everyone likes different voices, I'm sure. It comes down to taste with what kind of style each person likes, but I listed these six men how I think they should be ordered. However, someone older than me who saw and listened to them may think they should be in a different order while someone younger than me may not know who any of these guys are and think of more recent names like Joe Tessitore, Booger McFarland, Sean McDonough, Steve Levy, Brian Griese and Louis Riddick
This is also just a list of "Monday Night Football" voices in the role of play-by-play announcer or color commentator. I didn't add in the sideline reporters, though, because Lisa Salters, Michele Tafoya and Lynn Swan were always great.
A list of all voices, including "Thursday Night Football" and "Sunday Night Football," would probably already include Tony Romo since he has maybe one of the best games ever called during the AFC Championship between the New England Patriots and Kansas City Chiefs.
Without further ado, here are the six most iconic voices in "Monday Night Football" history.
6. Jon Gruden
Starting in 2009 as a color commentator, Jon Gruden was extremely entertaining on "Monday Night Football." Part of his entertainment value was that he is funny even when he definitely didn't mean to be. Gruden took over as the "Monday Night Football" color commentator for Tony Kornheiser and held that role until end of the 2017 season after agreeing to become the head coach of the Oakland Raiders.
Things, obviously, didn't end well for Gruden in Oakland.
5. Mike Tirico
For almost all of my adult life, the play-by-play announcer on "Monday Night Football" was Mike Tirico. Beginning in the role in 2006, Tirico's voice was the one everyone heard while watching games on Monday nights until 2016.
One of my most memorable moments growing up was in 2004, when Devin Hester returned a punt for a touchdown while at the University of Miami with Tirico was calling play-by-play.
Then, two years later, Hester returned a punt for a touchdown on "Monday Night Football" against the Arizona Cardinals to complete a comeback, again with Tirico's voice calling it out and mentioning the punt return two years prior.
4. John Madden
Not only is John Madden one of the most successful head coaches in NFL history, but he is also one of the most successful announcers in sports history. His success led to one of the best video game franchises ever in Madden Football.
The Hall of Fame member's stint with "Monday Night Football" wasn't long compared to his whole career, but it is remembered fondly. He took over as the color commentator in 2002 along side Al Michaels and served in that role until he moved to "Sunday Night Football" in 2005.
3. Howard Cosell
Not only is Howard Cosell one of the best to appear on "Monday Night Football," but he was also the first. In 1970, when ABC began broadcasting NFL games on Mondays, Cosell was the color commentator and stayed in that role until 1983. Possibly his most famous moment though was not talking about football, but announcing to the world that John Lennon had been shot and killed.
2. Frank Gifford
As the only person to serve time as both the play-by-play announcer and color commentator, and also the longest-tenured voice on the show, Frank Gifford was vital to the success of "Monday Night Football" in its early days. After Keith Jackson left the role of play-by-play to call college football games, Gifford took over in 1971 and was with the show in that role until 1986 when Al Michaels took over play-by-play and Gifford moved into the color commentator role until 1997.
Gifford also had the luck of calling games with some of the best to ever do it like Cosell and Don Meredith in the beginning of the show and then Michaels for the last decade.
1. Al Michaels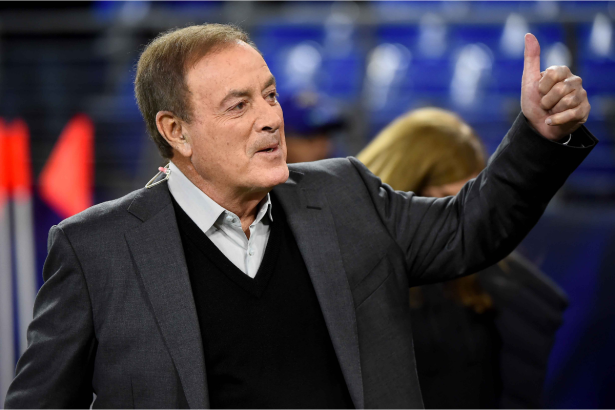 Not only is Al Michaels my favorite broadcaster in "Monday Night Football" history, but also my favorite in any broadcasting in history. Along with his call of the 1980 Miracle on Ice, Michaels' voice calling MNF is iconic. He held the role of play-by-play announcer for 20 seasons, beginning in 1986 and all the way to 2006 when MNF moved to ESPN.
When I think back to big moments in NFL history — like Peyton Manning leading a 21-point comeback against Tampa Bay the year following the Buccaneers' Super Bowl win — it is Michaels' voice that I hear in my head. Though there are others who served before him and longer than him, Michaels was the best, most important and iconic voice in the history of MNF. If he didn't call the Miracle on Ice, I'm not sure it would be the case, but his voice just resonates so much emotion because of his line "Do you believe in miracles?"
And the fact that he was the play-by-play announcer is really important, too. With every play for 20 seasons, the voice you hear during a play was Michaels'. As a color commentator, you get the reaction after the fact, but Michaels was calling out what was happening, so if you watch a YouTube highlight, it is his voice that you are listening to and is what gives you goosebumps.
This post was originally published on June 3, 2019.
Related Videos