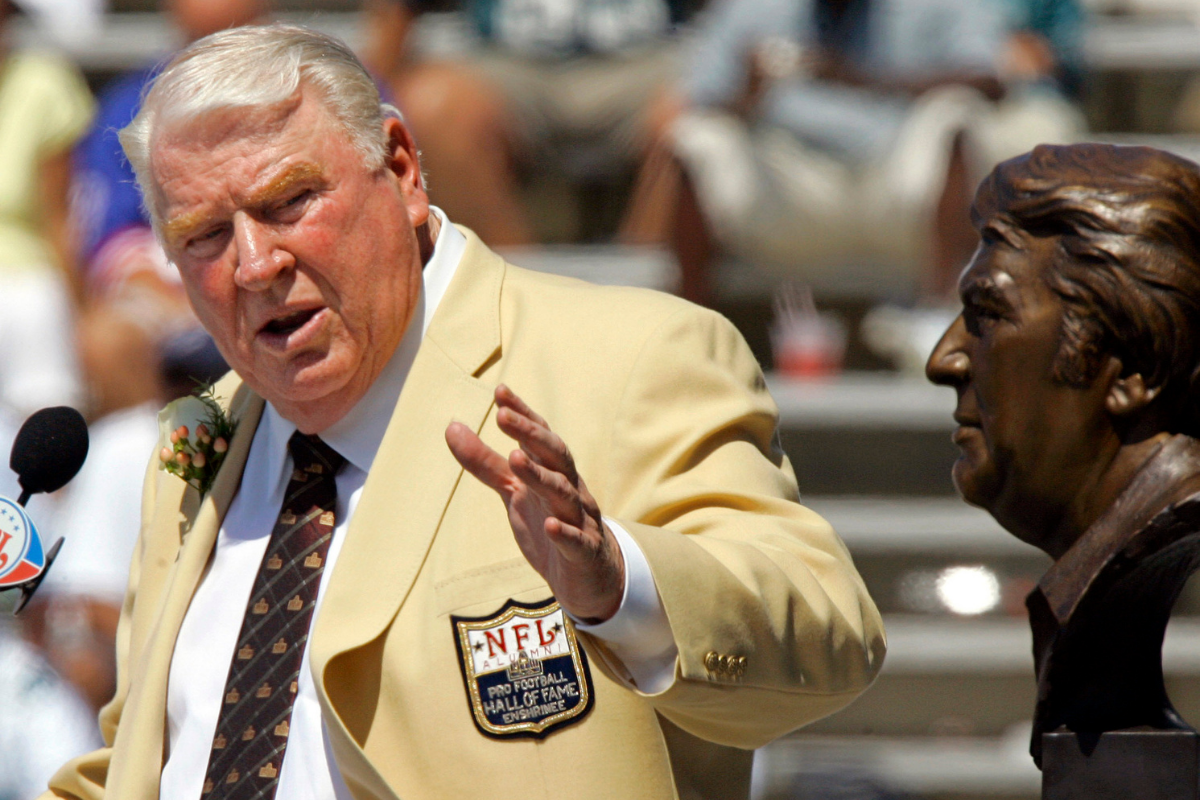 AP Photo/Mark Duncan, File
John Madden is one of the most recognizable figures around the National Football League. The former head coach-turned color commentator and sportscaster had his own career as a football player cut short due to a knee injury, yet he made the most of his love for the game.
In addition to his career as a broadcaster, Madden made an absolute fortune through his video game series, which remains one of the most popular sports video game franchises on the planet. Considering his ties to the NFL and the Madden franchise, it comes as no surprise whatsoever that Madden is filthy rich.
Early Life and Football Career
RELATED: The 6 Most Iconic Monday Night Football Voices in NFL History
John Madden was born in Austin, Minnesota to parents Earl Russell Madden and Mary Margaret. The family moved to Daly City, California when Madden was young, and he grew up in the area. John was a standout member of the Jefferson High School football team and eventually took his talents to the College of San Mateo.
After one year in San Mateo, Madden transferred to play college football at the University of Oregon. However, he never played for the Ducks due to injury. Madden would return to San Mateo before playing one season at Cal Poly in San Luis Obispo.
Madden was selected in the 21st round of the 1958 NFL Draft by the Philadelphia Eagles. While his professional football career had just begun, it wouldn't last long. A career-ending knee injury sustained in training camp saw Madden retire before playing in a single game as an NFL player.
That didn't stop his love for the game.
Coaching Career
Madden's career on the gridiron didn't go as planned, but he wasn't done with football.
Madden turned to coaching, where he got started at the college level at a program called Allan Hancock College in 1960. After a few years, Madden joined San Diego State as an assistant coach.
In 1967, Madden got his first shot as an NFL coach, joining Al Davis' Oakland Raiders as the team's linebackers coach in the AFL and helping lead the team to Super Bowl II. It took just one year for Madden to get the big job, taking over as head coach of the Oakland Raiders at the age of 32, which was then the youngest head coach in NFL history.
Madden proved capable as a head coach almost immediately. He helped lead the Raiders to five AFC Championship games in his first seven seasons. Despite that success, the Raiders could never make it to the Super Bowl, at least not until Madden's eighth year on the job when the team won Super Bowl XI against the Minnesota Vikings.
After the 1978 season, Madden stepped back as an American football coach and transitioned to his next chapter: broadcasting.
Broadcasting Career
John Madden has worked on NFL telecasts for all four of the major American television networks: CBS, Fox, ABC and NBC. Madden has covered various NFL games including Monday Night Football and Sunday Night Football and has been recognized as one of the greatest color commentators in history.
He earned several marquee endorsements and sponsorships during his time as a commentator, including deals with companies like ACE Hardware, Miller Lite, Toyota and Outback Steakhouse.
The 85-year-old who is best known for his catchphrases such as "Boom!" won 16 Emmy Awards due to his work in broadcasting, and in 2006 Madden was inducted into the Pro Football Hall of Fame.
Video Game Franchise
Despite all Madden achieved on and off the gridiron, most of his modern-day fame is attributed to his monstrously successful video game franchise, the Madden NFL series.
The video game, which is produced by Electronic Arts' EA Sports, was first released in 1988 and has since become the clear-cut leader in terms of football video games. It has reportedly sold more than 250 million copies. Madden was reportedly paid $150 million for EA to use his name and likeness.
John Madden Net Worth
Nowadays, John lives with his wife Virginia Fields in Pleasanton, California, just outside San Francisco. The couple has been married since 1959 and have two sons, Joseph and Michael.
To say the family is living lavishly would be an understatement. According to Celebrity Net Worth, Madden's estimated net worth is a staggering $200 million. Not bad for a guy whose NFL career was cut short during his first training camp.