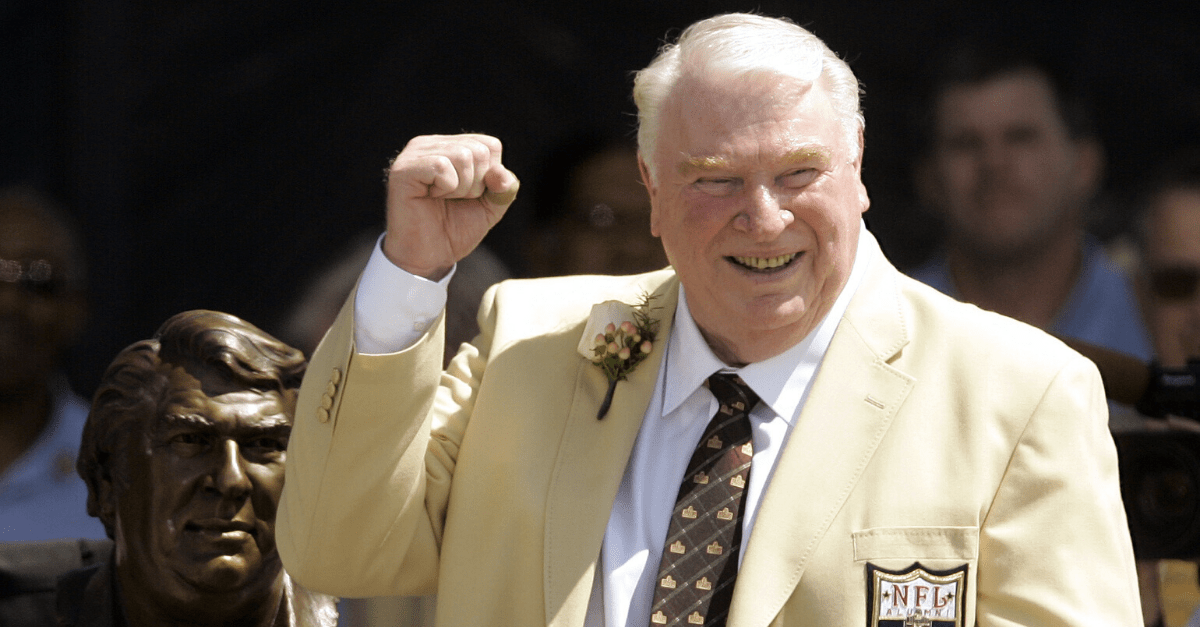 AP Photo/Tony Dejak
When you think of football greatness, players like Tom Brady, Joe Montana, and Peyton Manning probably come to mind. But what about one of the NFL's most influential coaches and namesake of the most popular football video game in history, John Madden?
Not only was he a successful head coach in the National Football League, but Madden was an iconic sportscaster who helped develop a pretty popular video game sporting his name. And with every year it is released, his net worth grows to a point that it'll blow your mind.
As one of the most recognizable names in American football and all of sports, John Madden continues to grow his legacy over the decades thanks to not just video games and coaching, but also with his voice as a commentator. When it comes to football, Madden has basically done it all, but contrary to popular belief, it hasn't always been successful.
Early Life and Playing Career
John Earl Madden was born in Austin, Minnesota, but his father Earl Russell Madden, an auto mechanic, would move his family to Daly City, California at a young age. He graduated from Jefferson High School in 1954 before playing his college football games at the College of San Mateo and Cal Poly in San Luis Obispo.
After winning All-Conference honors, he was drafted in the 21st round of the NFL Draft by the Philadelphia Eagles. Before Madden could ever have a chance of a successful career as an NFL player, it was ended by a knee injury. He never appeared in an NFL game before ending his career as a football player.
Coaching Career
Since his playing career didn't pan out and he had graduated from Cal Poly with a degree in education, he figured out his passion for teaching and football could overlap as a football coach.
He began his coaching career at Allan Hancock College as an assistant coach in 1960. He was promoted to head coach of the team in 1962. After his second season as the head coach, he was hired by San Diego State as the defensive coordinator, where he helped the Aztecs to 26-4 record over three seasons.
Al Davis hired Madden as the linebackers coach of the AFL's Oakland Raiders in 1967. In his first season with the team, they reached Super Bowl II. After his second season, Madden would be named the head coach of the Oakland Raiders. At the age of 32, he was the youngest coach to lead a team in the history of professional football.
In 10 seasons as the Oakland head coach, Madden's teams had a record of 103-32-7. To win over 75 percent of your games over a decade is pretty remarkable, especially since it was his first 10 seasons as a head coach in professional football.
Maybe the biggest blemish on Madden's time with Oakland was the fact he reached five AFC Championship games in seven seasons and lost all of them. But finally, in his eighth season, the Raiders went 13-1 during the regular season and went on to beat the Minnesota Vikings in Super Bowl XI.
After another loss in the AFC Championship in 1977 and a poor season in 1978, Madden retired from coaching due to health problems. The fact he was deathly afraid of flying and traveled the country in a bus must have hurt his health at least a little.
Broadcasting Career
It didn't take long for Madden to jump back into the football world, becoming a color commentator for CBS in 1979. He started out with smaller spots, but was put in the top spot alongside Pat Summerall in 1981.
Madden was the voice of Monday Night Football after 30 seasons in the broadcasting booth for all four major American television networks, CBS, Fox, NBC Sports, and ABC. His salary reached a point where he would make more than any player at the time, and eventually reached over $8 million per year. And though he was making millions of dollars every season, that isn't how he made most of his money.
In his long and successful career as a broadcaster, Madden won multiple awards, including 16 Emmy Awards.
Madden NFL Video Game
Today, we see Madden's name most on the cover of EA Sports' Madden NFL Football video games. This game was first released in 1988 — Madden wanted to create a teaching tool for people everywhere to learn football — and the game increased in popularity ever since. For his name and voice to be used, Madden signed a $150 million deal with Electronic Arts. He also receives millions of dollars in royalties as the game is sold all over the world every year.
Not only did he have his deal with Electronic Arts for the popular video game, but he was also the spokesman for Tenactin foot cream, ACE Hardware, Outback Steakhouse, Verizon, and many others.
Iconic catchphrases like Madden's "BOOM!" also landed him on the big screen, scoring small roles in movies like Little Giants and The Replacements.
John Madden Net Worth
Madden broke into the video game world at the perfect time, becoming the face of maybe the most popular gaming franchise in history. He also had a successful career in broadcasting and as a coach with some advertisement deals on the side. This is why John Madden's net worth is so high now.
The 83-year-old Pro Football Hall of Fame coach and broadcaster put in his time and energy for over half a century and was rewarded with fame and a huge fortune with an estimated net worth around $200 million.