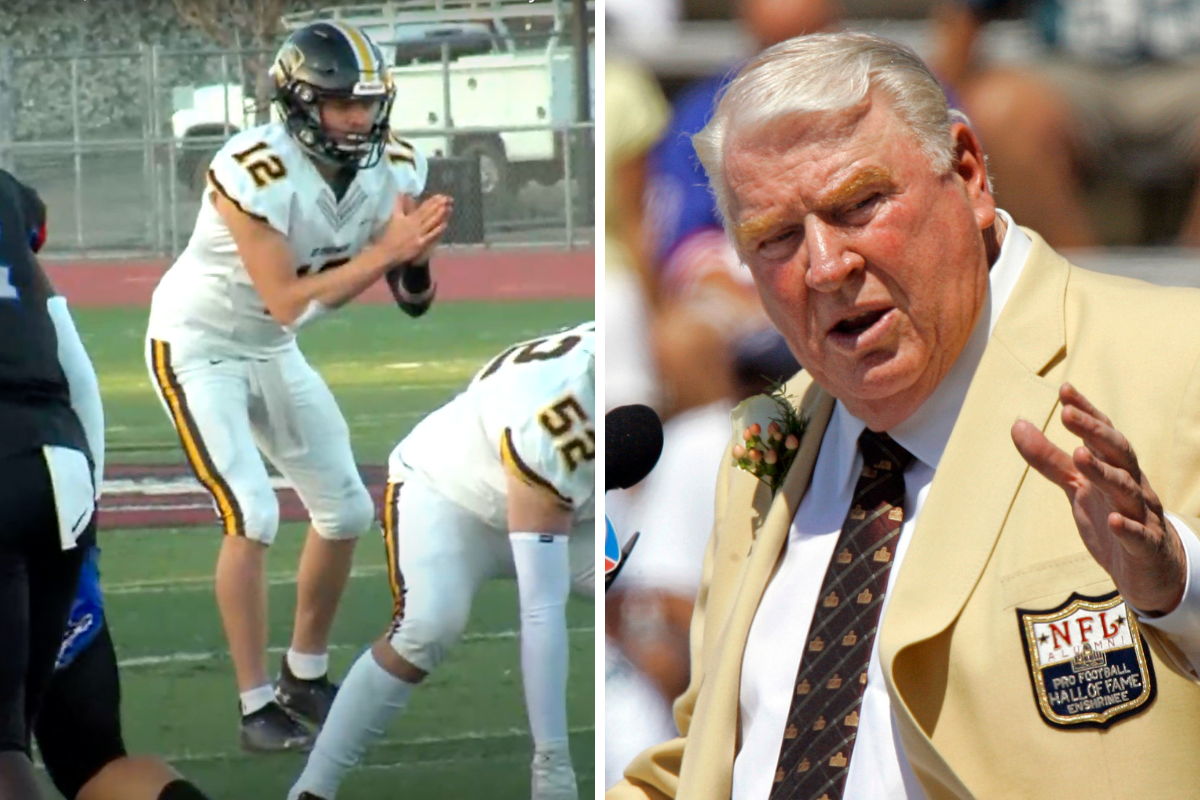 Screenshot from YouTube (left), AP Photo/Mark Duncan, File (right)
Young or old, football fans around the country know how influential John Madden has been to the game. From his long and storied tenure as a head coach and broadcaster to his impact on the video game industry with the Madden NFL series, he is the definition of a legend. There's a reason he's worth $200 million.
Madden's grandson, Jesse Madden, is trying to make an impact of his own. He is the starting quarterback of his high school football team and has received interest from several NCAA programs.
Jesse Madden Recruiting
RELATED: John Madden's Net Worth: The King of Football is Certainly Paid Like It
Madden attends Bishop O'Dowd High School in Oakland, California. He is a solid player and his path to college football will likely come as a preferred walk-on.
Jim Harbaugh and the University of Michigan offered Madden this kind of deal in July 2020. Should he accept, the student-athlete wouldn't be guaranteed a scholarship, but could still make an impact on the game if he chose to stick with the Wolverines.
There is still some time before a decision has to be made, so there is always the chance that Madden starts to rack up scholarship offers as well.
Even if he doesn't, plenty of great college football players have made it big-time as walk-ons. Baker Mayfield became a Heisman Trophy winner. Clay Matthews was a star at USC. JJ Watt turned out to be one of the best defensive players in NFL history.
QB Jesse Madden Highlights
Madden has just started to take over the reins as the Dragons' starting varsity quarterback. His dad is the offensive line coach. His legendary grandfather watches the games from his SUV using binoculars.
The state of California had postponed fall sports due to the COVID-19 pandemic, but they are back up and running now. Through his first three games in the 2020-21 season, Madden threw for 720 passing yards and seven touchdowns. There will be plenty more TDs to go around as the season continues.
?There aren?t many Madden quarterbacks, and Jesse always had a ball in his hand, whether it was a basketball, a baseball or a football,? John Madden told the Bay Area News Group. ?In Little League, he was a pitcher, and in Pop Warner a quarterback. He always threw. It?s who he was and who he is.?
Madden and Bishop O'Dowd reached the state championship in 2019, so there are plenty of expectations for this team going forward. Las Lomas High School and De La Salle are going to be threats, but the Dragons will have every opportunity to repeat in the 2021 playoffs.
Jesse Madden is a more-than-serviceable quarterback who will almost certainly get the opportunity to play in college. The Madden family name will continue to permeate the game of football for years to come.