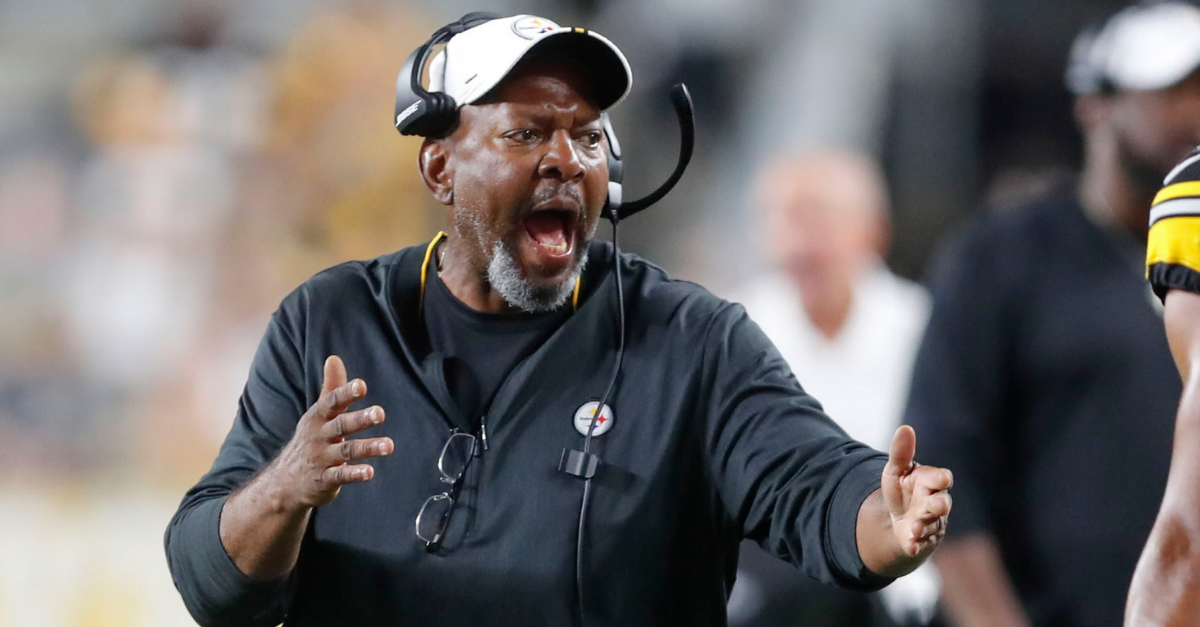 AP Photo/Keith Srakocic
After a roller coaster season, one that saw no playoff games for the first time in five years, the Pittsburgh Steelers were looking forward to hitting the reset button and starting fresh. The team already has plenty of motivation as it is, but now they must rally and play for something and someone else.
The entire Steelers organization is currently in mourning. Wide receivers coach Darryl Drake, who was entering his second season in Pittsburgh, unexpectedly passed away on Sunday morning in Latrobe, Pennsylvania. He was 62.
The cause of death wasn?t mentioned, but the loss of the veteran assistant shook the entire National Football League when the news broke.
A Louisville, Kentucky native, Darryl Drake played college football at Western Kentucky, spent three seasons on the practice squads of the Washington Redskins, Ottawa Rough Riders and Cincinnati Bengals before hanging up his cleats and starting a long run as a coach.
Since 1983, Drake moved through the ranks with Western Kentucky from a graduate assistant to the quarterbacks before moving around at the college and NFL level. He?s coached for the Georgia Bulldogs (wide receivers coach), Baylor Bears (offensive coordinator & quarterback coach), Texas Longhorns (wide receivers coach & associate head coach), Chicago Bears (wide receivers coach), Arizona Cardinals (wide receivers coach), and recently under Steelers head coach Mike Tomlin.
?Darryl was a close friend and had a tremendous impact on my coaching career,? Tomlin said. ?He was an amazing husband, father, and grandfather, and it is difficult to put into words the grief our entire team is going through right now. Darryl loved the game of football and every player he ever coached. We will use our faith to guide us and help his family throughout the difficult time. My heart and our prayers are with his wife, Sheila, and Darry?s entire family.?
Drake coached some of the biggest names in the game, including Larry Fitzgerald, Antonio Brown and JuJu Smith-Schuster, and he left an incredible legacy.
?We are at a loss for words following Darryl Drake?s passing this morning. Darryl had such an impact on the players he coached and everyone he worked with throughout his entire career. He was a passionate coach and had a tremendous spirit toward life, his family, his faith, and the game of football. Our prayers and thoughts are with his wife, sheila, his three daughters, his grandchildren, and entire family during this difficult time.?

?Pittsburgh Steelers President Art Rooney II
Coach Drake?s death certainly rocked the Steelers during the preseason. The team even canceled training camp practice at Saint Vincent College. Many coaches and players, past and present, shared their condolences on social media, including former Cardinals and current Tampa Bay Buccaneers head coach Bruce Arians, former Steelers great Jerome Bettis and current Pittsburgh star JuJu Smith-Schuster.
It was the perfect opportunity to go on social media and share their thoughts on a great man who left this world too soon.