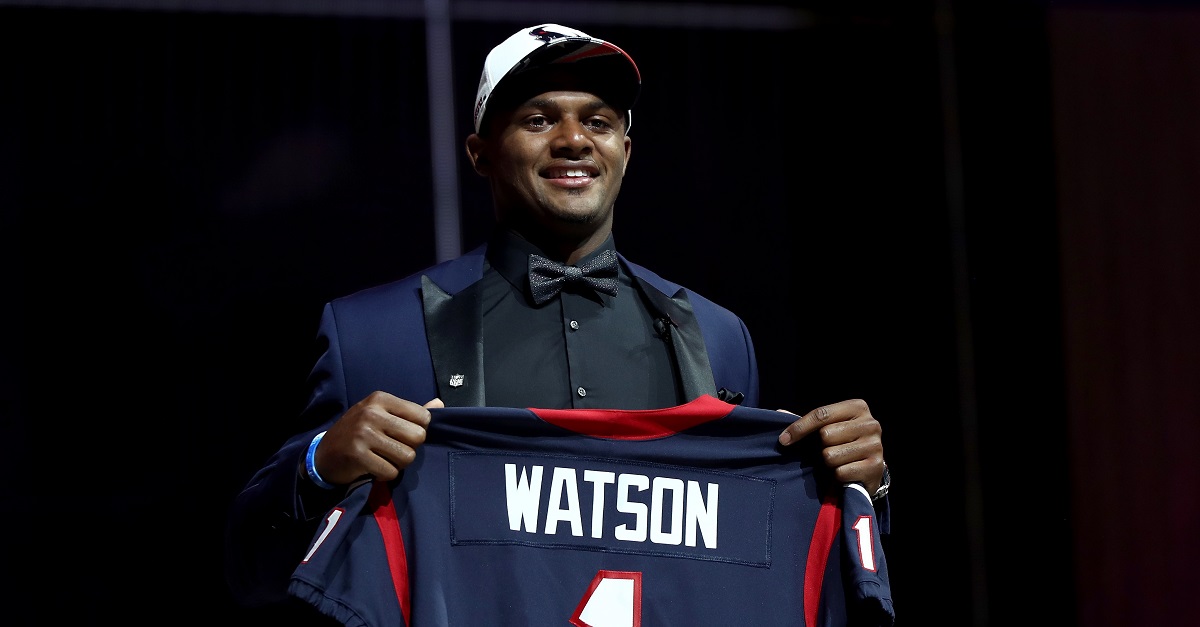 PHILADELPHIA, PA - APRIL 27: Deshaun Watson of Clemson reacts after being picked #12 overall by the Houston Texans during the first round of the 2017 NFL Draft at the Philadelphia Museum of Art on April 27, 2017 in Philadelphia, Pennsylvania. (Photo by Elsa/Getty Images)
As one of the best young quarterbacks in the NFL today, Deshaun Watson is already making an impact on the field. But how is that impacting his own wallet?
In two seasons as an NFL player with the Houston Texans, Watson has cemented himself as one of the more talented signal callers, and he will be paid for that in a couple of years when his rookie contract comes to an end. However, his current deal and net worth are still pretty nice.
RELATED: Tom Brady's Net Worth is More Impressive Than His Hall of Fame Resume
Let's take a look at how he's made his millions at such a young age:
Early Life
Deann Watson and Don Richardson had Derrick Deshaun Watson on September 14, 1995. He grew up in Gainesville, Georgia, where attended Gainesville High School. He became the starting quarterback as a freshman — the first freshman to ever start at quarterback for coach Bruce Miller.
During his sophomore and senior seasons, he led his team to the state semifinals and during his junior year, led the Red Elephants to a state title. He also set many Georgia state records, including total yards, total touchdowns, career passing yards, and career passing touchdowns, which ironically were broken by current Clemson quarterback Trevor Lawrence.
His great high school career led to him being ranked as the top dual-threat quarterback recruit in the 2014 recruiting class by Rivals, 247 Sports, and ESPN.
College Career
Watson should be credited with really bringing the Clemson Tigers over the top and putting them in the position they are currently in as one of the top programs in the country. Before enrolling at Clemson University, the Tigers had been pretty good, but finished in the AP Poll top- 10 just once since 1991. That, of course, was in 2013 when the Tigers finished at No. 8.
Watson made an impact immediately when he arrived on campus, playing in eight games as a freshman and going 4-1 in games where he threw at least nine passes. The lone loss came against the defending-national champion Florida State Seminoles.
His sophomore season, he led Clemson to a perfect regular-season record and ACC Championship, beating Oklahoma in the Orange Bowl during the first game of the College Football Playoff, and then lost to Alabama in the National Championship game. He passed for 4,109 yards, 35 touchdowns and 13 interceptions while also rushing 1,105 yards and 15 touchdowns and was named a Consensus All-American.
Watson's junior season was even more impressive, passing for 4,593 yards, 41 touchdown and 17 interceptions with 629 yards and nine touchdowns on the ground, finishing second in the Heisman Trophy voting to just Lamar Jackson.
After losing to the Crimson Tide in the College Football Playoff National Championship Game the year before, Watson brought the Tigers back to that stage after losing one game all season and beating Ohio State 31-0 in the Fiesta Bowl. On a Deshaun Watson passing touchdown to Hunter Renfrow with one second left in the game, Clemson beat Alabama for the school's second National Championship in football.
In both 2015 and 2016, Watson was awarded the ACC Athlete of the Year, Davey O'Brien Award, and Peyton Manning Award, and also won the Johnny Unitas Golden Arm Award in 2016.
NFL Career
After a great three seasons in Clemson, South Carolina, Watson decided to turn pro. He was selected in first round (12th overall) by the Houston Texans in the 2017 NFL Draft. He was the third quarterback selected after Mitchell Trubisky and Patrick Mahomes.
He signed a four-year deal, $13.84 million contract that included an $8.21 million signing bonus.
Watson made his first appearance of his professional career in Week 1 of his rookie season after starting quarterback Tom Savage was benched by head coach Bill O'Brian at halftime. He started the next game and went on to play in a total of seven games as a rookie before suffering an ACL tear in practice.
As a follow-up to his solid rookie season, Watson started all 16 games for the Texans and led them to an 11-5 record with 4,165 passing yards and 26 touchdowns to just nine interceptions. He also rushed for 551 yards and five touchdowns. The great sophomore season led to his first Pro Bowl selection and a trip to the playoffs, Houston's fifth-ever appearance in the postseason.
The combination of Dak Prescott in Dallas and Watson in Houston gives the state of Texas two of the best young quarterbacks in the league.
Deshaun Watson Net Worth
In two seasons of play and his signing bonus, Watson has made $9,713,635. That doesn't count his endorsements with companies like Nike and Beats by Dre, but his net worth can be estimated around $4 million, according to Celebrity Net Worth. He's just getting started.