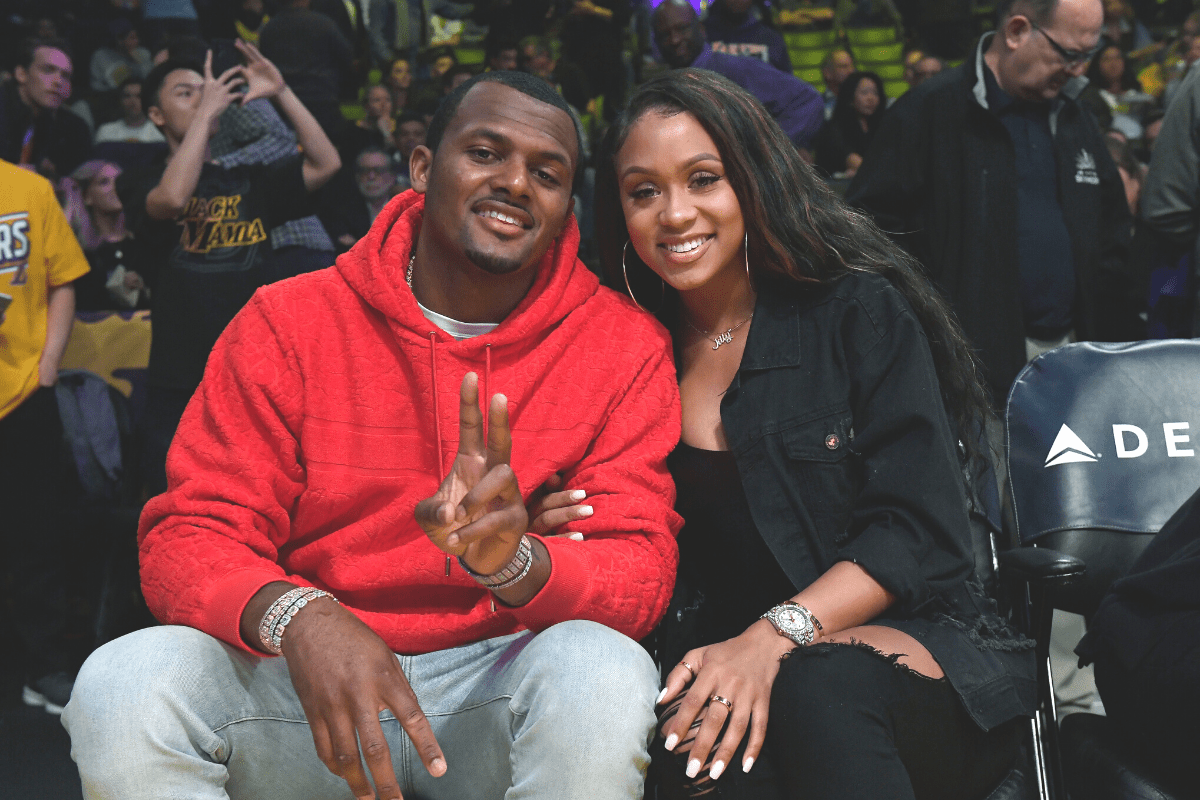 Photo by Kevork S. Djansezian/Getty Images
Houston Texans quarterback Deshaun Watson is one of the superstar quarterbacks in the NFL. The three-time Pro Bowl passer first made a name for himself at Clemson University, where he led the Tigers to a College Football Playoff National Championship in 2016.
A two-time Heisman Trophy finalist while in college, Watson became the Texans' first-round pick in the 2017 NFL Draft. He led the AFC South team to the playoffs in 2018 and 2019, which included a thrilling overtime win against the Buffalo Bills and a loss to the eventual Super Bowl champion Kansas City Chiefs.
Still just 26, Watson is well-known on and off the gridiron. He agreed to a four-year, $160 million contract extension in September 2020 that will keep him playing in NRG Stadium, although he's in hot water following numerous lawsuits alleging sexual misconduct or assault.
Watson has been in a relationship for numerous years now. Like Christian McCaffrey and Tom Brady, the NFL star decided to go after a model.
The couple's "how we met" story isn't a usual one, though.
Deshaun Watson's Girlfriend Jilly Anais
Watson is dating Jillyann Anais Moor, a model, social media influencer, singer and actor. She was born in Houston, Texas, in 1996 and has a background in competitive dance and competitive cheer and was a varsity cheerleader in high school.
The Instagram model has garnered quite the following online. She has more than 2.6 million Instagram followers and more than 500,000 subscribers on YouTube, where she updates her fans about her life.
She began making headlines when she won Miss Teen Houston in 2011. Three years later, she packed up and headed to Los Angeles to pursue a career in acting and modeling. According to IMDB, she's played roles in "God Send" (2019), "Freakish" (2016), "East Los High" (2013) and "Scooby Doo Is Back" (2017).
Anais is also a singer and released songs like "Lemme Know," "Wait For It" and "Milano." In 2015, she released her EP named "The Juice."
Before linking up with Watson, Anais dated San Antonio Spurs point guard Dejounte Murray. The relationship ended on bad terms, however, as the NBA player called her a gold digger. She defended herself and called his claim untrue because she came from a wealthy family.
"My parents had me in a Hummer at 15 years old. My parents bought me my Range Rover when I turned 21. I had a Range Rover before I met this person … money has never been a scratch scratch itch itch issue," she said.
They Met At Hot Yoga
RELATED: Tiger Woods Dated Porn Stars, Models and an Olympic Skier
Anais and Watson told their story in one of her YouTube videos, and it's pretty funny.
One day in 2019, Anais told him she was going to a 7 a.m. hot yoga class with a friend. Watson invited himself. The pro quarterback was five minutes late because he got pulled over by police on his way to the session.
That marked the first time the two actually met, but it wasn't the first time they made eye contact. Watson said they locked eyes while with different parties at a Los Angeles restaurant. At one point when Anais had a mouth full of sushi, they waved at each other.
Watson messaged her on Instagram (yes, he slid in her DMs) a few days later. The message? A picture of Anais and her grandmother, who was flipping off the camera. Conversation led to exchanging numbers and they met for dinner the same day as the yoga session.
Watson and Anais have been dating ever since. They took a private jet to Montana in August 2019, marking their first of many vacations to places like New York and Spain. She said she fell in love with her quarterback boyfriend on that trip.
"We started off as best friends," Watson said on Anais' YouTube channel. "It was just all natural…we're just all about energy, and that's the biggest thing."
The two have also given each other gifts. After the new year when the couple was celebrating at Anais' 24th birthday party, Watson gave her a custom Louis Vuitton box and diamond bracelets. TMZ reported the gift and noted that they were celebrating with quarterback AJ McCarron's wife, Katherine Webb, among others.
Watson and his model girlfriend celebrated their one-year anniversary of dating in July 2020, for which Jilly wrote a sentimental message about.
"LoveBug, This year has been nothing but pure bliss!" she wrote on Instagram. "I love doing life with you…You are my best friend, my pookie dookie, my motivation, my backbone, my happy place! I fall deeper in love with you every second of every day! I love you, I adore you and I can't wait to continue building unforgettable memories with you…1 year down, forever to go! Happy Anniversary Baby."
Deshaun Watson Lawsuits & Allegations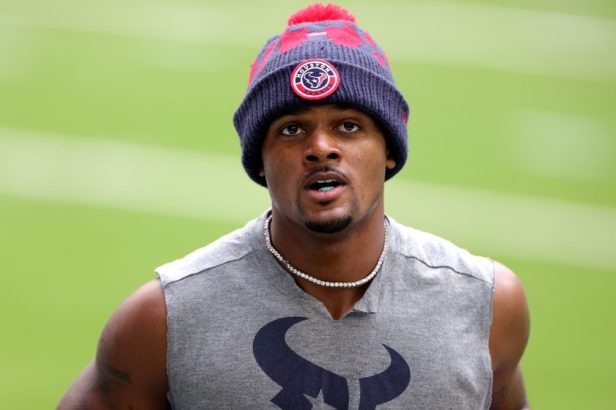 Deshaun Watson's girlfriend has been a hot topic considering he's been in hot water.
The NFL star quarterback is fighting 22 civil lawsuits and multiple criminal complaints from accusers alleging him of sexual assault or misconduct, per CBS Sports. Speaking through his lawyer, Rusty Hardin, he has denied all accusations, per NYPost.com.
One instance alleged he sexually assaulted a massage therapist in California and referred to him as a "serial predator." A former massage therapist of Watson's has defended him since then, saying "he's never harassed me."
Regardless of what happens in court, his girlfriend Jilly has stood by his side.
She celebrating his birthday by posting an Instagram post on social media on September 14, 2020. The pic's caption read, "Happy Birthday LoveBug! Walking hand in hand with you 4L."
I don't know if Deshaun plans on putting a ring on the IG model's finger anytime soon. He can definitely afford one considering his net worth, even despite Nike suspending its relationship with him. They're still quite the trending power couple, though I'm not sure they're in Tom and Gisele's or J.J. Watt and Kealia Ohai's range just yet.
This post was originally published on April 23, 2020 and has been updated since.
Related Videos