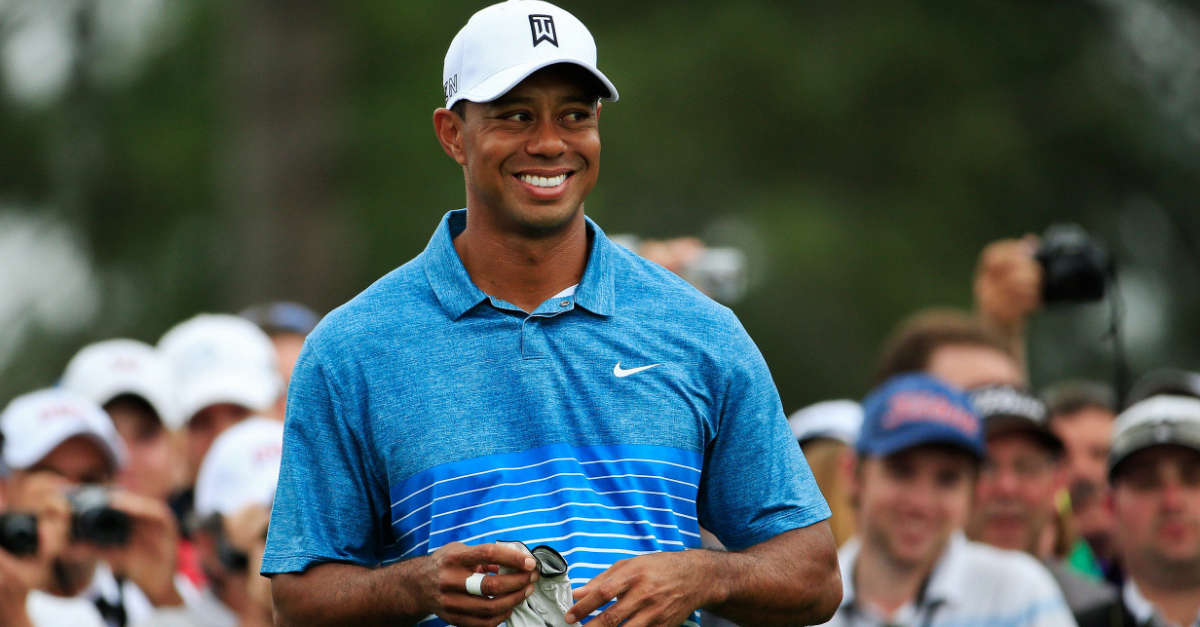 Photo by Jamie Squire/Getty Images
If I told you Tiger Woods has only been married once, you'd probably call me a liar. The 44-year-old won his first major tournament when he was 21 and has won 15 in total over the course of his career, which makes one wonder how one of the best golfers of all time has tied the knot just once.
Of course, as much as Tiger showed he's other-worldly with a putter in his hands, he's most definitely human judging from his personal life. In 2009, news of his infidelity broke and mistresses came forward to tell their stories. In 2017, he was arrested in Jupiter, Florida, after he was found asleep at the wheel under the influence of prescription drugs.
Maybe that's why it was easy to root for Tiger's comeback after a fall from grace. When he won the Masters in 2019, after winning his last major at the U.S. Open in 2008, fans were treated with a trip down memory lane as he gave a patented fist pump in his classic Tiger red. He then celebrated the moment with his two children, mother and his mystery girlfriend.
So, who is the woman dating the athlete worth $800 million? Here's a rundown of who she is plus Tiger Woods' dating history. I thought Dennis Rodman's list of women was crazy (don't worry, it is), but Tiger Woods may very well take the cake.
Keep in mind that this list may not be complete because, well, Tiger has had a LOT of love interests (allegedly).
Tiger Woods' Girlfriend Erica Herman
?Woods' current girlfriend is a woman by the name of Erica Herman.
She met the golf superstar when she working as the general manager at The Woods Jupiter, a Woods-owned restaurant that opened its doors in Jupiter, Florida, in 2015.
Though it's unclear when they began dating, Herman and Woods were first spotted in public at the Presidents Cup in 2017 at the Liberty National Golf Club in Jersey City, New Jersey. They must've been official by that point because reports indicated she was wearing a "player spouse" badge for the event, according to Golf Monthly.
She tagged along to the 2018 Ryder Cup in Paris and posed for a picture with him outside of the Palace of Versailles before the gala. She kissed him when he won the 2018 Tour Championship and stood by his mother and children last year during his monumental Masters win at Augusta National. The two also taken in a World Series game and watched Serena Williams play at Wimbledon together.
Herman is from Boynton Beach, Florida. Per the Palm Beach Post, she was a cheerleader in high school and attended Palm Beach State College and the University of Central Florida in Orlando before becoming restaurant manager at his Florida restaurant and meeting Woods. According to TMZ, she doesn't work at the restaurant anymore.
Despite not being spotted in public with Woods for a while, Herman told Radar Online the two are still together.
?I?ve been to every tournament he?s been at,? she said.
Lindsey Vonn
RELATED: Michael Jordan?s First Wife Made a Fortune Divorcing Him
Olympic skier Lindsey Vonn and Woods were one of the power couples of the sports world when they dated for three years.
They began dating in 2013 after reportedly meeting when her brother was Woods' children's ski instructor in December 2012. Friendship turned into relationship, and the two went steady until they broke up in 2015.
"Tiger and I have mutually decided to end our relationship. I will always cherish the memories that we've created together," Vonn wrote on Facebook. "Unfortunately, we both lead incredibly hectic lives that force us to spend a majority of our time apart."
Vonn, of course, is one of the most decorated female skiers of all time. She won the gold medal in downhill at the 2010 Winter Olympics, becoming the first American woman to do so. She retired in 2019 and is currently engaged to NHL star P.K. Subban.
Kristin Smith
Tiger Woods reportedly began dating Kristin Smith in November 2016, according to Daily Mail and New York Daily News.
She's a personal stylist who used to style Candice Romo, the wife of former Dallas Cowboys quarterback Tony Romo. Before seeing the three-time The Open Championship winner, she married and had a kid with former NFL player Gerald Sensabaugh, who used to play for the Cowboys.
Elin Nordegren
Nordegren is Tiger Woods' ex-wife.
She was born in Sweden and worked as the nanny of Swedish golfer Jesper Parnevik's children, a job that required her to live in the United States full-time. He introduced her to Woods during the 2001 Open Championship, and the couple wedded in 2004.
Woods and Nordegren have two children, Sam and Charlie Axel.
Their marriage came to a screeching halt in 2009 when news of Woods' affairs dominated headlines, which culminated in a one-car crash. Woods crashed his Cadillac Escalade into a fire hydrant outside his Florida mansion, and Nordegren smashed his back window with a golf club during the incident.
Nordegren and Woods finalized their divorce in 2010, and she went on to have a kid with former NFL tight end Jordan Cameron.
Coverage of Woods' mistresses was extensive, as was the list of mistresses. He likely had more affairs than major championship wins at the time and the scandal led to many sponsors dropping him. These women reportedly ranged from porn stars to models and even a law student.
The Playboy Model
Woods allegedly saw Loredana Jolie between 2006 and 2008, according to HuffPost and the New York Post.
She exposed some of their details in a book she wrote, The Real Diary: Lessons from the Good Time Girl to Champion. One of those was that he was a big fan of threesomes. You can make the call if she was telling the truth. Hole-in-ones are overrated, I guess.
Loredana is from Sicily and posed for Playboy in 2002 and 2004. The New York Daily News and Daily Mail reported that the four-time PGA Championship winner would spend as much as $60,000 on pricy prostitutes, one of which was Jolie.
The Night Club Hostess
Rachel Uchitel was one of the more publicized names during Woods' scandal.
Their affair allegedly began in June 2009 after meeting at a night club. One publication, Deadspin, wrote that Uchitel was more of a woman who found women for Tiger Woods when he flew into cities like Las Vegas.
Uchitel worked as a VIP hostess at the Tao in Las Vegas in 2005 before meeting Woods. She was casted in the VH1 reality show Celebrity Rehab with Dr. Drew. Oddly, she first gained publicity when the New York Post ran a picture of her holding a photo of her fiance after the September 11 attacks.
The Lingerie Model
Jamie Jungers is another woman whom Tiger Woods allegedly met in Las Vegas.
He and the lingerie model reportedly met in 2005 and had an 18-month affair. Her life began to spiral once the affair became public and people abused her online. She turned to alcohol and pills and, in 2018, she was rescued by Dog The Bounty Hunter from a Las Vegas "sex den" in which she was selling her body for drugs, per The Sun. Yeah, wild.
The Porn Stars
Holly Sampson worked as a mainstream porn star before reportedly linking up with the 11-time PGA Tour Player of the Year. She reportedly had a one-night fling with Woods on his birthday in 2009.
?He has a beautiful smile and I definitely got into the moment ? the charm of it all,? Sampson told The Sun. ?He was laughing and giggling so I knew he was happy. It was a very sensual, beautiful experience. I wanted to give him a birthday to remember."
Joslyn James is another porn star Woods allegedly saw. According to Huffpost, he sent her some very specific and raunchy text messages, which you can go read if you so desire.
The Cocktail Waitress
Jaimee Grubbs was a cocktail waitress from California who reportedly met Woods at a Las Vegas night club in 2009.
She allegedly had a 31-month affair with the Golf star and had hundreds of text messages between she and Woods. In 2009 after the scandal broke, she went on Extra to apologize for her affair with him.
The Law Student
Before Elin Nordegren, Woods dated a woman who looked pretty similar to his future wife.
He dated Joanna Jagoda in 1999 and 2000. Their relationship was much more public, as she frequently accompanied him at tournaments and at public appearances.
That was 20 years ago, however, and A LOT has changed since. Woods at least appears happy now with Herman. He's hit the golf course with Phil Mickelson, Tom Brady and Peyton Manning in May 2020 to raise money for COVID-19 relief efforts, giving golf fans some live action during the coronavirus pandemic.
This article was originally published May 13, 2020.