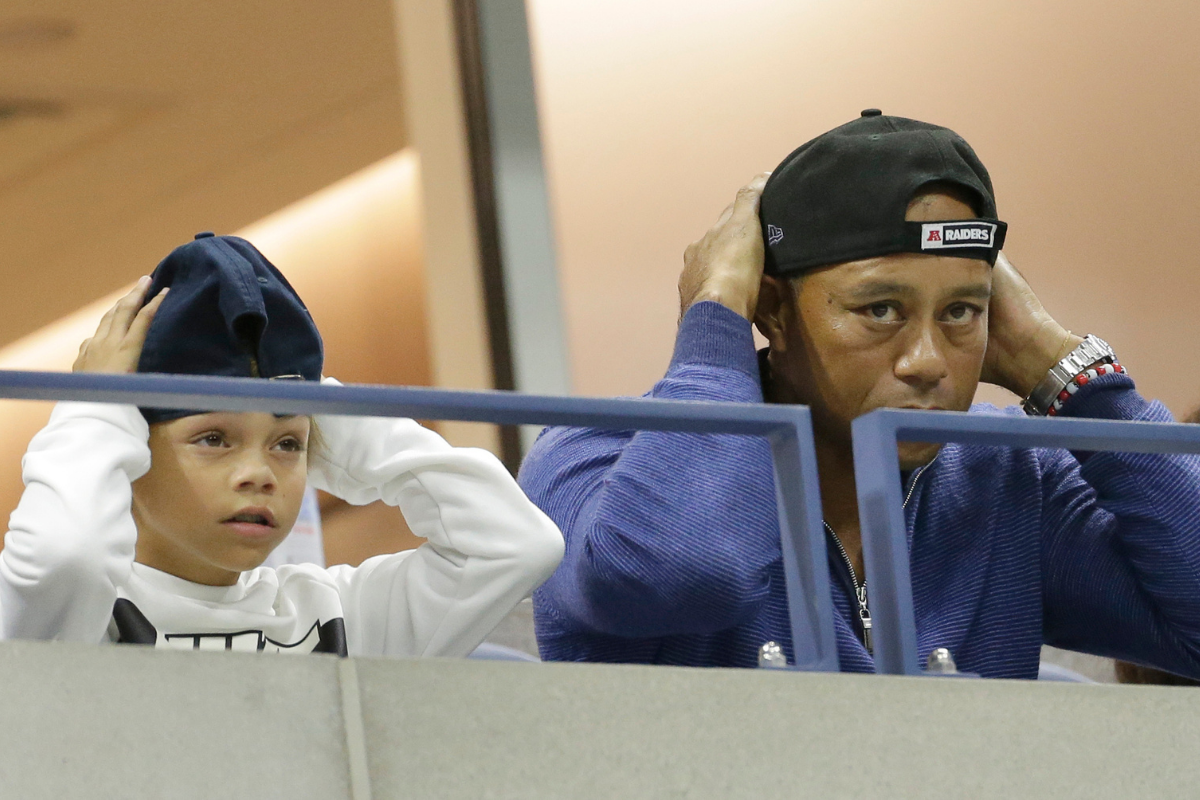 AP Photo/Seth Wenig
Tiger Woods was a golf prodigy from a very young age, having started playing the sport as a toddler with his father, Earl Woods.
It seems that Woods, in turn, has passed his golf talent on to his own son Charlie Woods.
His 11-year-old son recently went viral on social media after a video of his swing was shared online (with Tiger caddying). Charlie already looks like he has a long future as a golfer, boasting an incredibly impressive swing for his age.
Tiger Woods' Son Charlie
RELATED: Dustin Johnson is Raising 2 Kids With Wayne Gretzky's Daughter
Well, fans who are eager to see Charlie Woods live in action on the golf course for the first time won't have to wait much longer. Tiger Woods revealed that on December 19, he and Charlie will participate in the PNC Championship, a two-day golf tournament at the Ritz-Carlton Golf Club in Orlando, Florida. Charlie will be the youngest-ever contestant at the event.
The PNC Championship, formerly known as the Father-Son Challenge, pairs each contestant (all major-winners from the PGA and LPGA Tour) with a family member. The pool features many golf stars, including the likes of Justin Thomas and Gary Player. Woods feels Charlie is ready for the challenge, which will be broadcast via NBC and the Golf Channel.
Per Golf Digest and GolfTV, Woods said the decision to enter the event was made by both him and his son, whom Tiger admitted often talks trash, much like his old man. At the Mayakoba Classic, fellow major championship winner Justin Thomas revealed Charlie has an obsession with trying to beat him, sharing the competitive edge that made Tiger so great.
Woods has had a lot more free time on his hands due to the PGA Tour event hiatus caused by the COVID-19 pandemic, and he's spent much of that time competing with and acting as a caddie for his son.
While Charlie is a long way off from becoming a professional, the 11-year-old has impressed at junior tournaments in Florida. And from the looks of it, Charlie has the potential to one day win the Masters in Augusta and become a major champion like his father.
Charlie Woods has been a spectator for many of his father's career victories, including wins at the U.S. Open and Open Championship. Now, he'll be looking to putt home some birdies alongside his old man as the pair look to impress at the PNC Championship.