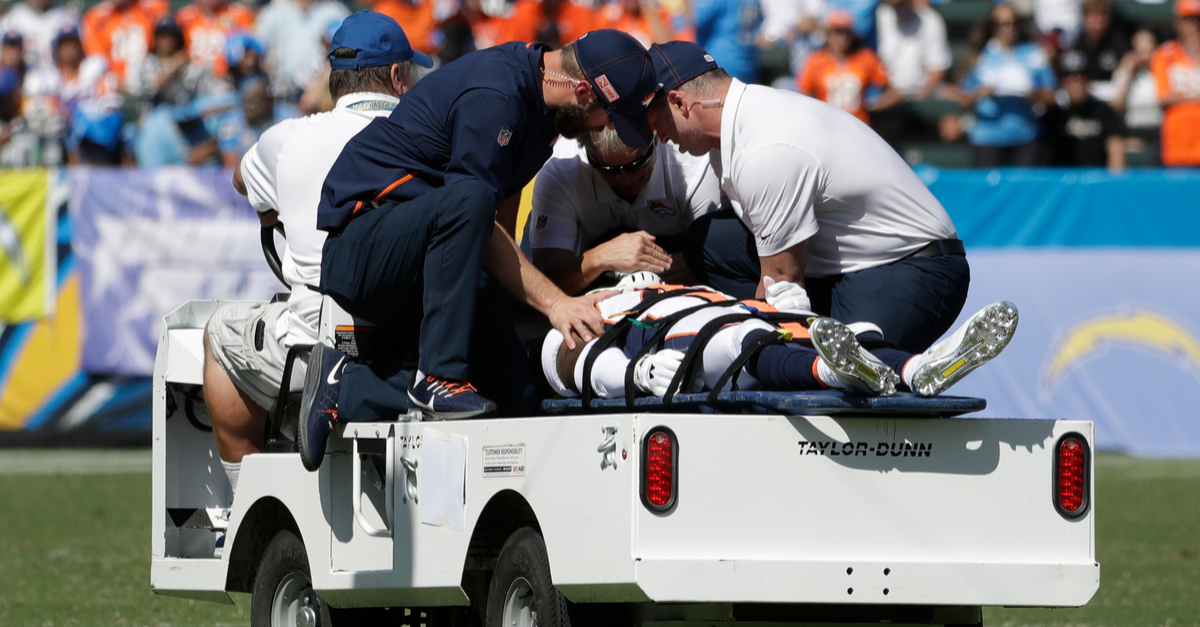 AP Photo/Alex Gallardo, File
You won't see Denver Broncos cornerback De'Vante Bausby flash across your SportsCenter highlights every night. The 27-year-old cornerback from Kansas City, Missouri played his college football for the Pittsburg State Gorillas and went undrafted back in 2015. After stints with the Kansas City Chiefs, Chicago Bears and Philadelphia Eagles, Bausby landed with the Alliance of American Football's San Antonio Commanders, and he flourished. Before the AAF folded, the 6-foot-2 defensive back led the league in pass breakups and interceptions, which earned him a spot with Denver in 2019.
After a long road, Bausby was back in the NFL and finding his rhythm. Through Denver's first five games, he'd totaled 13 tackles and three pass breakups. However, a head-on collision with teammate Alexander Johnson left Bausby motionless on the field, and the scene was tough to watch.
Early in the second quarter of Denver's game against the Los Angeles Chargers, Bausby tackled L.A. running back Austin Ekeler. During the play, the 255-pound linebacker collided with Bausby in a helmet-to-helmet hit, and the Broncos CB didn't move.
Medical staff strapped Bausby to a backboard, stabilized his neck, and immediately transported him to Los Angeles Medical Center, according to ESPN.
De'Vante Bausby Injury Video
RELATED: Never Forget Gus Frerotte and the Dumbest Headbutt of All Time
Thankfully, Bausby was released after several tests and flew back with the team that night. The cervical sprain, however, shockingly left the fourth-year cornerback immobile for nearly half an hour.
"I was never unconscious. I just couldn't move, but I was still talking and everything," Bausby told reporters. "[Neurologists] said I was paralyzed for 30 minutes; after 30 minutes I could wiggle my toes and after two hours I could move everything else."
Denver placed Bausby on injured reserve while he rehabs his neck injury. He hopes to re-strengthen his neck muscles, regain full mobility, and return after the minimum eight-week window for players on IR to play for the Broncos later this year. The Broncos and coach Vic Fangio signed free agent Coty Sensabaugh to fill the void for the rest of the season.
Injuries are a part of pro football, and every player who signs their contract understands the risks involved. Moments like this, however, really highlight how dangerous this game can be. In a split second, your life could change forever.

This article was originally published October 13, 2019. In March 2020, Bausby re-signed with Denver on a one-year deal as he's fully recovered from the scary injury.