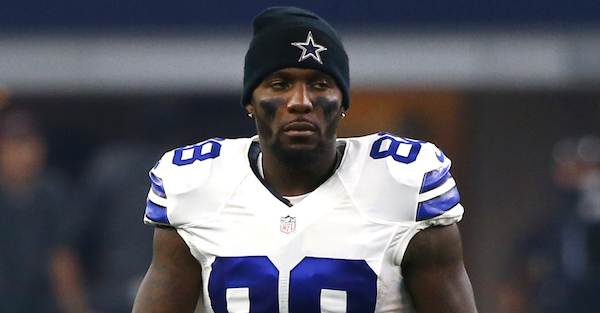 Tom Pennington/Getty Images
ARLINGTON, TX - NOVEMBER 1: Dez Bryant #88 of the Dallas Cowboys walks the playing field before the Cowboys take on the Seattle Seahawks at AT&T Stadium on November 1, 2015 in Arlington, Texas. (Photo by Tom Pennington/Getty Images)
Future Hall of Fame cornerback Darrelle Revis is still a free agent, and his list of suitors doesn't appear to be very long.
However, that hasn't stopped Dallas Cowboys receiver Dez Bryant from recruiting Revis on Twitter.
Bryant tweeted at Revis on Saturday afternoon about potentially joining the Cowboys next season.
Related: NFL columnist thinks only one team makes sense for former All-Pro Darrelle Revis
The Cowboys lost several members of their secondary in free agency, and they will have a very young defensive backfield in 2017. The addition of Revis could certainly help the Cowboys, though they play mostly a zone defensive scheme and Revis' skills are best in man-to-man.
Revis' play on the field deteriorated in 2016, and the 31-year-old corner was cut by the New York Jets only two years into a five-year, $70 million deal.
The Jets owe Revis $6 million next season, so the Cowboys wouldn't have to pay Revis too much if he wanted to join. The Cowboys and New England Patriots have been the two teams most often linked to signing the veteran corner.
The Cowboys finished 13-3 in 2016, but they lost in the divisional round of the playoffs. They are expected to contend for the Super Bowl again in 2017, and the addition of Revis would help bolster an inexperienced secondary.
(h/t New York Post)