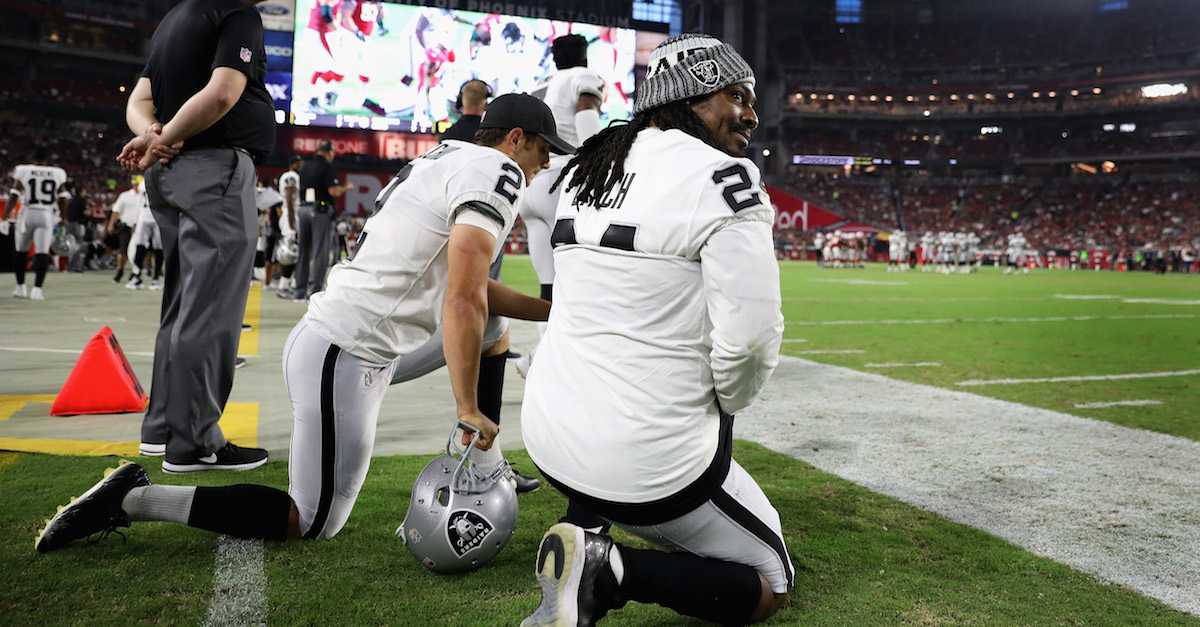 Christian Petersen/Getty Images
GLENDALE, AZ - AUGUST 12: Running back Marshawn Lynch #24 and kicker Giorgio Tavecchio #2 of the Oakland Raiders kneel on the sidelines during the first half of the NFL game against the Arizona Cardinals at the University of Phoenix Stadium on August 12, 2017 in Glendale, Arizona. The Cardinals defeated the Raiders 20-10. (Photo by Christian Petersen/Getty Images)
The NFL and many of its players and teams have caused quite the stir in reaction to inflammatory comments by President Donald Trump.
After Trump called protesting players "sons of bitches" in a recent press conference, players and even full teams across the NFL decided to protest in repose to his comments this past weekend.
We saw many more players kneel — taking a page out of the Colin Kaepernick playbook — and we even saw mass team demonstrations, including the Cowboys kneeling as a team before the anthem and other teams not even leaving the locker room.
The reaction has been predictably varied, with fans and commentators falling on both sides of the spectrum.
For those unhappy, DirecTV has reportedly decided to make a major concession, though. According to ESPN Darren Rovell, who passed on reporting from The Wall Street Journal, DirecTV and its parent company, AT&T, are reportedly offering refunds on the NFL Sunday Ticket package for fans who are unhappy about the protest.
Here's what Rovell passed on:
"DirecTV is offering unprecedented refunds for fans who want to cancel their NFL Sunday Ticket package, if they inform the company that they are doing so due to the recent protests during the national anthem, a source confirmed.
Once the season starts, fans usually cannot cancel their subscriptions, but AT&T, which owns DirecTV, decided to change the policy due to the sensitivity of the issue. The price of the package, which allows fans to get out-of-market games, is about $280."
Rovell did relay that AT&T declined to confirm the report, so stay tuned for more official news regarding these potential refunds, which could lead to a massive loss for AT&T.
One one hand, the company may lose a ton of money if many fans decide to boycott the NFL through getting a refund on their Sunday Ticket subscription. On the other, if this is indeed true it could be a calculated move by the media giant in an effort to earn the applause of those who are standing against the NFL.
There is another major risk involved, because, on the other side of the coin, fans who believe in the protests may see this move as a statement on its own from AT&T.
Either way, it's noteworthy. And risky.