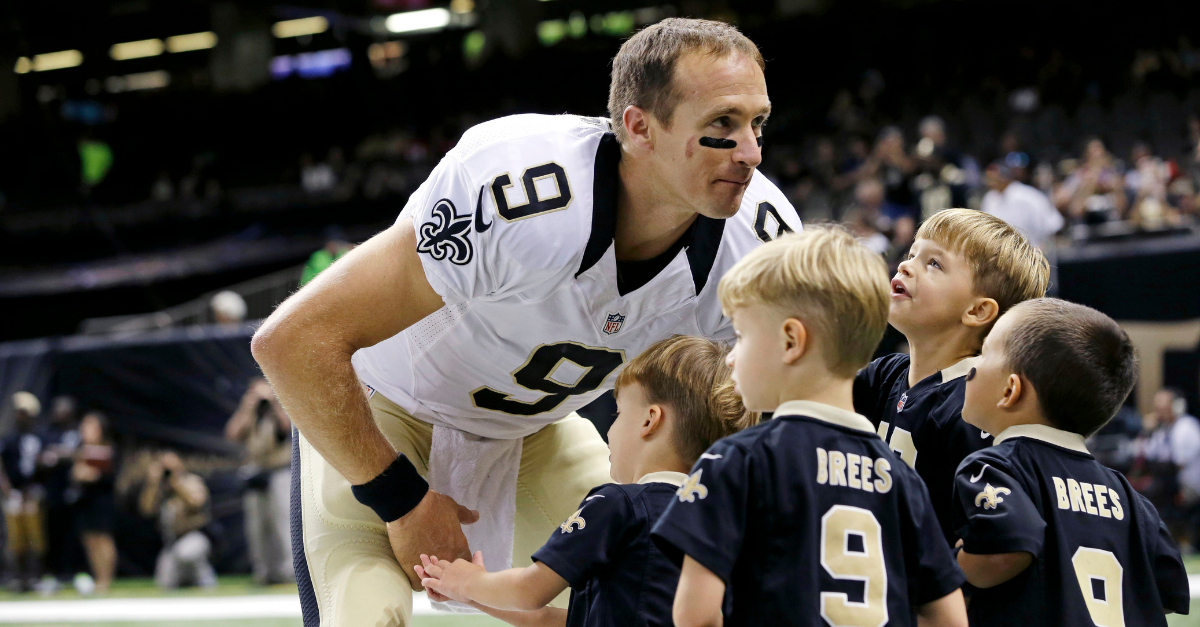 AP Photo/Jonathan Bachman
After hitting Tre'Quan Smith with a 62-yard touchdown pass last season, New Orleans Saints quarterback Drew Brees broke the NFL record for career passing yards. In that moment, Brees embraced his children and told them, "You can accomplish anything in life if you?re willing to work for it."
I don't think hustling around the Saints locker room and snagging merchandise right out of his teammates' lockers was what Brees had in mind, though.
During The Advocate's Star of Stars high school sports awards event on Monday night, Brees answered questions alongside New Orleans beat writer Rod Walker. The future Hall of Fame quarterback addressed his thoughts on eventually retiring from the NFL and what's its been like to be embrace the end of his career.
"I don't want to let a second pass me by," Brees said. "I don't want to take it for granted for one moment. So I'm just going to enjoy the moment, just going to stay in the moment and play the season like it's my last."
He also gave a hilarious look into what it's like when his three sons ? Bowen, Baylen and Callen ? get left alone in the locker room with a bunch of NFL players' game-worn gear.
"They come in the locker room and they steal Mike Thomas' gloves, they go to [Alvin] Kamara's locker and steal his shoes, and Marshon [Lattimore]'s locker and take something of his. And [those teammates] come to me the next day like: 'Where's my stuff?' And I'm like, 'man, that's my kids, I'm sorry. I'll get it back.' And it's in their pillow case at home."

? Drew Brees, h/t The Advocate
RELATED: Alvin Kamara Should Be Your New Favorite Player After This
The Most Valuable Player of Super Bowl XLIV and 12-time Pro Bowl selection is one of the greatest personalities and well-liked teammates in the modern era. From his time with the San Diego Chargers until today, Brees' history of being a leader on and off the field has led him down a path to success at a level no quarterback has ever reached.
The second round pick in the 2001 NFL Draft from Purdue University overcame adversity at every turn, yet he remained humble and grateful the entire way. In honor those who helped him become the NFL's passing king, Brees gifted 175 unique footballs to former teammates and team personnel who helped him get to this point.
Most important of all to his career, though, is easily Drew's wife Brittany Brees, their three sons and youngest daughter, Rylen.
"My kids are sports junkies. And they love the Saints, they love football," Brees said. "But, you know, just enjoy the moment and take a little more time to smell the roses. Because when it's over, it's over, and it's on to the next chapter, it's on to my family. But right now, I'm focused on winning a championship."
Drew Brees' kids might have futures as professional athletes down the road. The best part? They already have plenty of officially license New Orleans Saints gear straight from the locker room to get them ready for a shot at the big time.