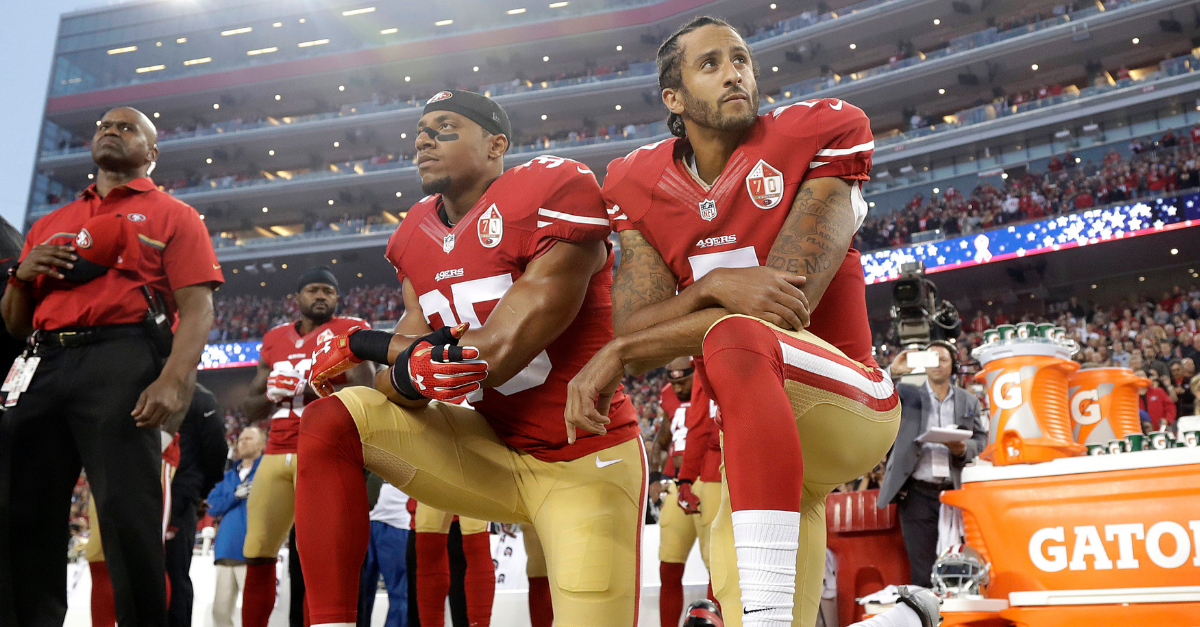 AP Photo/Marcio Jose Sanchez, File
A few months ago, Eric Reid, first player to kneel alongside Colin Kaepernick in protest of social injustice, filed a collusion grievance against the NFL because he believed his protests kept teams from signing him. It might have taken longer than he expected, but the hard-hitting free agent safety is now getting another shot at playing professional football.
On Thursday, the Carolina Panthers signed the 6-foot-1 Reid to a one-year contract, and the former No. 18 overall pick in the 2013 NFL Draft and 2013 Pro Bowl selection was seen with his right fist raised, a LSU t-shirt on, and a pen in his left hand ready to sign his new deal to play for head coach Ron Rivera.
A sight many didn?t really expect to see this season has come to life. Eric Reid, who had 318 tackles, one sack, 10 interceptions, two forced fumbles and 34 pass deflections with the San Francisco 49ers, is officially back in the NFL.
Demonstrations or not, Reid is a good football player. He was as a consensus All-American at LSU in 2012, and he played well for the 49ers from 2013-2017 before entering free agency this offseason.
If this truly was a ?football decision,? then the 2-1 Panthers got exactly what they were looking for in a safety with play-making ability to help win football games in the NFC South this season. If they were looking to make a splash, they accomplished that, too.
Naturally, Colin Kaepernick, the face of a new Nike advertisement, sent a public congratulatory message on Twitter.
?Congrats 2 my brother [Reid], all pro safety who should have been signed the 1st day of free agency, who has signed a football contract,? Kaepernick?s tweet read. ?He was the 1ST person 2 kneel alongside me. Eric is a social justice warrior, continues to support his family and communities in need.?
All eyes will be on safety Eric Reid and whether or not he will kneel during the national anthem this season, but for the first time since last season, and since he filed a collusion grievance against the league in May, it?s time for him to play football in 2018.