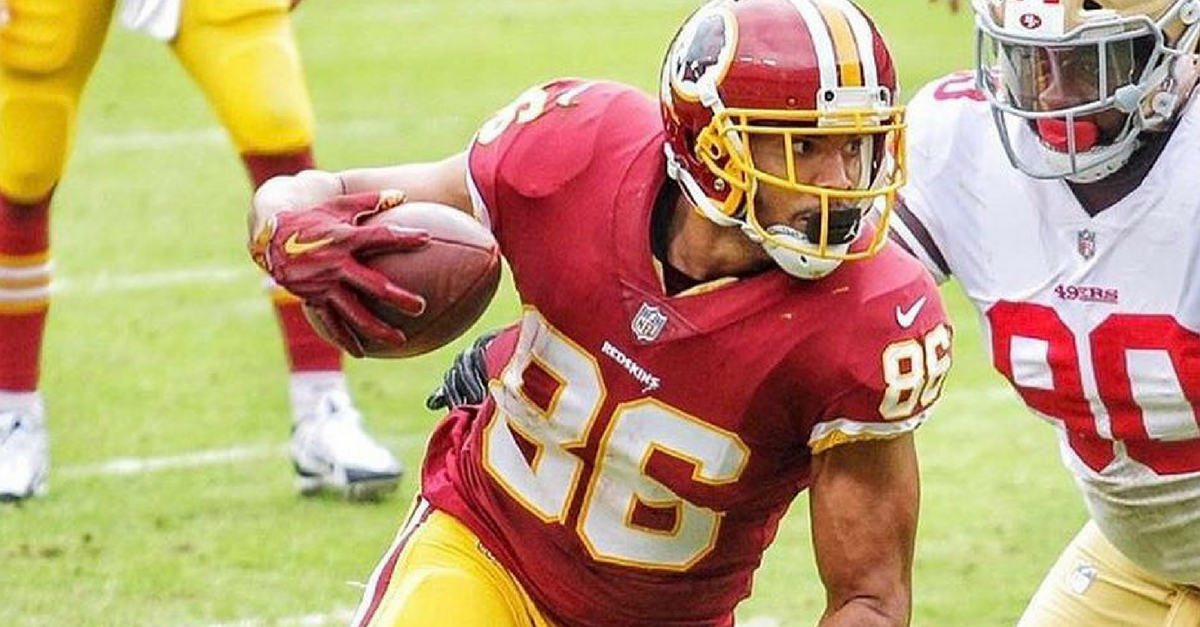 Instagram: @jordanreed_86
Instagram: @jordanreed_86
Don't let anthem protests fool you: the NFL is still this country's most popular league, and fantasy football has brought even the most casual fan closer to the game. There are seven simple steps to winning your fantasy football league and three things you should NEVER do to stay in the good graces of your coworkers and friends.
As the NFL preseason winds down, fantasy football mock drafts are beginning to heat up. You've got to be extremely lucky to hit on all of your draft picks, but there are a few players this year that you need to avoid like the Black Plague.
Eventually, even fantasy football "busts" will get selected, but that won't happen until they either slide way down your draft, or some owner, who knows nothing about fantasy football, drafts him because he remembers how good that player was four years ago.
From Alex Smith's new scene in Washington to Jay Ajayi and the Philadelphia Eagles's Super Bowl hangover, there are a ton of question marks surrounding a lot of players who have been high fantasy scorers in past years.
There are no sure bets in fantasy football, but save yourself the pain and skip out on drafting these guys.
Quarterback: Carson Wentz, Philadelphia
Recovering from an ACL injury, and enjoying a happy wedding, meant a busy offseason for Wentz, but that doesn?t mean anything when it comes to on-field production in 2018.
Yes, Wentz would likely have won the NFL?s Most Valuable Player had he not been injured after 13 games of a breakout season in 2017. Yes, Wentz is still young enough to overcome the injury. Yes, his best football is still ahead of him. But that doesn?t mean anything when it comes to on-field production in 2018.
The Eagles, the reigning Super Bowl champions, are loaded and Wentz is definitely the guy. The third-year signal caller is capable of putting up big numbers, too.
However, he has not even been cleared for full contact yet and so it?s risky to take the 6-foot-5 quarterback too early in any draft.
Chances are the high expectations after what he did last season will mean he?s probably going to be a fantasy bust and disappoint a lot of teams bullish on his future instead of realizing it will take some time to get him up to full speed.
Running Back: LeSean McCoy, Buffalo
Shady has a lot of legal issues off the field that remain unresolved heading into the season. Add that to the fact that the 30-year-old running back is nursing a groin injury just a few weeks away from the start of the regular season. The Bills are struggling to settle on a single quarterback, and Buffalo's receiving corps is less than spectacular.
McCoy averaged 4.0 yards per carry last year, the lowest of his career. There hasn't been a Pro Bowl without the University of Pittsburgh alum since 2012, and there has to be a decline at some point.
Jordan Howard, Kenyan Drake and Derrick Henry are all being drafted after Shady, and all three are poised to have a better season than the veteran in Buffalo.
Wide Receiver: Tyreek Hill, Kansas City
That 69-yard bomb new quarterback Patrick Mahomes threw to the speedster was pretty sweet, huh? Well, you are right. It just doesn?t mean it?s going to happen every week this season.
Having 75 receptions for 1,183 yards is no slouch. Hill can ball, and is ridiculously fast. The only problem is unless he gets the ball in his hands early or on deep routes, Hill is not going to be the Chiefs? top option. Travis Kelce takes a ton of red zone targets, Sammy Watkins will get plenty, and Kareem Hunt is a phenomenal safety valve.
There is big play potential with Hill, but it comes with a risk, and many fans will be shaking their heads midway through the season after drafting him.
Tight End: Jordan Reed, Washington
Why Jordan Reed is continuing to be drafted so high blows my mind. The Redskins tight end is athletically gifted, sure, but he played in 14 games once in five years, and he's never started more than nine games.
The real-life Mr. Glass is a constant injury hazard, and he still hasn't played this preseason. Even if he manages to take the field, Washington is bringing in a new franchise quarterback in Alex Smith, who has no familiarity with the former Florida Gator tight end.
Don't take a gamble on Reed and expect it to pay off in the long run. Fantasy football is about longevity, and Reed continues to prove he has absolutely none.
Brett?s Bonus Bust
Carlos Hyde, Running Back, Cleveland
Fall in love with the Browns at your own risk. That includes the veteran running back. Hyde is reach since he is hardly ever healthy and rookie Nick Chubb could emerge as the better back very soon. Add in Duke Johnson getting some carries and either Tyrod Taylor or Baker Mayfield wanting to throw the ball, and you have a recipe for potential disaster.
John's Bonus Bust
Allen Robinson, Wide Receiver, Chicago
Being the No. 1 wide receiver on your team looks great on paper. However, when you're coming off a torn ACL, changing teams, and catching passes from the ultra-bust Mitchell Trubisky with the Bears, there's so much doubt surrounding A-Rob. He's the No. 18 wide receiver being drafted right now, which seems way to high for a player with only one season with numbers that warrant being in this range.