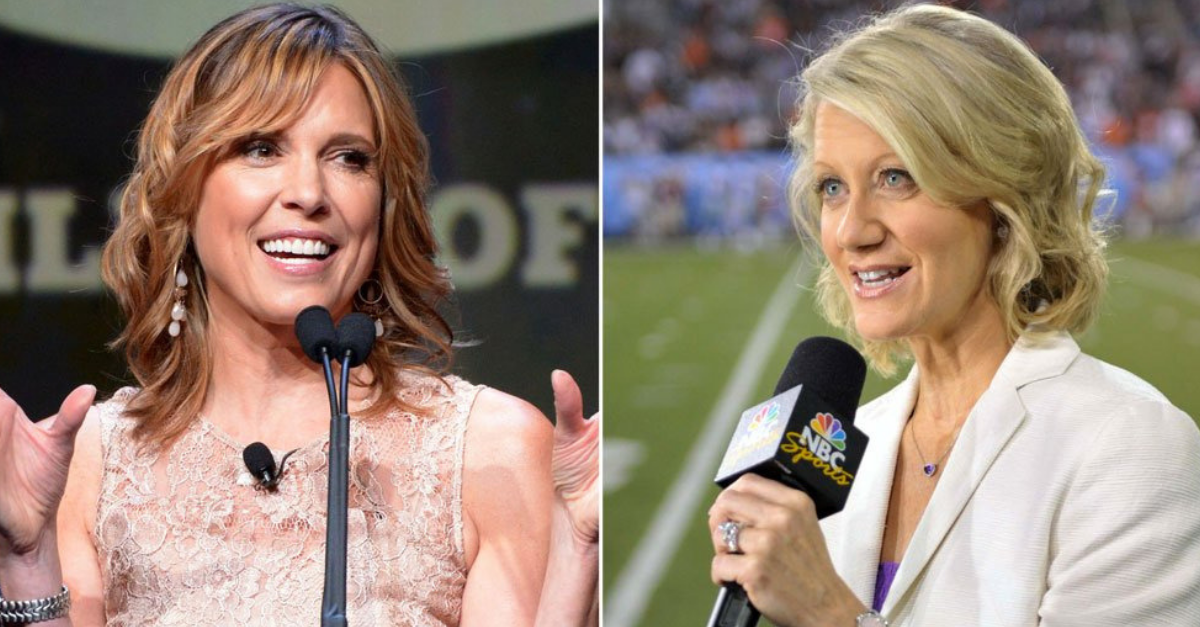 Twitter: @AroundTheNFL
Twitter: @AroundTheNFL
Traditionally, football is a game played by men, for men. The thought of a girl playing football sends chills down the spines of plenty of old school, classically-minded people around the country. As our social world continues to evolve, and barriers blocking women in sports media continue to be shattered, another one is set to fall when the Minnesota Vikings travel to face the Los Angeles Rams on Thursday Night Football.
For the first time in an NFL broadcast, two women, Hannah Storm and Andrea Kremer, will fill the play-by-play and color analyst roles from the booth. It's a monumental moment, as women continue to battle for equal wages and opportunities in the sports world.
Amazon Prime Video announced that the female duo will call 11 games on Thursday Night Football this season, which can be heard on the company's exclusive streaming platform.
"NFL fans will hear history made this season – bringing two female announcers together to call an entire NFL game has never been done before," Vice President of Prime Video Greg Hart said. ?Our customers around the world love to stream football – we are thrilled to have Andrea and Hannah bring their extensive knowledge of the game to fans on Prime Video.?
There aren't two better women qualified to fill these roles, as both Storm and Kremer have years of experience covering the game and working in the sports world.
Hannah Storm
With almost 30 years of experience covering sports for CNN, NBC Sports, ESPN and ABC, as well as being one of the hosts of The Early Show on CBS News in the early 2000s, Hannah Storm is well-versed across a variety of sports.
She's served as the host of NBA Countdown, covered tennis' U.S. Open, and she's taken part in coverage of the Olympic Games. Currently, she is a SportsCenter anchor and the host of ESPN's Face-to-Face with Hannah Storm, an interview show with the world's most iconic athletes.
Andrea Kremer
Andrea Kremer is one of the most decorated American journalists of this era. The multi-Emmy Award winner has covered 25 Super Bowls, the NBA Finals, Major League Baseball's All-Star Game and League Championship Series, multiple college football bowl games, the Stanley Cup Finals, NCAA Men's Basketball Tournament, the Olympic Games, and golf's PGA Championship.
Kremer is the Chief Correspondent for the NFL Network, and she also contributes to the award-winning sports program Real Sports with Bryant Gumbel on HBO.
This dynamic broadcast team has put in their time to earn a spot in the broadcasting booth calling one of professional sports' most popular leagues, and they're receiving high raise from some of sports broadcasting's most iconic figures, including the legendary Bob Ley.
Joining iconic play-by-play and color analysts like Doris Burke and Beth Mowins, both Kremer and Storm will bring professional, knowledgeable voices to the realm of football in a way that hasn't been heard before.
Kudos to Amazon for expanding their platform to reach for a different voice in sports, and I can't wait to hear these two call games on Thursday night in favor of Joe Buck and Troy Aikman.