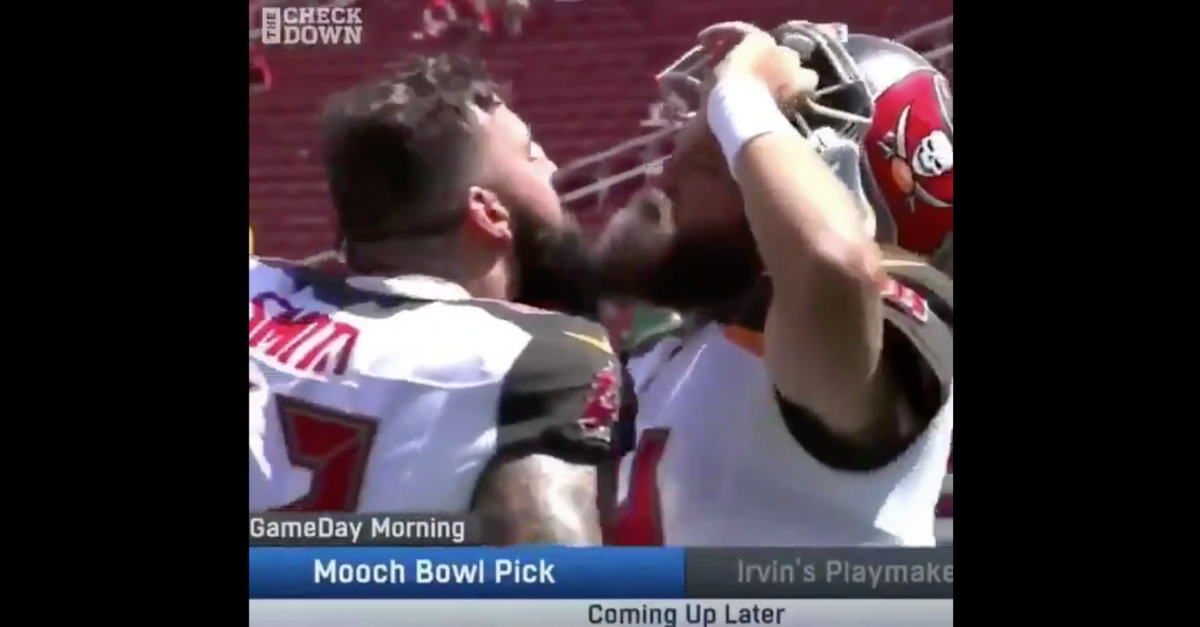 Twitter: DefPenSports (via The Checkdown
As fantasy football owners sat around in draft rooms looking to build the perfect team to make a run to the championship, almost everyone would have laughed if you drafted Ryan Fitzpatrick to be your starting quarterback back in 2018. The jokes would have been relentless. Eventually, the joke was on them.
Fitzpatrick, the former seventh-round pick in the 2005 NFL Draft from Harvard, joined his seventh NFL team that season. Yet, the Tampa Bay Buccaneers starter just so happened to be the top-rated quarterback in the league after Week 2.
His secret? A beard rub with Bucs offensive lineman Evan Smith before each game.
Ryan Fitzpatrick's Beard Shake
Ok, that might not be true. There is no correlation between the now-famous beard shake and Tampa Bay starting the season 2-0 with wins over the New Orleans Saints and defending Super Bowl champion Philadelphia Eagles, but it sure looks pretty amazing.
Honestly, does it get much better and stranger and creative all at the same time than two guys dapping it up with their long beards before a football game? Probably not.
FitzMagic, as social media dubbed him as, took the league by storm through two weeks, completing 48 of 61 passes (78.6 percent) for 819 yards with eight touchdowns and one interception. He hadn?t been sacked, either, and scored a rushing touchdown to add to his top-tier passing numbers.
RELATED: 49ers TE Greg Kittle's Bizarre Pregame Routine Is Not Advisable
The NFL journeyman was supposed to be a filler replacement for Jameis Winston, who was suspended for the first three games of the 2018 season for violating the NFL?s personal conduct policy.
The 6-foot-2 Fitzpatrick was enjoying the ride, too. Just look at what he wore to the postgame press conference after the 27-21 victory over the Philadelphia Eagles at Raymond James Stadium.
The NFL is a funny league sometimes. But two things are certain: Fitzpatrick has a ridiculously solid beard game, and the beard shake could be the secret weapon football fans never knew they needed.
This article was originally published September 17, 2018. Now with the Miami Dolphins, Fitzpatrick's glorious beard is still as legendary as ever.