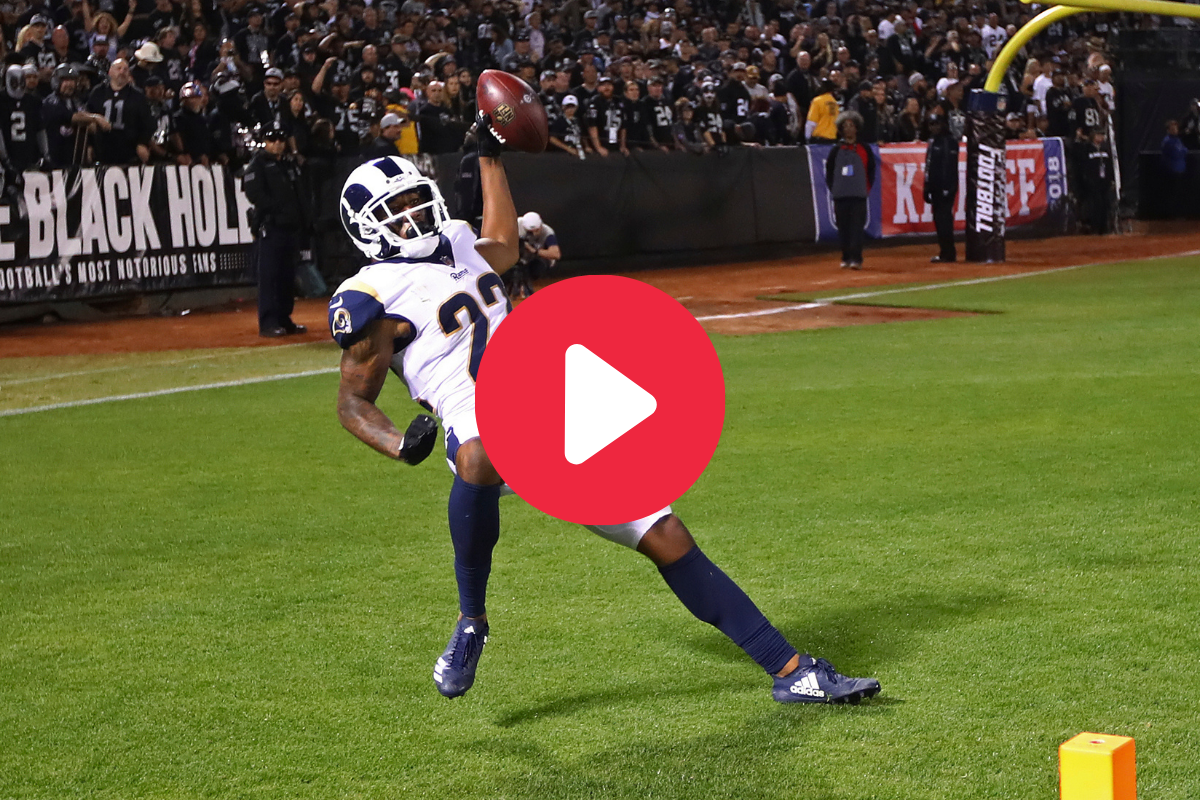 AP Photo/Ben Margot
Late in the fourth quarter, with the game already out of reach just before the two-minute warning, Los Angeles Rams cornerback Marcus Peters put the perfect exclamation to a seemingly lackluster doubleheader of Monday Night Football during the 2018 season. He definitely had to pay for it, too.
After picking off Oakland Raiders quarterback Derek Carr right at midfield, the 6-foot Peters flew down the field and housed the interception for a 50-yard touchdown. As the two-time Pro Bowl selection and 2016 First-Team All-Pro selection crossed the goal line, let?s just say he paid tribute to Raiders running back Marshawn Lynch with a crotch grab on his way into the end zone.
For the celebration, the NFL fined Peters $13,000 ($13,369, to be exact), as first reported by Jordan Schultz of Yahoo Sports. It was well worth it.
Marcus Peters Crotch-Grab Celebration
RELATED: Youth Football Coach Faces $500 Fine, Suspension for Winning 36-0
Peters is no stranger to controversy, and he?s paid some fines before, but this is undoubtedly the easiest and funniest one ever.
On Monday Night Football, in your first game with the LA Rams, to seal the victory for good with a pick-six, and to taunt a star running back and Oakland native at his hometown stadium with his own move? Come on, man. That?s epic.
In case you need a reminder, Beast Mode has been fined for grabbing his crotch, too.
Peters had to have known a fine was coming, which is pretty hilarious that he still did it anyway.
?It?s all paying respect and loving the game of what we was playing,? Peters told ESPN.com. ?Who knows if this [is] Marshawn?s last year playing in the league. S?, we was up, closed the game out, no better way to go out in Oakland, who knows the next time we?ll get to play the Raiders in Oakland, they?re going to Vegas in what? A year and a half? So it was something that was well deserved for the hometown.?
The No. 18 overall pick in the 2015 NFL Draft by the Kansas City Chiefs, the former Washington Huskies standout was one of the best cornerbacks in the league at one point. By the time of this penalty, he had 154 tackles, 56 pass deflections, 20 interceptions, six forced fumbles, five fumble recovers and four defensive touchdowns.
This was not the first fine for Peters, who was traded to the Baltimore Ravens in 2019. There?s a good chance this was the easiest fine he ever paid because it set the tone for his new career in Los Angeles with the Rams.