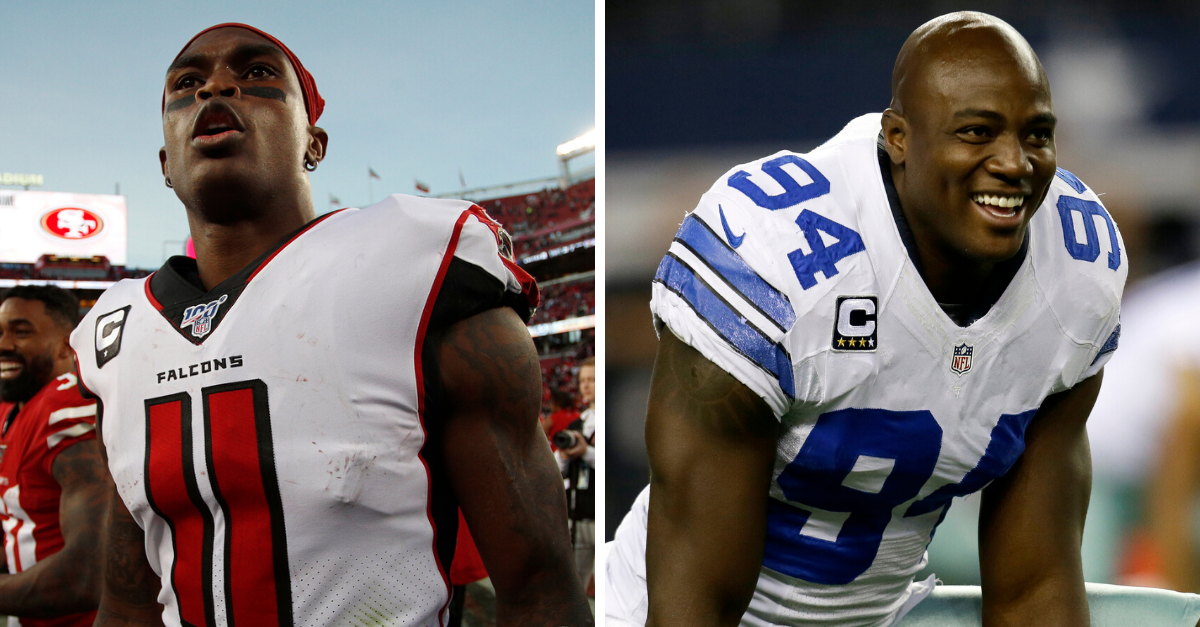 AP Photo/Josie Lepe (left), Tim Sharp (right)
It's no secret that the Heart of Dixie churns out football talent like an assembly line. Whether we're talking about all-time NFL Draft picks, the best college football players to ever do it with the Alabama Crimson Tide and Auburn Tigers, or high school football legends making their hometowns proud, there's no shortage of talent hailing from the state of Alabama.
Setting out to find the greatest Alabamians ever, I started with one question: What homegrown products blossomed into prolific NFL talents? Some are Pro Football Hall of Fame inductees, several won Super Bowls during their professional careers, and a few others are still making a name for themselves today.
If you came looking for strictly University of Alabama football stars, you'll find some, but there is so much more talent to behold. While I landed on 85 names, I guarantee there are hidden gems from all corners of Alabama who deserve honorable mentions as well.
Here are some of the best football players from Alabama ? followed by the city in which they were born ? and broken into three teams, both on offense and defense.
First Team Offense
QB: Bart Starr, Montgomery
RB: Bo Jackson, Bessemer
WR: Terrell Owens, Alexander City
WR: Julio Jones, Foley
WR: John Stallworth, Tuscaloosa
TE: Ozzie Newsome, Muscle Shoals
C: Tom Banks, Birmingham
OG: Woody Peoples, Birmingham
OG: Evan Mathis, Birmingham
OT: Walter Jones, Aliceville
OT: Chris Samuels, Mobile
First Team Defense
DT: Buck Buchanan, Gainesville
DT: Leon Lett, Mobile
DE: Justin Tuck, Kellyton
DE: Tony Tolbert, Tuskegee
LB: Robert Brazile, Mobile
LB: DeMarcus Ware, Auburn
LB: Andre Tippett, Birmingham
DB: Speedy Duncan, Tuscaloosa
DB: Captain Munnerlyn, Mobile
DB: Hanford Dixon, Mobile
DB: Roman Harper, Prattville
Second Team Offense
QB: Philip Rivers, Decatur
RB: Cadillac Williams, Gadsen
RB: Joe Cribbs, Sulligent
WR: Gene Washington, Tuscaloosa
WR: Jerricho Cotchery, Birmingham
TE: Rich Caster, Mobile
C: Ben Jones, Centerville
OG: Chris Gray, Birmingham
OG: Charley Hannah, Albertville
OT: Dave Hill, Lanett
OT: Howard Ballard, Ashland
Second Team Defense
LB: Maxie Baughan, Forkland
DT: Marcell Dareus, Birmingham
DT: Dave Butz, Lafayette
DE: Dee Ford, Odenville
DE: Dave Edwards, Columbia
LB: Cornelius Bennett, Birmingham
LB: Lee Roy Jordan, Excel
DB: Eric Davis, Anniston
DB: Marlon Humphrey, Hoover
DB: Vann McElroy, Birmingham
DB: Wes Hopkins, Birmingham
Third Team Offense
QB: Ken Stabler, Foley
RB: Antowain Smith, Millbrook
RB: T.J. Yeldon, Daphne
WR: Clifton McNeil, Mobile
WR: Henry Ruggs III, Montgomery
TE: Jared Cook, Birmingham
C: Bradley Bozeman, Roanoke
OG: Charley Long, DeKalb
OG: Lester Cotton, Tuscaloosa
OT: Willie Anderson, Whistler
OT: David Stewart, Decatur
Third Team Defense
LB: C.J. Mosley, Theodore
DT: Grady Jackson, Greensboro
DT: Cornelius Griffin, Brundidge
DE: Quinnen Williams, Birmingham
DE: Tim Harris, Birmingham
LB: Adalius Thomas, Equality
LB: DeMeco Ryans, Bessemer
DB: Dre Kirkpatrick, Gadsen
DB: James Bradberry, Pleasant Grove
DB: Bobby Hunt, Lanett
DB: Darian Stewart, Huntsville
Honorable Mentions (Offense)
QB: Jameis Winston, Bessemer
QB: JaMarcus Russell, Mobile
RB: Clarence Davis, Birmingham
RB: Tony Nathan, Birmingham
RB/WR: Rickey Young, Mobile
WR: Dwight Stone, Florala
TE: Marcus Pollard, Valley
TE: Ed West, Colbert County
OT: Andre Smith, Birmingham
OT: Herman Lee, Phenix City
Honorable Mentions (Defense)
LB: Karlos Dansby, Birmingham
DE: Bryan Thomas, Birmingham
DE: Michael Johnson, Selma
DT: Mike Pitz, Pell City
DT: Steve McLendon, Ozark
LB: Keith Butler, Anniston
LB: Jeff Herrod, Birmingham
DB: Kerry Rhodes, Birmingham
DB: John Rowser, Birmingham