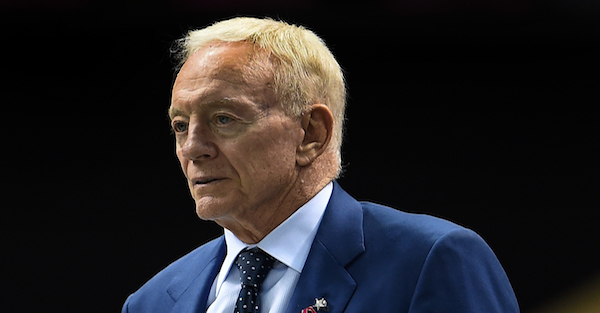 Stacy Revere/Getty Images
NEW ORLEANS, LA - OCTOBER 04: Owner of the Dallas Cowboys Jerry Jones watches from the sidelines during the first quarter against the New Orleans Saints at Mercedes-Benz Superdome on October 4, 2015 in New Orleans, Louisiana. (Photo by Stacy Revere/Getty Images)
The CEO of Papa John's, John Schnatter, made the decision to blast the leadership of the NFL for its handling of protests during the national anthem this season. Since then, Schnatter reportedly lost a staggering $70 million in just one day and, in short, things haven't gone particularly well in a financial sense.
Now, there is another layer to the story. Cowboys owner Jerry Jones, who is perhaps the most visible and influential owner in the NFL today, spoke about Schnatter in a Friday interview with 105.3 The Fan in Dallas and he labeled the Papa John's CEO as a "great American." (h/t Pro Football Talk)
"The facts are that I've spent my life, the last 28 to 30 years of my life, being knee-deep and immersed in anything and everything I can do for the Cowboys and through that the NFL. On the other hand, I am a joint owner of the businesses of 120 Papa John's stores here in Texas. And John Schnatter is one of the great Americans. He's the story of America. He started off in his dad's bar just doing a pizza with a little oven or microwave, and he's built that thing into one of the greatest businesses. Papa John's was named by all of the people that look at the NFL, Papa John's was named as the product most associated with the NFL and it was named that a year ago by a survey of all of our viewers. So he is quite an American story."
Jones, as he notes, is personally invested in Papa John's and that cannot be discounted in his comments here. Still, this is an NFL owner speaking in support of Schnatter after his comments and the fallout from his comments will be interesting.
There is seemingly a new subplot to the protests each and every day in the NFL world and this is another.