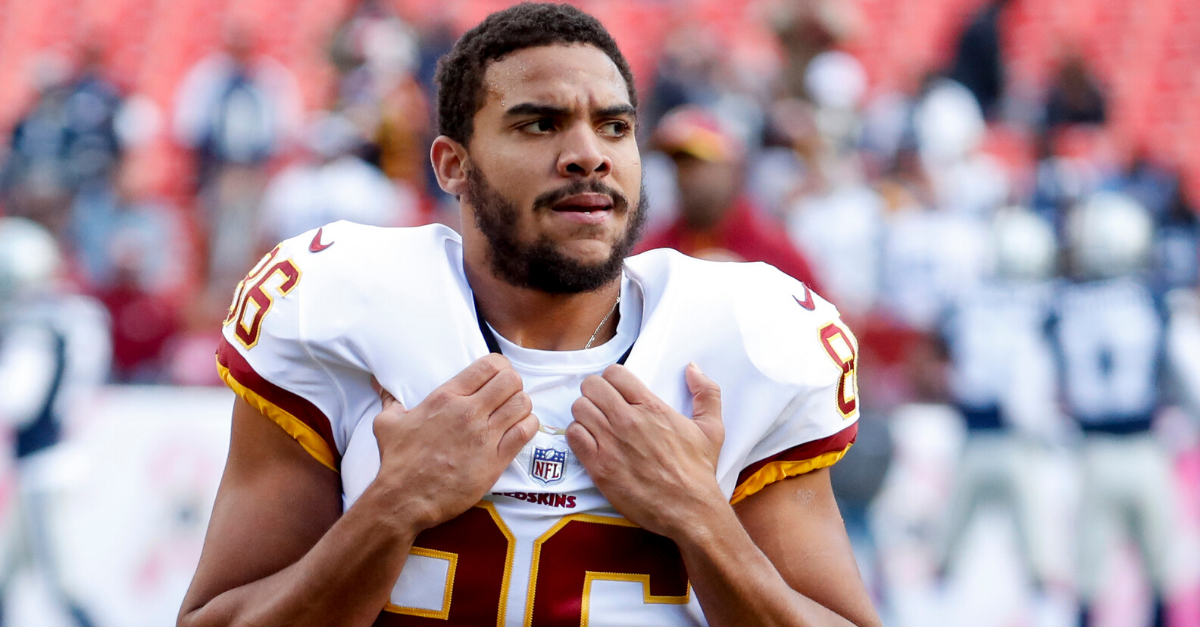 AP Photo/Andrew Harnik, File
Washington Redskins tight end Jordan Reed was looking to have a promising NFL season last year. The 29-year-old veteran was ready to go after a long offseason and eager to earn back his Pro Bowl status. Then, in the blink of an eye, everything changed and the remainder of his career could be in serious jeopardy.
On August 22, 2019 ? during the Redskins? third preseason game against the Atlanta Falcons ? Reed caught a pass over the middle. He ran a few steps to gain some extra yards and then was hit hard by Falcons safety Keanu Neal. His night, and his season, was over.
The violent, helmet-to-helmet hit by Neal forced Reed to sit out all of last season. He was even placed on injured reserve just five games into the regular season. Unfortunately, the 6-foot-2, 240-pounder is still not cleared to play six months later.
Jordan Reed Remains in Concussion Protocol
RELATED: Drew Brees Announces Plans for 2020 NFL Season
This wasn?t the first concussion Reed suffered in his career. However, that play might be his last one ever. ESPN?s Adam Schefter first reported Reed?s playing days could be over back in late September. He last practiced on September 12, according to The Athletic.
It was already going to be a long road back, but the journey for the former Florida Gators star and third-round pick in the 2013 NFL Draft might really be over.
During his Carolina Panthers yard sale at the Humane Society of Charlotte last weekend, new Redskins head coach Ron Rivera told The Athletic that Reed is still in concussion protocol and has not been cleared to play.
?We?re evaluating all of our options. We have a good young group of guys, and we?re just looking at things and deciding whether or not we want to go that way, continue to get younger ? or, do we have to sit there and sprinkle in some veteran guys?

?A great example is the tight end position. Vernon Davis is retired. Jordan Reed is still going through the concussion protocol. He?s a very veteran guy. We have an opportunity to bring in a guy like Greg Olsen ? so that?s one of the positions where we have identified, said ?Hey, we do need to have a veteran guy at that position one way or another???
Davis retired after a stellar 14-year career, and Olsen recently signed with the Seattle Seahawks. Caleb Wilson, Jeremy Sprinkle, and Hale Hentges are the only tight ends currently listed on the Redskins? roster.
Perhaps this is officially the end for Reed, who is entering the final year of his five-year, $46 million contract in 2020. The Athletic reports this is Reed?s seventh documented concussion in his six seasons. Releasing him to free agency, or Reed retiring, would certainly open up cap space.
Since his rookie season in 2013, Reed has caught 329 passes for 3,371 yards and 24 touchdowns. He was looking to be a nice, veteran for Dwayne Haskins. However, it appears that might never happen.
The Redskins are making moves this offseason, already releasing defensive back Josh Norman and wide receiver Paul Richardson. Sadly, Reed might be next on the list.