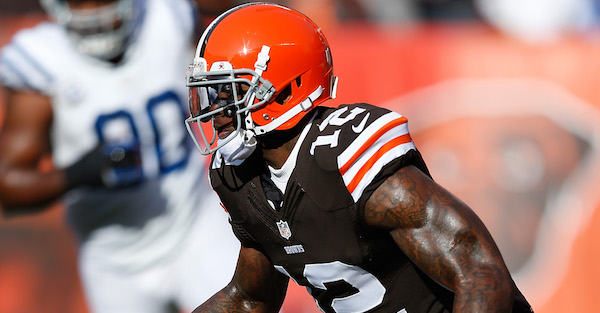 Joe Robbins/Getty Images
CLEVELAND, OH - DECEMBER 07: Josh Gordon #12 of the Cleveland Browns carries the ball during the first quarter against the Indianapolis Colts at FirstEnergy Stadium on December 7, 2014 in Cleveland, Ohio. (Photo by Joe Robbins/Getty Images)
Josh Gordon has not played in an NFL game since 2014.
Think about that. It's been three years.
At one time, it appeared the former Baylor Bear was gearing up to take over the league and become the face of the Cleveland Browns, but an inability to abide by the NFL's substance-abuse policy has kept him out of the league.
If you're wondering what he's been into lately, though, it's rehab. Yes, according to Bleacher Report's Jason Cole, Gordon received support from the NFL and went to rehab two months ago. Now, he's hoping the league will reinstate him in September.
If Gordon is reinstated, obviously, that would be a huge hurdle for him to overcome. But it isn't the only one.
Reinstatement does not guarantee a contract. A franchise would still have to take a leap of faith and give the speedy wide receiver a dotted line on which to sign.
Maybe the Buffalo Bills would be interested. They just shipped Sammy Watkins to the Los Angeles Rams and watched Anquan Boldin retire. Of course, Gordon's rights are still owned by the Browns, who could be in need of his services ? especially if DeShone Kizer wins the starting quarterback job.
But it's likely Cleveland would choose to cut ties with Gordon and move in a new direction.
And the Bills would definitely be a team to watch if he hits the open market. Maybe the Chicago Bears make a call. They could use some extra help in their receiving corps.
First thing's first, though. Gordon needs to be reinstated before any of that can happen. And it's looking as if that domino will fall.