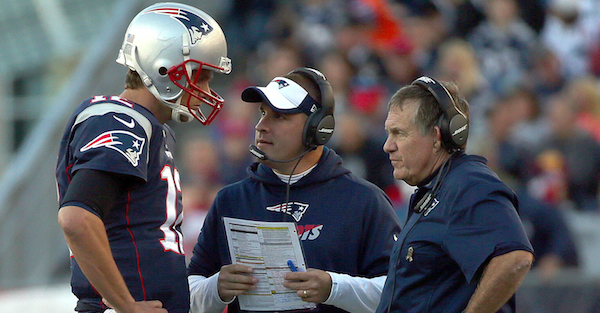 Jim Rogash/Getty Images
FOXBORO, MA - NOVEMBER 8: Tom Brady #12 of the New England Patriots confers with Josh McDaniels and Bill Belichick in the second half during a game with the Washington Redskins at Gillette Stadium on November 8, 2015 in Foxboro, Massachusetts. (Photo by Jim Rogash/Getty Images)
Josh McDaniels received quite a bit of backlash in the wake of his decision to leave the Indianapolis Colts at the altar in favor of continuing with the New England Patriots. After all, it had been widely assumed and reported for weeks that McDaniels was taking the franchise's head coaching job and there was even a press conference scheduled and announced to make things official.
Kevin Patra of NFL.com shed additional light on the story, though, and it involves McDaniels' own agent telling him that he was making "the biggest professional mistake of his career" with the choice.
(Mike) Garafolo reported on NFL Network's Good Morning Football that even McDaniels' agent, Bob LaMonte, told the OC that he's making perhaps the biggest professional mistake of his career by backing out of this Colts job at this point, according to sources informed of the talks between McDaniels and his agent.

It's not hard to see why LaMonte — who also represents Colts general manager Chris Ballard — would have issued a caution to McDaniels after making such a decision. There were questions about McDaniels stemming from his last coaching stop with the Denver Broncos. While he's rehabbed much of his reputation both on and off the field in recent years, Tuesday night's decision likely undid all of that in the eyes of 31 other teams.
As the piece further notes, McDaniels could be remaining in New England as a perceived coach-in-waiting for when Bill Belichick retires. Still, that is a significant risk for the offensive coordinator, especially in light of the (very) public way in which this played out for the entire league to see.
McDaniels is very good at his job and that has helped him a great deal. Still, this move was not well received and, if things were to fall apart in New England, it is conceivable that it could cost him further opportunities in the future.