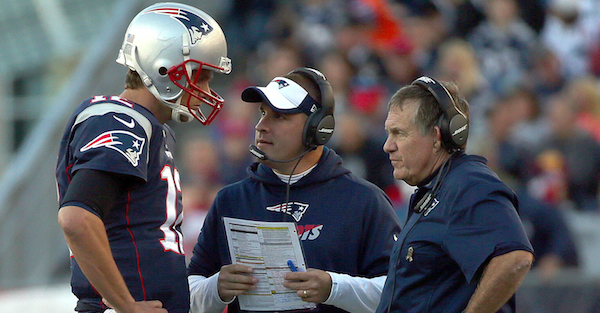 Jim Rogash/Getty Images
FOXBORO, MA - NOVEMBER 8: Tom Brady #12 of the New England Patriots confers with Josh McDaniels and Bill Belichick in the second half during a game with the Washington Redskins at Gillette Stadium on November 8, 2015 in Foxboro, Massachusetts. (Photo by Jim Rogash/Getty Images)
Josh McDaniels isn't saying much in the public sphere since electing to stay with the New England Patriots and, frankly, that isn't a surprise. His move was highly controversial and created a ton of speculation on all sides but, over the weekend, an interesting source shed potential light on McDaniels' decision while dismissing a common theory.
Willie McGinest, who enjoyed a fruitful career with the Patriots, appeared on NFL Network (h/t Pro Football Talk) and he shared some conversations he had with McDaniels. The headliner is that McDaniels reportedly told McGinest that there is "absolutely not" an agreement in place to hand the head coaching job to the offensive coordinator upon Bill Belichick's exit and, beyond that, there is no "handshake deal" or off-the-books transaction between McDaniels and the team's owner, Robert Kraft.
Of course, this isn't the kind of thing that McGinest would be likely to share if it was, in fact, true but further confirmation does paint New England in a better light in some ways. It remains to be seen as to whether McDaniels will follow after Belichick and just how long that may take. For now, though, a source is on the record saying that McDaniels' pledge to remain in Foxboro was not directly tied to that kind of opportunity.