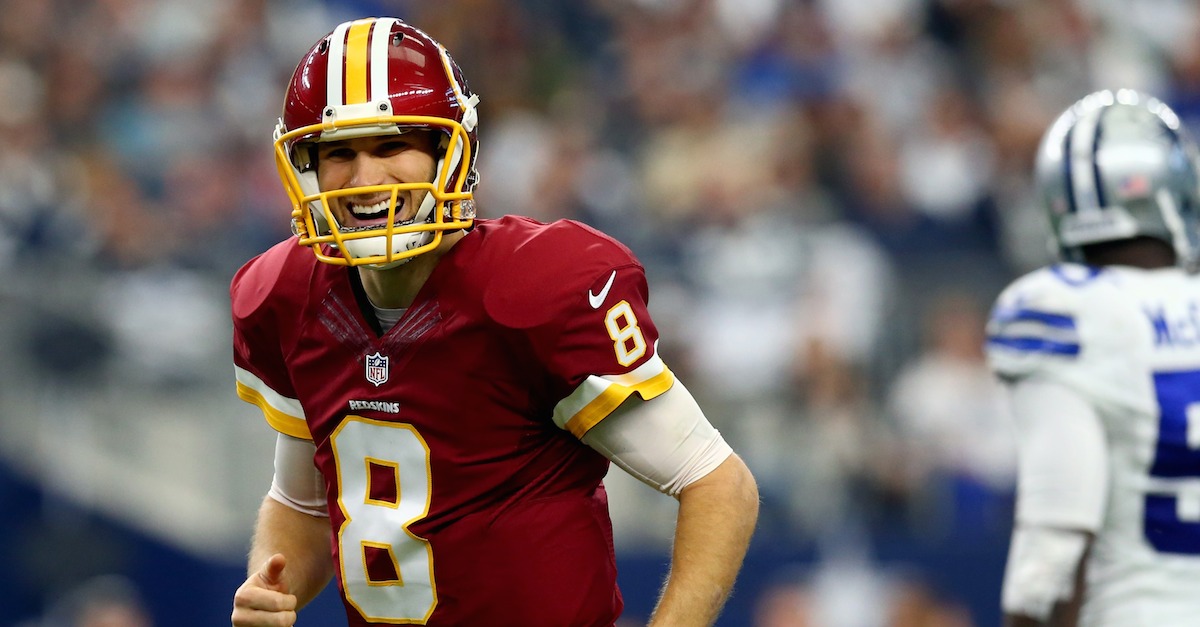 Ronald Martinez/Getty Images
ARLINGTON, TX - JANUARY 03: Kirk Cousins #8 of the Washington Redskins reacts after throwing a touchdown pass against the Dallas Cowboys during the first quarter at AT&T Stadium on January 3, 2016 in Arlington, Texas. (Photo by Ronald Martinez/Getty Images)
According to a report, Washington Redskins quarterback Kirk Cousins prefers to land with the Minnesota Vikings for next season. This report only comes a few hours after a different one suggested the Redskins would kick around the idea of franchise tagging the former Pro Bowl gunslinger, then trading him.
Paul Allen of KFAN reported that a source told him that the Vikings are "number one with a bullet" on Cousins' list.
It is certainly worth noting that, especially if a franchise tag is put on Cousins, the idea of signal-caller going to Minnesota is likely pending a plethora of variables.
Cousins has not been shy discussing his potential landing sports, but has admitted that he's only trying to gather information at the moment.
"I'm going to keep my eyes and ears open to anything and open," Cousins told Denver's 9NEWS Friday. "I'm in the information-gathering stage at this point. I would hope any team is interested and would love it if Denver is interested.
According to ESPN?s Adam Schefter, the Redskins are considering hitting Cousins with his third consecutive franchise tag, requiring any team that wants his services to trade for him.
If that is to happen, tagging Cousins could carry some risk.
Cousins could delay signing the franchise tag for weeks or months, counting his massive $34.5 million salary against the cap and affecting Washington?s free agency plans. He could also tell teams he?d be unwilling to sign a long-term deal at specific locations, affecting the willingness of a team to surrender real assets.
For Washington, the reason to tag Cousins is clear ? get something for arguably the biggest target in the free agent market this summer.
Arizona Cardinals, Denver Broncos, New York Jets and others are expected to target Cousins.
The Redskins clearly no longer need Cousins' services, as the franchise recently acquired Alex Smith and gave him a ton of loot.