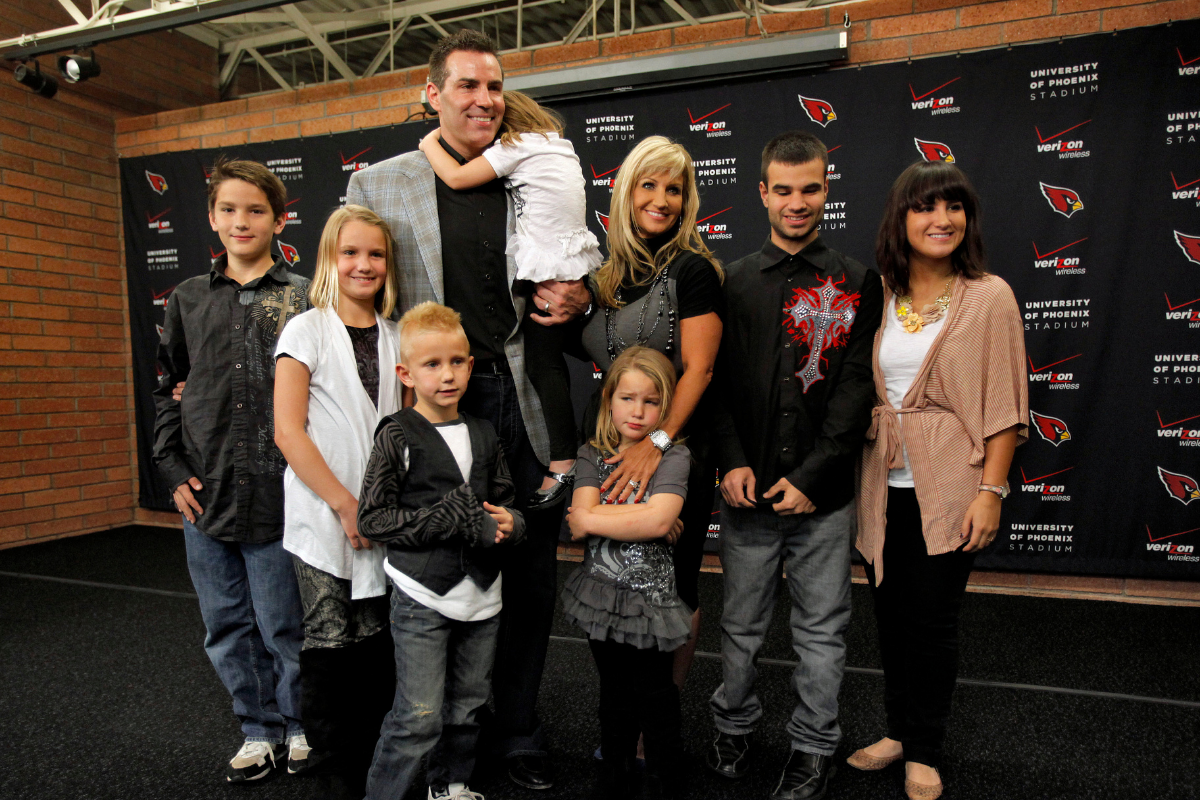 AP Photo/Matt York
Hall of Famer Kurt Warner?s path to the NFL was not a typical one, but the 49-year-old ended up stringing together one of the best football careers of all time.
Warner played high school ball at Regis High School in Cedar Rapids, Iowa, and was a standout at the University of Northern Iowa. Still, Warner never got to hear his name called on draft day, having gone undrafted in the 1994 NFL Draft.
He was picked up by the Green Bay Packers but didn?t survive roster trimming, getting cut from the team prior to the regular season. That didn?t stop him from achieving his dream.
When it looked as if Warner?s shot at the NFL was all but up, he took a job at a grocery store in Cedar Falls to make ends meet. While working there, Warner got a shot in the Arena Football League, where he played for his hometown team, the Iowa Barnstormers.
As a member of the Barnstormers, Warner dazzled, leading the team to the ArenaBowl in 1996 and 1997.
It was while Warner was stealing the show in the AFL that he married his wife, Brenda Carney Meoni, and got another audition to be a football player in the NFL.
Kurt Warner?s Wife & Kids
RELATED: Troy Aikman Found True Love Again & Is Happier Than Ever
Kurt Warner and his wife Brenda Warner met during college and got married in 1997 at the St. John American Lutheran Church. Brenda was a former United States Marine Corps corporal and had two children from a previous marriage when she and Kurt met.
Her and Warner have added five children to their family, Kade, Elijah, Sierra Rose, Sienna Rae and Jada Jo, and have adopted Brenda?s first two children, Zachary and Jesse Jo.
Brenda is also a best-selling author, with popular works including First Things First: Rules of Being a Warner and One Call Away: Answering Life's Challenges With Unshakable Faith.
While Brenda is currently loving life with Kurt, things haven?t always been so bright for the 53-year-old. Brenda was discharged from the Marines in 1990 after her first husband dropped her son, Zack, leaving him with brain damage and partially blind. In 1996, Brenda's parents were tragically killed by a tornado which devastated their hometown in Arkansas.
In 2001, Kurt and Brenda Warner established the First Things First Foundation, which promotes Christianity and aims to aid the less fortunate. The Warner's also opened Treasure House, which is an assisted living community in Phoenix for individuals with developmental disabilities.
Kurt Warner NFL Career
Warner and Carney got married while the former was still looking to get a chance in the NFL. As a matter of fact, Warner received a call for a tryout from the Chicago Bears right around the date of the wedding.
Unfortunately, while the couple were on their honeymoon, he sustained a spider bite which caused his throwing elbow to swell up. He was forced to miss the tryout, and the Bears never reached out again.
Warner's first true chance as an NFL player came via the St. Louis Rams. Warner signed a futures contract with the team in 1998, and spent one season playing in NFL Europe for the Amsterdam Admirals.
In 1999, Warner got an opportunity as a starting NFL quarterback when Trent Green tore his ACL. Surrounded by the likes of Marshall Faulk, Isaac Bruce and Torry Holt, Warner headlined what went on to be known as "The Greatest Show on Turf," throwing for 41 touchdowns and leading the Rams a Super Bowl victory in Super Bowl XXXIV against the Tennessee Titans. Warner was awarded both NFL MVP award and Super Bowl MVP for his dominant season.
After leading one of the most improbably campaigns in NFL history, Warner re-upped with the Rams and returned to the playoffs and Super Bowl in 2001, though the team lost to the Tom Brady-led New England Patriots.
Warner was released by the Rams in 2004 and latched on with the New York Giants. One year later he joined the Arizona Cardinals. He spent five years in Glendale, leading the franchise to its first-ever Super Bowl appearance in 2009, but ultimately losing to the Pittsburgh Steelers.
Warner retired from football in 2010 and was inducted into the Pro Football Hall of Fame in 2017. He has since gone to work as an analyst for the NFL Network as well as producing the television show The Moment.
While Brenda and Kurt's honeymoon almost cost Warner his chance in the NFL, things ended up working out for the couple, who have stuck together for over two decades through thick and thin.