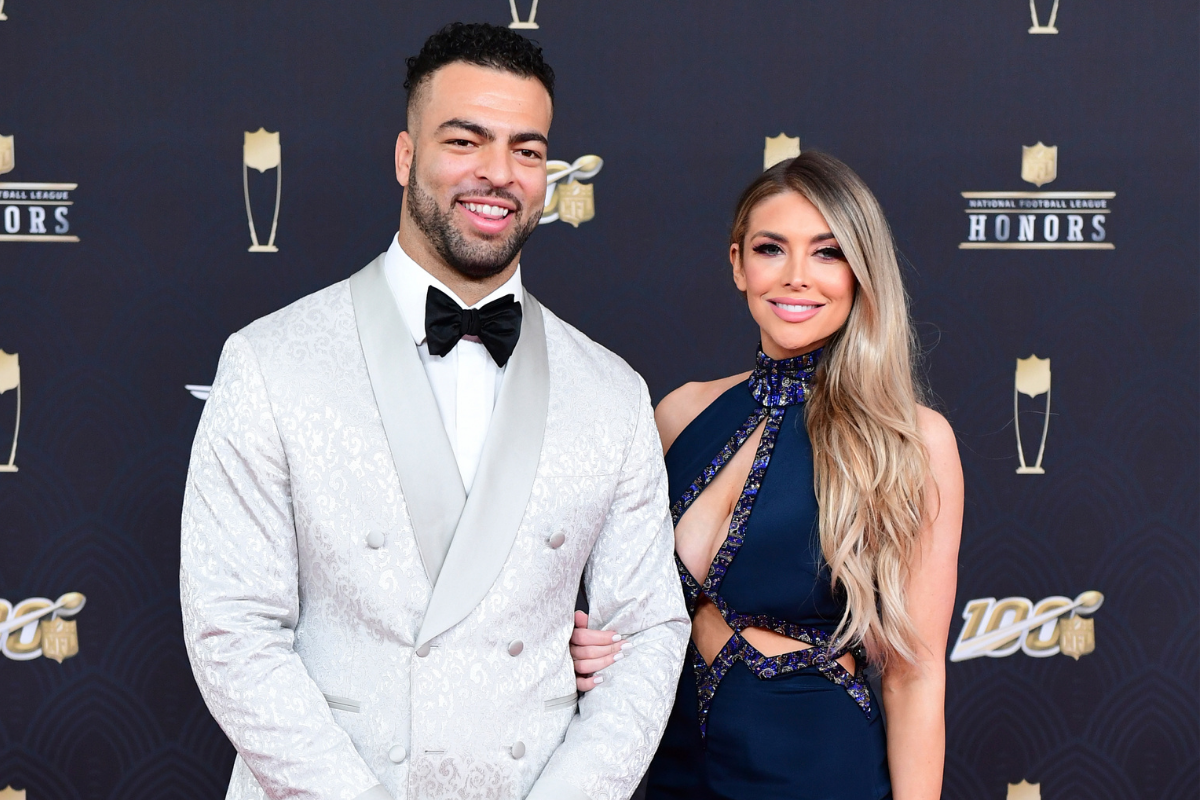 Joy Asico/AP Images for NFL
Kyle Van Noy has got it going on.
The former BYU Cougar turned Lion turned Patriot turned Dolphin turned Patriot again is comfortable anywhere he goes. Indeed, throughout his entire life, he's used that skill to survive.
Family has always been chief in Van Noys's life. Given up by his mother after birth, Kyle relied on his adopted family for strength. Now plenty strong in his own right, Kyle leads his family and team while helping countless others.
His wife Marissa and son are fixtures by Kyle's side.
How does Kyle Van Noy do it all? With a big smile, that's how.
Kyle Van Noy's Early Life
Kyle Van Noy is a man with a sense of humor.
The linebacker was born on March 26, 1991, exactly 30 years before this article was published (Happy Birthday, Kyle!).
Young Kyle, due to unfortunate circumstances, was destined for adoption. Layne and Kelly Van Noy welcomed their new son almost four months after his birth. Kyle grew to notice the physical dissimilarities between himself and his kin. What he did have in common with his adopted family was a huge heart.
When Kyle learned he was adopted, he accepted it and loved his parents all the more for their efforts. Kyle's childhood experience still informs his philanthropic work today.
The Van Noys moved him from Reno, NV, to California until he was 10; then back to Reno around middle school.
Kyle returned to the Biggest Little City in the World as the Biggest Little Boy in the City. At McQueen High School (no relation to the Mac), Van Noy made high school boys look like high school boys.
He lettered in basketball, baseball, track, and football. You can't spell "Van Noy" without "anNoy", which is what Kyle did to opposing offenses. He led McQueen to a perfect season and Nevada State Championship in '08.
Kyle the Cougar in College
Despite some off-the-field issues in high school, Brigham Young University's head coach Bronco Mendenhall gave Van Noy a chance. Mendenhall never regretted it.
From 2010-2014, Kyle Van Noy played in 52 of 52 games for the BYU Cougars. He racked up tackles as a linebacker, including 50 solos as a sophomore.
During his senior season (46 tackles), Van Noy disrupted the college football lines for the Bronko Nagurski, Lombardi, and Chuck Bednarik Awards. He made the watch list for all three trophies.
Kyle Van Noy's NFL Career
RELATED: Who is Bill Belichick?s Longtime Girlfriend?
In 2017, the Detroit Lions selected Van Noy in the seventh round of the 2017 NFL Draft. His early days in Detroit earned him the reputation of a cub, no Lion. His slow start was due to untimely injuries (but when are they timely?) and bad coaching (in Detroit?! Gasp!). Van Noy had to go to New England before he could be Super.
As a Patriots linebacker Kyle Van Noy flourished in the Patriots' defensive scheme. He won a Super Bowl with Boston in his first season, ripping the heart out of the entire city of Atlanta in 2017.
A moment of silence for the Falcons. 28-3. Never Forget.
After the legendary Super Bowl LI, Van Noy returned for more in Super Bowl LII. He was given considerably less.
"No worries!" I imagine Van Noy said, "I'll just come back next year and win that one!" True to my imagination of his word, Van Noy earned his second ring in Super Bowl LIII.
Ah, to be a Patriots fan… it must be nice!
Kyle Van Noy as a Free Agent
Kyle Van Noy sacked free agency 2020 for no loss. He signed a lucrative four-year deal with the Miami Dolphins worth over $50 million. Plus, he got to live in Miami, not too far from his old friend Tom Brady over in Tampa Bay. What could possibly go wrong?
Nothing! Nothing went wrong. Van Noy had one of his best seasons yet. And yet… Miami wanted more, for less. Long-time coach Brian Flores cut Van Noy after only one season.
Van Noy's name was immediately associated with a host of rumors mentioning nearly every team name from the Los Angeles Rams to the New York Giants. But Van Noy had his eyes on New England.
Van Noy's unexpected free-agency brought him back to America's favorite football team: the New England Patriots. He joins the squad a veteran among a cast of new faces: Cam Newton, Jonnu Smith, Hunter Henry, James White, and probably three or four more by the time I finish this sentence. Earlier this month, Van Noy returned to Bill Belichick on a 2-year, $13.2 million deal.
Now if they could only get Brady and Gronk to agree to the same thing…
Who is Marissa Van Noy?
Marissa Powell (maiden name) was born on May 22, 1992, the same day Johnny Carson aired his last Late Night. Powell attended Skyline High School in Salt Lake City, UT, where she excelled in volleyball. Her setting skills earned her a scholarship to Westminster College to play college ball in 2010.
Marissa transferred to Brigham Young University in Provo, Utah, after one season to pursue less-athletic dreams. She soon won the honor of Miss Utah in 2013. Her victory propelled her to the national competition, Miss USA. Marissa performed admirably in the competition and garnered a spot on the podium, finishing third. It's too bad people only remember the question that cost her.
Marissa's answer to a pretty bland question was disastrous. It makes you feel for the girl. We all get tongue-tied sometimes. It sucks when your tongue-twisting is taped on television. Marissa's tongue-knot cost her the competition, but it didn't stop her from tying the knot with Kyle a year later.
How Did the Van Noys Meet?
After a year at Westminster College, Marissa Powell transferred to Brigham Young University where she met an ascending Kyle Van Noy. They began dating in 2011 before Kyle was famous and Marissa infamous.
Cosmic forces aligned and the pair was a perfect match: Marissa's father and brother were both adopted, making her instantly relatable to large-living-Teddy-Bear Kyle.
Marissa's Miss USA gaff occurred in 2013, two years after the pair started dating.
Van Noy also had his fair share of negative press when he was younger, making his bulky shoulders the perfect pair for Marissa to lean on. After her word vomit went viral, the negative press associated with her 15 minutes of infamy only brought the Van Noys closer. They wed a year later in 2014.
How's Married Life Going?
The Van Noys stuck it out during Kyle's difficult years of being misused and injured in Detroit. If Detroit can't break ya, nothing will.
Marissa gave Kyle quite the gift for becoming a two-time Super Bowl champion – a son.
No, really. She gave birth to their baby boy the same night the Patriots were celebrating the Super Bowl win in Gillette Staadium. Kyle missed defeating the Pittsburgh Steelers but caught his first child: Trae Ledgend Van Noy.
The Van Noy legend continues to grow. These days, when the family isn't jet-setting between Miami, Foxborough, and Santa Monica (Kyle, like a solar panel, recharges in the sun), they're busy managing the Van Noy Valor Foundation.
The Foundation supports traumatized children and works closely with the Massachusetts Department of Children and Families. The non-profit sprung organically from Kyle's inspirational life-story. You can donate here.
Kyle Van Noy has lived an incredible life full of love. From struggles to Super Bowls, Mister and Miss Utah continue their quests for greatness, individually but together. Proud parents of a living Ledgend, Clan Van Noy seems to be doing just fine.