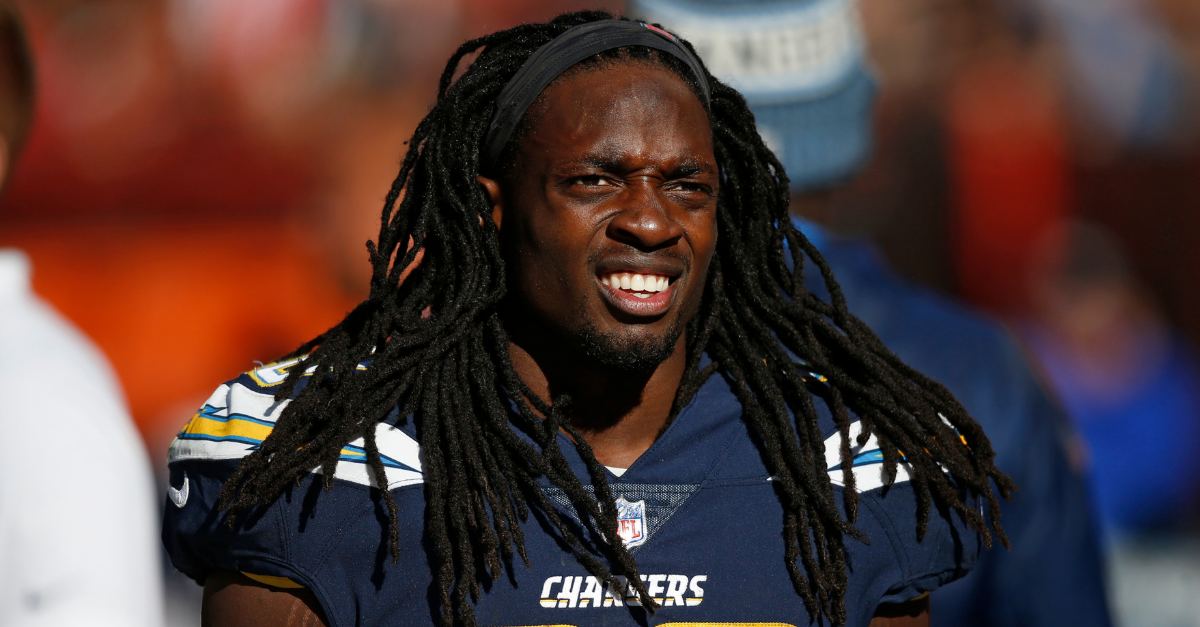 AP Photo/Ron Schwane
When talking about the best players in the NFL right now, Los Angeles Chargers running back Melvin Gordon probably isn?t a name that comes up that quickly, although it probably should. The 6-foot-1, 225-pounder has been nothing but electric since the moment he got to the league, and, this offseason, he thought it was time for him to collect the money he believes he deserves.
After being selected in the first round (No. 15 overall) in the 2015 NFL Draft by the team formerly known as the San Diego Chargers, Gordon signed a four-year contract worth $10.6 million, which was fully guaranteed, and included a $6 million signing bonus and a fifth-year option on his rookie deal.
Well, Gordon was allegedly done playing for cheap. That rookie contract and $5.6 million option just wasn't enough. That's why the two-time Pro Bowl selection didn't report to training camp and, with agent Fletcher Smith, even demanded a trade from the AFC franchise back in August.
Chargers fans can rejoice now, though. Melvin Gordon's holdout is officially over. The 26-year-old is officially back with the team just before they travel to face the lowly Miami Dolphins. It lasted 64 days.
NFL insiders, such as ESPN's Adam Schefter and NFL Network's Ian Rapoport, seemed to work tirelessly trying to figure out the next move for Gordon.
Was he going to sit out the entire regular season? Would he really just watch running backs Austin Ekeler and Justin Jackson score all of the touchdowns while he waited to become a free agent? Would he get a new deal like Dallas Cowboys Ezekiel Elliott did at the end of the preseason? What NFL teams would trade for him?
Turns out, nothing happened. Gordon's contract holdout ultimately became a long vacation and it ended up costing him a lot of money.
That's right, Gordon's return without a new deal means he actually became poorer instead of richer over the last two months.
According to Adam Schefter, Gordon will still make over $4.5 million in base salary for the remainder of the season. However, he faces $1.2 million in fines and then lost nearly $1 million for games he missed against the Indianapolis Colts, Detroit Lions and Houston Texans.
Despite the holdout, this is obviously great news for the 1-2 Chargers and fantasy football owners.
Gordon is the franchise?s best running back since LaDainian Tomlinson, and he is the perfect complement to quarterback Philip Rivers. Last year alone, Gordon rushed for 885 yards with 10 rushing touchdowns while also catching 50 passes for 490 receiving yards and another four scores in 12 games. He did, however, miss some time late last season with an MCL injury.
Knee injury or not, Gordon?s over 5,000 yards from scrimmage and 38 total touchdowns in four seasons are certainly worth securing for the future. Add in his sensational All-American college football career with the Wisconsin Badgers and this is easily one of the best young NFL players right now.
At the end of the day, Gordon wanted a new contract that lines up with the likes of LA Rams running back Todd Gurley or New York Jets running back Le?Veon Bell, but he settled for returning without Chargers general manager Tom Telesco having to break the bank or going over the team's initial offer of $10 million per year.
Although there's a good chance Gordon will not return next season, it's now up to him to perform at a high level in order to earn the money he believes he's truly worth moving forward.
So put on your Melvin Gordon jersey and get ready for the rest of the 2019 NFL season.