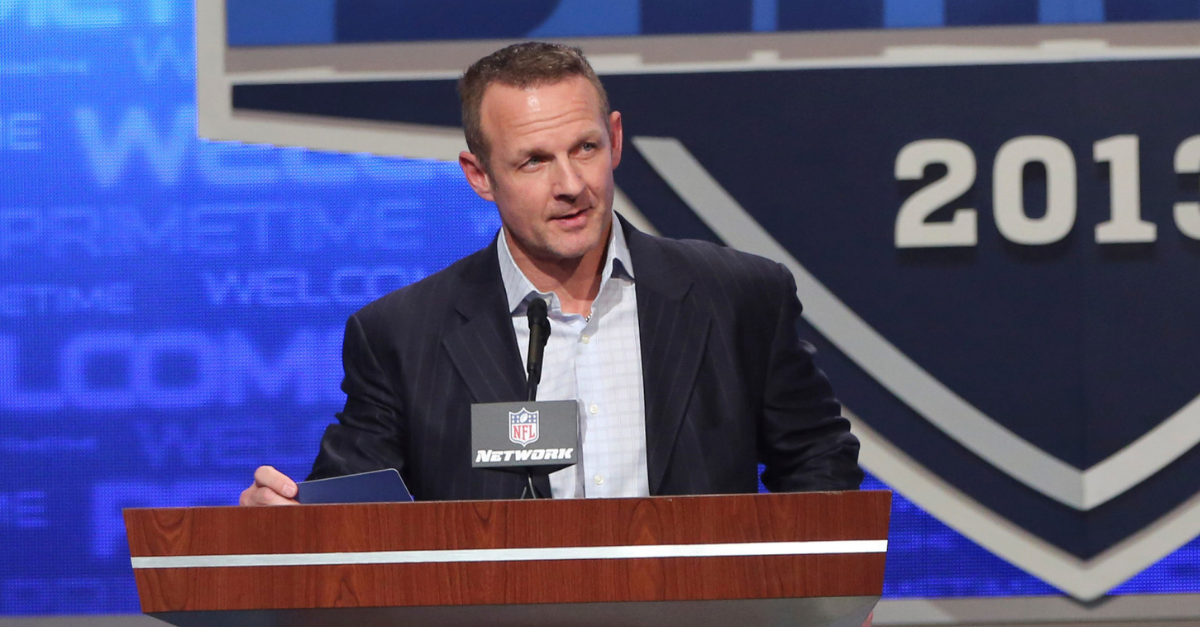 AP Photo/Mary Altaffer
You've probably seen Merril Hoge on your television before. The longtime ESPN analyst began as an unlikely underdog story; he was a 10th round NFL Draft pick who played seven seasons as a running back with the Pittsburgh Steelers and Chicago Bears. Numerous concussions and head injuries forced his retirement in 1994, but two years later, Hoge joined ESPN and became one of the company's most-notable football analysts.
But after a car accident required shoulder surgery in 2002, Hoge told Steelers team doctor Jim Bradley in a follow-up appointment that he was experiencing sharp back pain. Tests revealed that Hoge, who was 38 years old at the time, had stage two non-Hodgkin's lymphoma.
"It has no chance to win," Hoge told the Pittsburgh Post-Gazette during chemotherapy treatments. "I'm destroying it. I'm halfway there. In the end, more good will come of this than bad."
Hoge underwent six rounds of chemotherapy and was deemed cancer-free in July 2003. However, the former NFL player's relationship to his cancer is far from over.
According to USA Today Sports, the longtime NFL personality filed a lawsuit claiming using the popular weed killer Roundup caused him to develop cancer. The lawsuit is one of thousands filed against Monsanto, the makers of Roundup, which claim the product's active ingredient called glyphosate causes cancer.
In 2015, the World Health Organization's International Agency for Research on Cancer labeled the ingredient as a "probable human carcinogen."
Hoge's lawsuit is one of many that could result in a multi-million settlement.
"Like any cancer patient, when [Merril Hoge] was diagnosed he was focused on what he had to do for treatment and how to survive. He went through rigorous rounds of chemotherapy and, ultimately, it went into remission. He has to live the rest of his life in fear that it could return. He didn't drink. He didn't smoke. He took care of his body. He has no family history (of lymphoma)."

— Joseph Osborne, one of Merril Hoge's lawyers (h/t USA Today Sports)
Does Roundup Weed Killer Give You Cancer?
The lawsuit says the former football player first used Monsanto's Roundup Weed Killer around 1977, and he mixed and sprayed the product "if not on a daily basis, at least a weekly basis" for roughly 26 years. Osborne told USA Today his client didn't know the link between Roundup and his cancer at first, until recent studies uncovered possible side effects of the household product. The lawsuit also alleges the company hid potential health risks from the public for years.
An Environmental Protection Agency report from April 2019 stated that glyphosate products have "no risks to public health" in their current, allowable uses. However, that contradicts the findings of a University of Washington study that found Roundup's main ingredient "increases the risk of some cancer by more than 40 percent."
RELATED: Weed Killer Chemical Linked to Cancer Found in Popular Beers and Wines
Roundup Weed Killer Lawsuits
Bayer, who purchased Monsanto last year, revealed in its quarterly report that there are 18,400 plaintiffs with lawsuits surrounding Roundup in the United States alone. The company said it will "defend ourselves vigorously" against the thousands of complaints. Bayer CEO Werner Baumann said recently that "financially reasonable" settlements would be considered with thousands of lawsuits being filed every month.
Earlier this year, a San Francisco, California jury ordered Monsanto to pay one couple $2.055 billion after they claimed the weed killer caused their cancers. A judge later cut that settlement by 95 percent to award $86.7 million instead.
It remains to be seen if Hoge, whose allegations fall more than a decade outside the two-year statute of limitations for this kind of claim, will receive any compensation in this on-going, and very worrisome, saga against the popular household product.