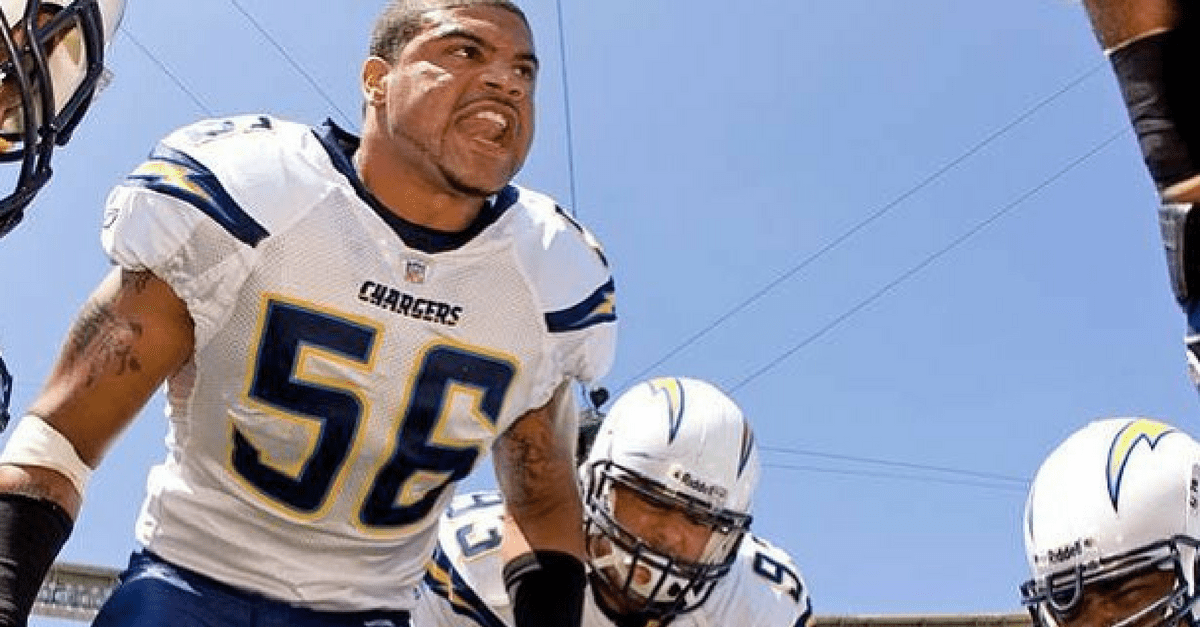 Instagram: @shawnemerriman
Instagram: @shawnemerriman
A lot of NFL players celebrate retirement with family time, second-career opportunities as a broadcaster or even getting the chance to go back and coach the game that has given them so much. Then, there are some players who just need a taste for extreme.
Remember linebacker Shawne Merriman? "Lights Out" was one of the NFL's most feared pass rushers during his eight-year football career with the San Diego Chargers and Buffalo Bills. Now, Merriman is taking his talents for knocking people out to the world of bare-knuckle fighting.
The three-time Pro Bowl linebacker has agreed to a contract with the World Bare Knuckle Fighting Federation. Merriman is expected to train for the rest of the year before competing in the organization's inaugural pay-per-view event in Casper, Wyoming in October.
Merriman said of his next endeavor, "Right now, this is the best opportunity for what I want to do. I've been kicking tires for years; this is a good place for me to start. I'm looking forward to having some fun out there. I get to train for the next six to eight weeks and go show everyone what I can do."
Merriman's professional football career was cut short due to numerous injuries, but his 2005 to 2007 seasons remain one of the best three year runs in recent memory.
Drafted No. 12 overall in the 2005 NFL Draft out of the University of Maryland, Merriman took the NFL by storm, racking up 39.5 sacks in his first three years, as well as being named the AFC Defensive Rookie of the Year.
He was first team All-Pro in 2005 and 2006, as well as being named to the second team in 2007.
Injuries sent Merriman's career in a downward spiral, as he only gobbled up 6.0 more sacks before retiring in 2012.
Whether this is a serious attempt at a second career, or a massive publicity stunt, the 34-year-old Merriman is taking his talents to a professional organization that has 253 Twitter followers at the time of this publication.
?We are thrilled to have Shawne as part of our team,? WBKFF CEO Tom Stankiewicz said. ?It?s a very exciting time for everyone. Shawne was a proven warrior on the field and we look forward to seeing him in the ring. We feel that Shawne?s signing with WBKFF opens the doors to champions from all sports and shows that he has the guts and courage to step into this gladiator sport. Bare knuckle fighting is the combat sport for the 21st century."
The WBKFF's first event already features long-time MMA fighters Chris ?The Crippler? Leben and ?The New York Bad Ass? Phil Baroni, who will fight for the WBKFF light heavyweight title. Also, UFC veteran Christina Marks and professional boxer Jasmine Clarkson showdown for the WBKFF Women?s Flyweight Championship.
Only time will tell if the fledgling fighting organization can become "the combat sport of the 21st century," or if the WBKFF will be a blip on the radar with UFC dominating the modern fight game for the foreseeable future.
Regardless, "Lights Out" will make for one big ticket when he finally steps into the bare-knuckle ring.