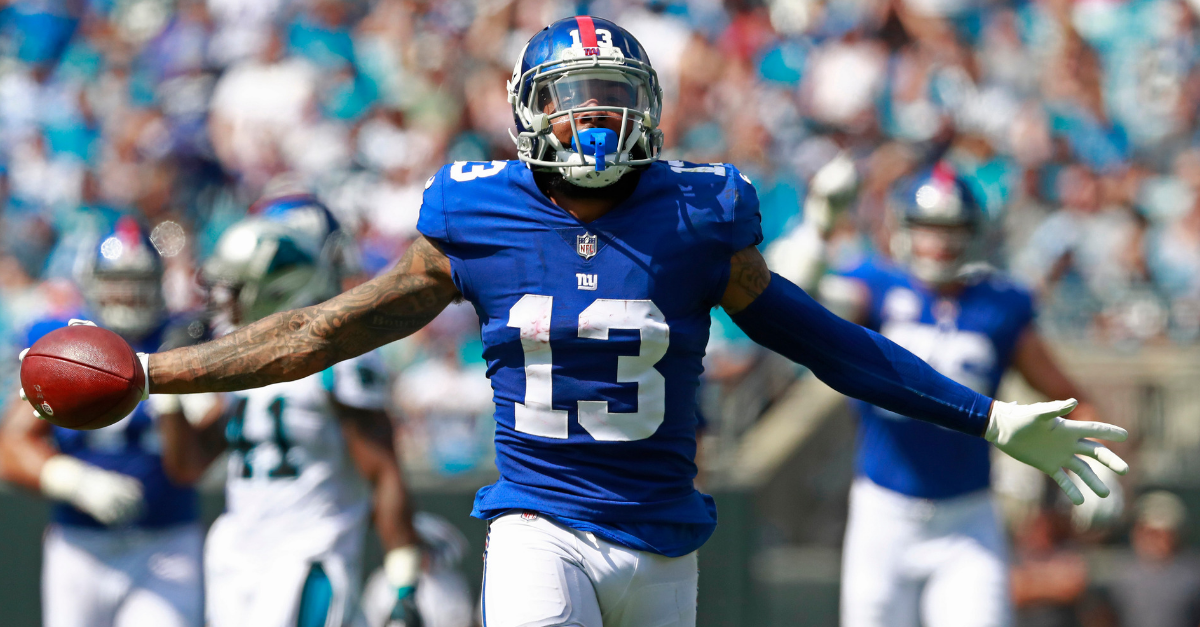 AP Photo/Jason E. Miczek
AP Photo/Jason E. Miczek
After five weeks of football, the National Football League has seen an all-time passing record fall, one wide receiver find his twin in the stands, and the league's newest star is casually tossing 90-yard bombs. Not only are games exciting and the league's biggest stars are shining, but negative media pervading the league is also drifting away.
For much of the last two seasons, many fans have turned away from the NFL after national anthem protests took center stage. Fueled by President Donald Trump, many people have openly boycotted games because they opposed to the protest's message. Well, two full seasons and five games have passed since Colin Kaepernick first took a knee, and we now have a sample size large enough in 2018 to make this claim: the NFL is back on top.
According to The Washington Post, the league's TV ratings are up from previous years. Even more encouraging is the fact that the Top 15 most-watched programs on television for the month of September were all NFL football games.
RELATED: How Much Does It Actually Cost to Attend an NFL Game?
Through five games, viewership of NFL games on CBS is up seven percent, while FOX is down two percent, NBC's Sunday Night Football remains the same and ESPN's Monday Night Football is down four percent.
Even Thursday Night Football games have been wildly more entertaining than year's past, continuing in Week 6 when the New York Giants and Philadelphia Eagles square off in a huge NFC East divisional game.
Overall, the NFL's television ratings are up for a few main reasons.
1. The Stars Have Aligned
Green Bay Packers quarterback Aaron Rodgers, Indianapolis Colts quarterback Andrew Luck, New York Giants wide receiver Odell Beckham Jr. and Houston Texans defensive end J.J. Watt, all players who are All-Pro talents at their positions, were injured for significant stretches in 2017, which immediately reduced interest in their teams' games. All are back healthy and playing at high levels this year.
Add to that Cleveland Browns quarterback Baker Mayfield and New York Jets quarterback Sam Darnold — two rookies who have brought their franchises back from the dead — have made below average teams of the past watchable.
It's amazing what happens when star players are on the field.
2. Games are More Competitive Than Ever
The Washington Post found that the NFL is on pace to set a record for scoring this season. Scores are up 11 percent from last year, which is the largest jump year to year since 1975. Plus, the average margin of victory is 9.96 points. If that number holds, it would be the lowest disparity since 1932.
What happened in 1932? The Portsmouth Spartans and Chicago Bears played each other in a playoff for the NFL Championship in a season where there were 10 games ending in ties.
3. Anthem Protests are (Basically) Over
The NFL implemented rules for teams to be able to punish players for demonstrations during the national anthem should they choose. While those discussions were squashed during the preseason, it seems like players have decided to do their talking off the field and just play the game.
Owners like the Dallas Cowboys' Jerry Jones have made their policy on anthem protests loud and clear, and players have listened.
While Miami Dolphins wide receivers Albert Wilson and Kenny Stills, now rejoined by Carolina Panthers safety Eric Reid, spearhead on-going protests, the bulk of demonstrations, and the initial shock-value coming with them, are all but over with.
We've turned the calendar to October, and with that comes a whole host of NFL games that are sure to continue to drive the NFL ratings the rest of the year.
Sorry NFL haters, the National Football League isn't going anywhere any time soon.