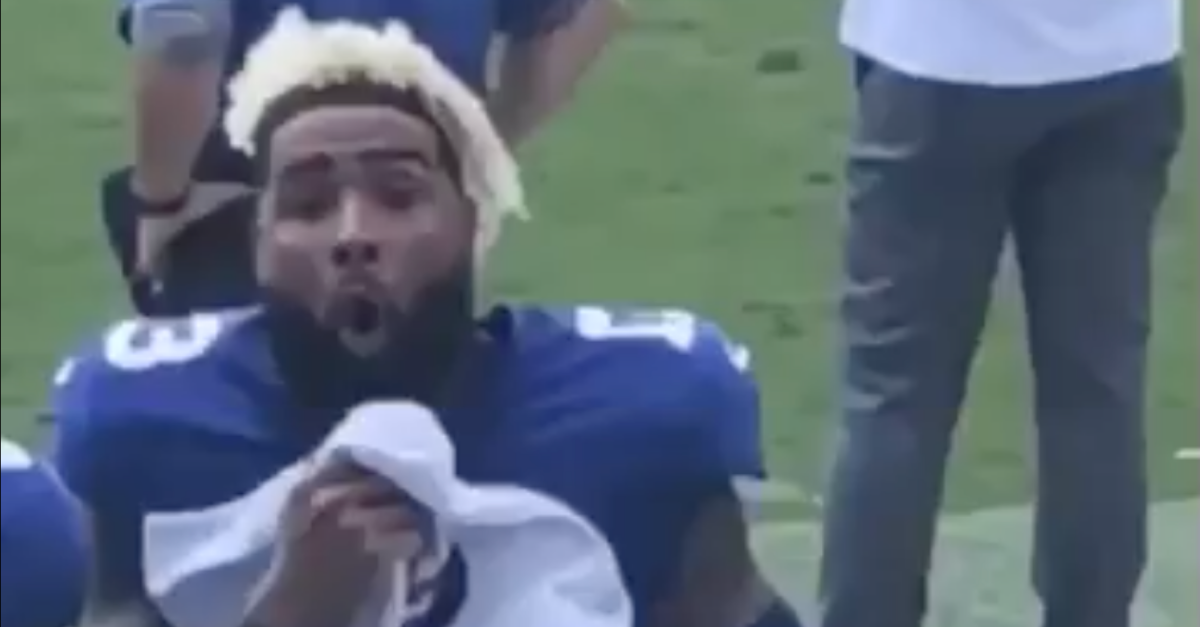 Twitter: @YoungPharro
New York Giants wide receiver Odell Beckham Jr. has a big bank account, hates being randomly drug tested, and is the gold standard for insane catches on the football field. But even a NFL superstar such as himself can get startled by things happening in the crowd.
For anyone thinking Beckham?s eight catches for 131 yards and a touchdown or his 57-yard scoring bomb to rookie running back Saquon Barkley in a 33-31 loss to the Carolina Panthers was the biggest surprise for him on Sunday at Bank of America Stadium in Charlotte, North Carolina, guess again. His reaction to seeing a fan in the stands with the same hairstyle as his definitely takes the cake.
RELATED: How Much Does It Actually Cost to Attend an NFL Game
DAVEtheGREAT, also known as @YoungParro on Twitter, certainly got plenty of exposure for that six-second social media video that is nothing short of perfect.
Giants wide receiver Sterling Shepard pointing it out is funny. OBJ putting the towel over his mouth in shock is hilarious. That face when he realizes he actually has a doppelgänger is classic.
The 25-year-old Beckham has certainly gained plenty of popularity since being selected No. 12 overall in the 2014 NFL Draft out of LSU, and understandably so, but this is crazy how similar they look and David could maybe, just maybe, pass as a twin.
As one of the best wide receivers in the game right now, the 5-foot-11 Beckham is already a three-time Pro Bowl selection and his acrobatic catches, route running, and speed has helped him rack up 352 receptions for 4,886 receiving yards and 39 receiving touchdowns in just a short amount of time.
The NFL is certainly full of surprises and unpredictability, and that rings true just as much off the field as it does on it.
This is the perfect example of that.