With NFL training camp under way, veterans, free agents, and rookies are all competing for starting jobs.
These positions are won and lost in practice. Some players are fighting to stand out and win that starting position by Week 1, while others are looking to snag themselves a backup spot. Let's look at the five most intriguing camp battles that we should watch as we approach the start of the 2024 season.
San Franscisco 49ers, Quarterback:
Brock Purdy vs Trey Lance
With Brock Purdy cleared to play, one of the biggest questions in the NFL is who Kyle Shanahan will put under center for the 49ers. Even though Trey Lance was selected third overall in the 2021 NFL Draft, Purdy has proven that he is more than able to lead his team deep into the playoffs. He ended the regular season with 1,374 passing yards, 13 touchdowns, and four interceptions in only five games. Now that he's been cleared to play, is he really healthy enough to beat out the guy who was drafted to lead the team? It's now time to prove that he's able to continue his dominance and beat out the competition.
Lance is now fully healthy after a season-ending injury that he sustained in Week 2 of last year, but can he lead this offense? This is what Lance had to say when asked about his rehabilitation.
"It's been an awesome offseason for me, just being able to spend time finally getting back to football, finally getting back to being around the guys," Lance told reporters.
In his four starts over his two-year career, Lance has 797 passing yards from 56 completions, five touchdowns, three interceptions and a quarterback rating of 84.5. Those are decent numbers for a guy who hasn't had consistent reps. This training camp will determine if Lance is developed enough to take that next step.
The entire NFL will be paying attention to see who will be the leader of the 49ers offense.
George Kittle sees how much Trey Lance's confidence has grown pic.twitter.com/FUXYrhem0c

— 49ers on NBCS (@NBCS49ers) July 26, 2023
Tennessee Titans, Quarterback:
Will Levis vs Malik Willis
Related:Will Levis' Parents Were Both College Athletes, But a Different Family Member Has a National Title
As it stands right now, Ryan Tannehill will be the starting quarterback for the Titans in Week 1. However, this positional battle is for the backup quarterback spot, and more importantly, the future of the franchise.
Even with the Titans drafting Will Levis in the second round of the 2023 NFL Draft, Malik Willis still has a chance to prove that he's developing into a viable quarterback. When we look back at Willis in his three starts from last year, he went 25-for-49 for only 234 passing yards, three interceptions, and one rushing touchdown. Those are not inspiring numbers.
Despite this, Willis walked into the new year with confidence. In terms of accuracy, ball placement, and poise, Willis outperformed the rookie in spring OTAs. If this is the case, then these next upcoming weeks will determine if Willis can keep that momentum going and be the future start for the Titans at quarterback.
Malik Willis reportedly came out of the spring with ?glaring improvement? according to Mike Vrabel (Titans HC).

Willis has reportedly improved in his ?command? of the offense.

As well as his ?decisiveness? while in the pocket.

Willis is reportedly expected to start off taking? pic.twitter.com/zpNG4VIqiM

— NFL Rookie Watch (@NFLRookieWatxh) July 26, 2023
Philadelphia Eagles, Slot Receiver:
Quez Watkins vs Olamide Zaccheaus
The Eagles have their outside wide receivers in DeVonta Smith and A.J. Brown, but the slot receiver position is still wide open.
Last year, Quez Watkins suffered a shoulder injury and ended with a disappointing 23 receptions for 216 receiving yards and two touchdowns. The Eagles went ahead and signed former Atlanta Falcons receiver Olamide Zaccheaus this offseason to compete with Watkins for that starting slot role. Zaccheaus had 40 receptions for 533 yards and three touchdowns last season and 38 of those receptions came from the slot position. According to SIS, his EPA when lined up in the slot was +17.49, while Watkins' ended with -9.46.
First look at Olamide Zaccheaus catching passes in an #Eagles uniform pic.twitter.com/YRt9uqYDLn

— Jeff Kerr (@JeffKerrCBS) June 1, 2023
When Nick Sirianni was asked about Watkins after the addition, he stressed the importance of depth at the position.
"We've just added depth to the group," head coach Nick Sirianni said. "We have a lot of confidence in Quez, and I know he's going to come back. I know he's hungry. He's determined. He feels like he didn't have his best season. Now, he didn't get the opportunities — we've talked about this. He didn't get the opportunities that he had in the past, and so it's just taking advantage of the opportunities that he has. But Quez is our No. 3 receiver. There will be competition for it just like there was when Zach [Pascal] was here for different roles within that. But we're excited about Quez. I'm really excited with our new addition."
The head coach is going to stick up for his guys that have been in the locker room, but if Zaccheaus can run routes like the clip below, he might win that starting job.
Zaccheaus with a filthy route vs Lattimore pic.twitter.com/Rzn9UuhbOy

— Billy M (@BillyM_91) November 14, 2021
Seattle Seahawks, Center:
Olu Oluwatimi vs Evan Brown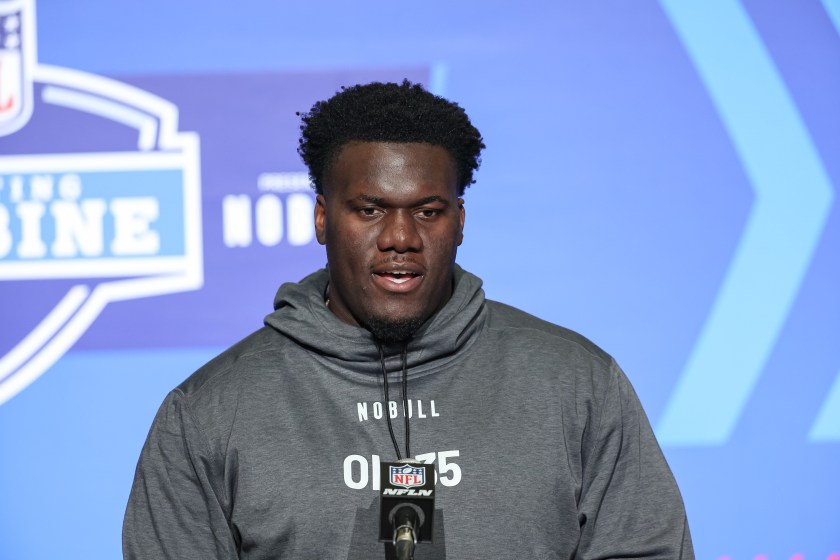 Related: Will Ferrell Crashes Seahawks Meeting with List of Demands
Although it's not a pretty position, center is one of the most important positions on the offensive line. These guys are the generals of their units, so it's vital that the Seattle Seahawks find the right center to start for them in 2023.
There's a consensus around the league that the Seattle Seahawks had a below average offensive line last year, but they are still young. After the departure of Austin Blythe, the Seahawks brought in Evan Brown from the Detroit Lions, and he'll be battling against fifth-round pick out of Michigan, Olu Oluwatimi.
Over the last two seasons, Brown has started the last 24 out of 30 games and has allowed just three sacks and 31 pressures.
"I was looking for an opportunity to compete for a starting job at center," Brown said after signing. "After speaking with coach (Pete) Carroll and (Andy) Dickerson, Seattle seemed like a good fit for me."
In his senior year, Oluwatimi also allowed three sacks, but only 20 pressures. Brandon Thorn from Trench Warfare says that he can see Oluwatimi winning the job, especially considering he's competing against a career depth player in Brown.
That doesn't mean Oluwatimi necessarily will win the job, but that is what makes this battle an intriguing one. As it stands right now, these two guys are rotating day-to-day. The one who outperforms will begin getting consistent snaps as training camp progresses. These two should have a good battle to see who earns the right to snap the ball to Geno Smith this season.
Seahawks in full competition mode gave all the first team center reps today to Olu Oluwatimi after Evan Brown got them yesterday. Expect rotating to continue a while. Here?s Geno Smith talking about the centers. pic.twitter.com/ToIBR1IWOT

— Bob Condotta (@bcondotta) July 27, 2023
Tampa Bay Buccaneers, Quarterback:
Baker Mayfield vs Kyle Trask
The Tampa Bay Buccaneers are now in the post-Tom Brady era. One of the biggest question marks for this team is who will be taking snaps under center by Week 1. Will Kyle Trask prove to us that he can take that next step forward after soaking knowledge from the greatest quarterback of all time, or will Baker Mayfield prove that he deserves the starting job?
Mayfield, a former No. 1 overall pick back in 2018, is now on his fourth NFL team. In 2020, with help from the Browns defense, he ended the season with an impressive 11-5 record. The next season, the former No. 1 pick suffered a partially torn labrum in his left shoulder and wore a harness just to be able to play. The Browns took a step back that year, ending up with a 6-8 record while Mayfield threw for 3,010 yards, 17 touchdowns, and 13 interceptions.
Despite his struggles in Cleveland, Mayfield bounced back well in the tail end of last season with the Los Angeles Rams. Given his pedigree and production, the starting job in Tampa Bay is essentially his spot to lose.
"People can have in their head, 'Well, it seems like it's for sure going to be this person or it's not going to be this person,' but until we're out there, anything can happen," Bucs general manager Jason Licht said. "It's going to be a lot of fun just to really focus on how this is going to play out."
Want More Sports News?
Get the biggest and best sports news sent directly to your inbox.