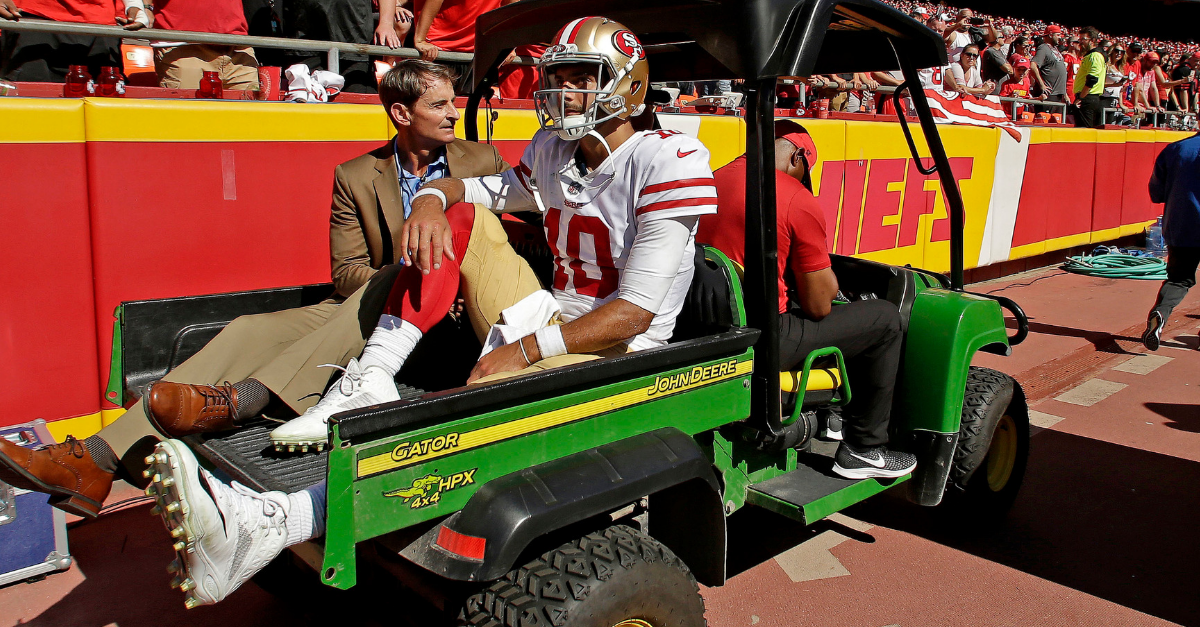 AP Photo/Charlie Riedel
No matter the level, injuries are a part of football. They are incredibly unfortunate, for sure, but still happen all too often. It?s even worse when a star player goes down and what took place during Week 3 of the NFL season is proof injuries could be a major cause for concern to many who love to watch and even play the game.
Save the anthem protest talk for another day. There were four injuries this week that will change the season outlook for several teams and potentially the future of those organizations.
From non-contact injuries to avoiding penalties to colliding with teammates, all of them happened in different ways, too, so let?s examine them all and you can be the judge on whether these are simply unfortunate flukes or something that is hurting the game and its reputation.
San Francisco?s Jimmy Garoppolo (Torn ACL)
Say it isn?t so, Jimmy G. After signing a five-year, $137.5 million extension this offseason, the promising quarterback suffered a non-contact knee injury against the Kansas City Chiefs. Now, his season is over with a Torn ACL and the worst fear possible for the San Francisco 49ers came true. This was supposed to be the guy to help take the franchise to the next level, and the front office invested a lot to do so, but now they will get an aging quarterback with one bad knee and not a lot of experience coming back next year. It?s a brutal game sometimes.
Miami?s William Hayes (Torn ACL)
Of all of the Week 3 injuries, this one will easily be the most debated. The new body weight rule has so many people confused and now has cost Miami Dolphins defensive end William Hayes his season. The rule is supposed to protect the health of quarterbacks, but when a player has to completely alter the way he lands on a tackle to avoid a penalty and ends up tearing his ACL, perhaps this rule should really be reviewed and probably changed immediately.
Atlanta?s Ricardo Allen (Torn Achilles)
Man, the Atlanta Falcons cannot catch a break this season, especially on the defensive side of the football. Safety Keanu Neal and linebacker Deion Jones have already been injured in 2018, and the Falcons just lost free safety Ricardo Allen to a a torn Achilles during the 43-37 overtime loss to the New Orleans Saints on Sunday. What?s even worse for Atlanta is they just signed the veteran Allen to a three-year, $19.5 extension before the season. It?s hard to replace consistency.
Green Bay?s Muhammad Wilkerson (Ankle Surgery)
Defensive end Muhammad Wilkerson joined the Green Bay Packers this offseason to revamp his career after a solid run with the New York Jets, but will be forced to sit on the sidelines for the remainder of the season following a gruesome ankle injury trying to make a tackle and colliding with safety Kentrell Brice. It?s a tough way to go out.
So there are four injuries in four very different scenarios. Is this just a product of playing football or have things gotten to a point where it?s a cause for concern?