Being an NFL player is a young man's game. Football is a physical sport, and it tends to really wear down people. A lot of NFL players are done playing around the time they turn 30. However, NFL history is dotted with players who have defied the odds and played for many years. OK, so a lot of the oldest players in NFL history are kickers. However, they still put together impressively long careers!
Of course, when we talk about the oldest NFL players, the guy who comes to mind currently is Tom Brady. Brady is, indeed, in the top 10 in terms of oldest players in NFL history. If he plays as long as he intends to, he will definitely climb up the list, as the Tampa Bay Buccaneers quarterback turned 45 this year. He led the Bucs to a Super Bowl in his first season after leaving the New England Patriots and still looks impressive, so we are putting nothing past him.
Brady is the oldest active player in the NFL and currently the only active player over 45. Drew Brees retired from the New Orleans Saints after the 2020 season. And while Detroit Lions stud Aidan Hutchinson, Josh Allen of the Buffalo Bills and Patrick Mahomes of the Kansas City Chiefs hope to have long careers in the NFL, they have a ways to go. This club is made up of the 10 oldest players in NFL history.
11. Vinny Testaverde, 44
This is a list dominated by quarterbacks and placekickers, and we start with one of the former in Testaverde. The first-overall pick by the Buccaneers in the 1987 NFL Draft, Testaverde had a journeyman career. Playing until you are 44 can do that.
He played for the Cleveland Browns as they turned into the Baltimore Ravens and scored the first touchdown in Ravens history. In 2007, Testaverde spent his last NFL season with the Carolina Panthers and was thrust into the starting lineup. He threw a touchdown pass to a receiver more than 20 years younger than him in his last start.
10. Steve DeBerg, 44
DeBerg, like Testaverde, started his career in Tampa, and he also played until he was 44. He's an unusual story, as he actually retired in 1993 as a member of the Miami Dolphins. In fact, DeBerg even took a job as a quarterbacks coach for the New York Giants.
Then, in 1998, DeBerg returned to being an active player for the Atlanta Falcons. He backed up Chris Chandler and actually started a game against the New York Jets. Granted, he went 9-for-20 for 117 yards with an interception and got pulled from the game, but he still played! He was also on the Super Bowl roster as a 45-year-old but did not see the field.
9. Bobby Marshall, 45
Bobby Marshall, the greatest football player, distinguished Minnesotan, and multifaceted Black Pioneer you?ve never heard of.
Proud fellow graduate of Minneapolis Central High School (Pioneers) and The University of Minnesota pic.twitter.com/Z4aNO0c3De

— Pete Najarian (@petenajarian) October 4, 2020
OK, so this is an old-school name. As in, Marshall last played in the NFL in 1925. For the Duluth Kelleys. However, Marshall is in the College Football Hall of Fame, and he's also a vital part of American sports history. He and Fritz Pollard are jointly considered the first African Americans to play in the NFL.
8. Gary Anderson, 45
?Anderson grew up playing soccer and rugby in South Africa. Still, when he picked up a football, he turned into one of the most prolific kickers in NFL history. He made four Pro Bowls, with his first coming in 1983 and his last coming in 1998.
You may remember him best for kicking field goals and extra points for the Minnesota Vikings during the peak of Cris Carter and Randy Moss. He retired as a Tennessee Titan in 2004 at the age of 45 as the then-leading scorer in NFL history.
7. Ben Agajanian, 45
Agajanian was one of the first NFL players to be a kicking specialist. He helped change the game over his NFL career that lasted from 1945-1964. In fact, he was the first kicker to take steps back and then to the side and the first kicker to specify he wanted the laces to be facing out when he kicked.
After his career, Agajanian was the Dallas Cowboys' kicking coach for 20 years.
6. Tom Brady, 45
The GOAT always spoke about his desire to play until he was 45, and in 2022 with the Tampa Bay Buccaneers, he was able to achieve that goal. However, after last season, it appeared that Tom Brady's days of terrorizing the Jacksonville Jaguars, Denver Broncos and Philadelphia Eagles, were over. Boy were we wrong.
Brady and Jason Peters of the Dallas Cowboys are two of the three active players playing in the NFL during the 2022 season who happen to be over 40, although Green Bay Packers legend Aaron Rodgers is creeping closer to making this list at 39 years old. And with the way both future Hall of Famers are playing, it's totally possible we see an NFC Playoff battle between the two before one of them retires.
5. John Nesser, 46
Happy 140th b-day to John Nesser, the oldest player in our db. Had quite a football family https://t.co/cxTCtwaglT pic.twitter.com/1VCANEobjC

— Pro Football Reference (@pfref) April 25, 2016
RELATED: Adam Vinatieri's Son Has a Big Leg Like His Dad

?The Nesser brothers were kind of like the Watt brothers of early football. The youngest in the family, John was an offensive lineman with the Columbus Panhandles from 1909 through 1921. He played his last NFL game at the age of 46
4. John Carney, 46
Carney first played in the NFL in 1988 and last played in 2010, meaning he had a career that spanned four decades. To think, he was released by the Cincinnati Bengals in 1987 after they signed him as an undrafted free agent and spent the year out of football.
Instead, he would make a Pro Bowl with the San Diego Chargers in 1994 and the New York Giants in 2008. He ended his career with the New Orleans Saints in what was his second stint on the team. As a 46-year-old, he made five of his six field goal attempts in two games.
3. Adam Vinatieri, 46
?If you were ranking NFL kickers by big moments, Vinatieri would likely be on the top of that list. Sure, we could talk about the 365 regular-season games he kicked in.
However, with Vinatieri, it's all about the clutch kicks. He helped lead the Patriots to three Super Bowls before joining the Indianapolis Colts. With the Colts, he won a fourth Super Bowl ring. He's currently the NFL's leading scorer and has made more field goals than anybody in NFL history. He retired after the 2019 season at the age of 46.
2. Morten Andersen, 47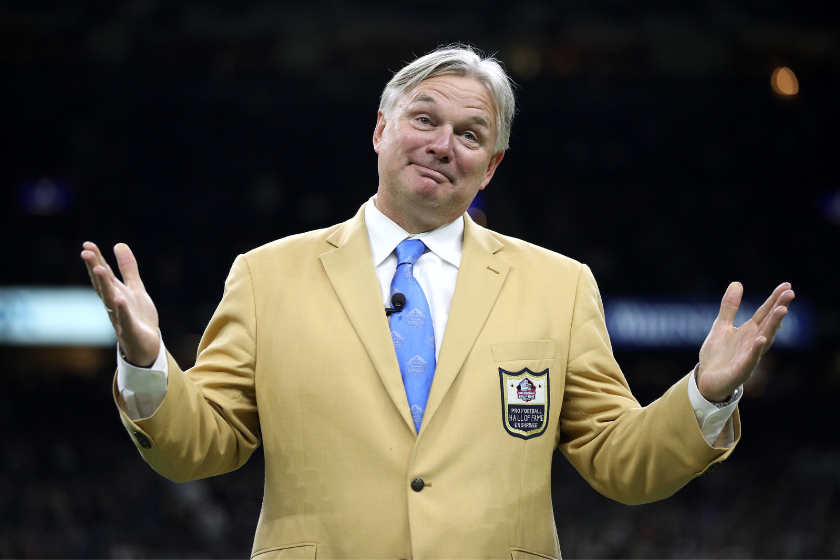 We can't really justify a kicker being taken in the fourth round. Still, Andersen came close to justifying the Saints' decision to do so. After all, he kicked for them from 1982 until 1994. Ah, but that was merely the beginning of his career.
Andersen would play all the way until 2007, when he finally hung up the cleats with the Atlanta Falcons. He was a five-time first-team All-Pro and is one of only two primary placekickers in the Pro Football Hall of Fame. Andersen played until he was 47.
1. George Blanda, 48
Blanda is a classic old-school NFL name. He played for the Baltimore Colts, Houston Oilers, Chicago Bears and Oakland Raiders. Blanda won the MVP of the AFL, which is now folded into the NFL. Blanda was primarily a kicker by the time he joined the Raiders, but he would play some quarterback on occasion. His final NFL season came in 1975 when he was 48 years old.
Will Brady make it to 48? We will have to see, but the odds are that he becomes the oldest quarterback to play regularly under center in the NFL. Who among active NFL players has the potential to make this list in the future?
Well, Brady is currently the only 40-year-old in the NFL, but that could change come 2022. Jason Peters, currently with the Chicago Bears, turns 40 in January. If the Bears made the Super Bowl, he could be an active 40-something this season. OK, now that you are done laughing at the idea of the Bears making the Super Bowl, let's move on.
Pittsburgh Steelers quarterback Ben Roethlisberger turned 40 in March. Still, with the lack of pop in his arm these days, it wouldn't be surprising if he retired after this season. Currently still playing quite well for the Los Angeles Rams, Andrew Whitworth would turn 40 next season. Being a 40-year-old offensive lineman is quite impressive.
Then, of course, we have a couple of specialists, but they are punters, not kickers! Andy Lee, who is with the Arizona Cardinals, and Sam Koch, who has been with the Baltimore Ravens since 2006, turn 40 during the 2022 campaign.
Maybe the NFL isn't such a young man's game after all.
This article was originally published on October 20, 2021, and has been updated since.
Want More Sports News?
Get the biggest and best sports news sent directly to your inbox.